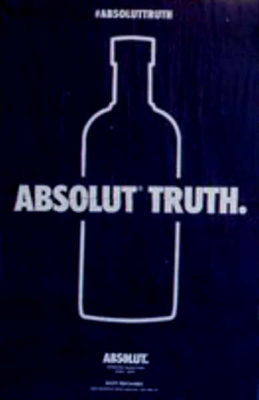 Adweek reports that if you've walked across New York's High Line during the past month you might have noticed a billboard from Absolut that read: "Look out: Slow walkers ahead."Because the High Line is a tourist attraction, the foot traffic on the High Line moves at a snail's pace; the ad copy is meant to be a nod to that experience.
Team Epiphany created the out-of-home work as part of its "Absolut Truth" campaign, meant to reintroduce Absolut to New Yorkers with a hyperlocal approach.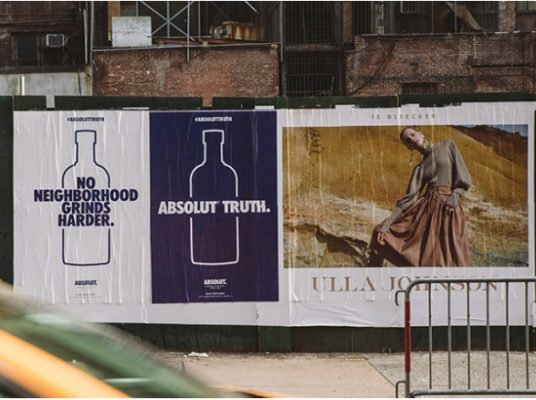 "It's such a buzzword, but if you're going to do hyperlocal you have to do it really right and that means down to the street corner," said Douglas Brundage, vp of strategy at Team Epiphany. "That was kind of our goal here, to capture the nuances of who lives in every neighborhood in New York City—or at least the six that we launched in—and why they live there. If you understand that then you can speak like a New Yorker to these New Yorkers."
While Absolut was launched in the U.S. in New York in 1979 and became a cultural staple in the nightlife and downtown arts scene—the brand has an Andy Warhol portrait and did a collaboration with Keith Haring in 1986—it hasn't had the same significance recently, especially for New York millennials, explained Brundage.
"This campaign is meant to bring back Absolut vodka to New York City," said Brundage. "Obviously, it's around, you can get it in almost any liquor store, but from a messaging perspective, New Yorkers haven't heard from Absolut in a while."
The out-of-home work appears in neighborhoods like Hell's Kitchen, the Lower East Side, Chelsea and Midtown East. Other elements of the campaign, including spots and experiential work, will roll out later this year.
"New York City and Absolut share a rich history of acceptance and inclusion through decades of involvement in the city's vibrant nightlife and spirits scene," said Mara Washington, director of brand activation for Absolut Vodka at Pernod Ricard USA, in a statement. "We're excited to launch Absolut Truth (see above), a candid New York City campaign that authentically speaks to our consumers in specific neighborhoods—from the streets of Harlem down to the Bedford Avenue subway stop in Brooklyn."
No related posts found...