---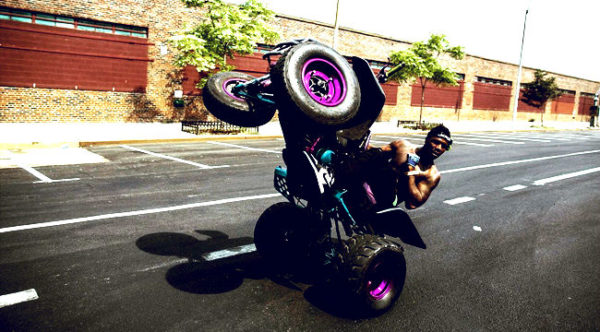 "Oh f**k. I'm gonna die."
The backroad was as rocky as it was steep and I didn't see any railings at the intersection ahead. Only a valley that looked like instant death. My guide asked if I felt more comfortable walking down instead, but I told him no. Because though my heart was beating out of my chest, the badass in me wanted a tiny taste of Bike Life. So I closed my eyes and held on tight as I waited for my death on the back of a dirt bike. By the time we reached the bottom, my feelings of fear were replaced with exhilaration.
"Damn, that felt good!"
I imagine that indescribable feeling of pure joy is what A$AP TyY experiences every time he gets on his ATV and tears the streets up. As a member of A$AP Mob — with rappers A$AP Rocky and A$AP Ferg — TyY is the fearless, rapping daredevil of the Harlem collective, often seen popping sick wheelies in New York City with his four-wheeler. While he doesn't take credit for being the first to stunt, TyY is considered the current leader of New York City's Bike Life scene, a youth-oriented movement that marries street culture and motocross.
The sub-culture emerged from the underground and to the masses by way of DMX's iconic visuals for his 1999 classic, "Ruff Ryders' Anthem." The video featured real "Ruff Ryders" doing insane stunts on bikes and ATVs. One unforgettable scene even had a stunt man speeding down a flight of stairs while riding his bright yellow ATV without any hands. Daring tricks like that are what captivated TyY as a youngin.
"I grew up on Ruff Ryders, and people I saw doing it on my street," the 27-year-old tell Uproxx. "It wasn't something I initially started. It was something that was going on for a long time."
The fearless stuntman, who credits BMX legends Dave Mirra and Mat Hoffman as inspirations, started biking when he purchased his first bicycle at just 11 years old.
"I finally saved up enough money to buy my own bike because my mom wasn't willing to buy me one."
With Harlem's nearly four square miles as his playground, TyY immersed himself in BMX culture before branching off to motocross and finding influence in legends James Stewart, Jeremy McGrath, Travis Pastrana, Nate Adams and cultural icon Evel Knievel.
Related articles
Related Articles
---