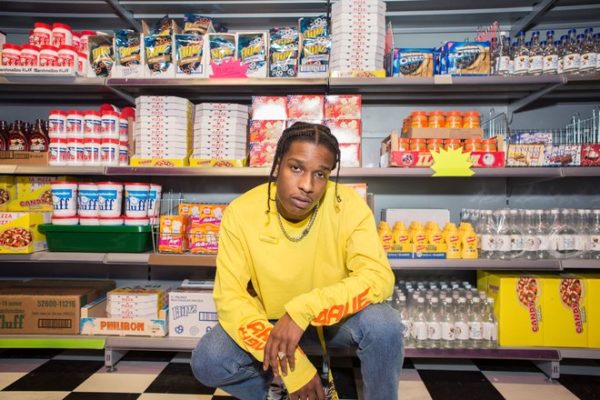 Vogue reports that Harlem's A$AP Rocky (above) is expanding his multi-hyphenate career—to rapper-producer-director-actor-model, he can now add Harlem, New York ambassador. The artist has partnered with Selfridges in London to set up a life-size bodega in the department store's basement, hoping to bring an authentic Harlem, New York flavor to Oxford Street.
"The bodega is significant because minorities owned it—Hispanics, Arabs, and Koreans," he says, lounging on a giant bean bag after a long day of stacking boxes and arranging merchandise (150 pieces specially designed for the space). "Outside of New York City, you don't experience the whole traditional bodega feel. You don't see cats lying on the bread, or asleep on the rice." Ultimately, he explains, it's about inclusion. "Different ethnic minorities coming together and living together cohesively—and this has been going on for decades," he says. "That's why I'm bringing this fusion of different cultures, manifested in one AWGE Bodega [named after the creative collective he leads with A$AP Mob]. It is ghetto, but not trashy, which is very true for New York City."
The graffiti-painted pop-up opens today and runs through October 11, 2017, with a run-down phone booth and packaged-ice vending machine on display. Inside, expect anything you would in a typical corner store. There are chocolate bars, chips, Krispy Kreme doughnuts, and lots of candy (strawberry kisses, jelly beans). Everything is branded with little cartoon characters resembling the AWGE crew: playing cards, A$AP Mob stickers, soft drinks, notebooks, calculators, blankets from Marino Infantry, and a limited-edition toy figurine modeled after A$AP Rocky. As for fashion, there is a selection of T-shirts, jackets, and sweaters by Harun, LYBB, Midnight Studios, as well as items from A$AP's collaboration with Guess.
Beyond mere creative direction, A$AP Rocky reveals that he plans to work the checkout himself and be in charge of any special music events. "There will be celebrations—tomorrow is my birthday, and I've got this cool badge that says A$AP Rocky Selfridges," he says. "I'm an official member [of the staff]." But it's not all fun and games for the star. In fact, the AWGE Bodega is a careful consideration of modern shoppers' demands. "I think the future of retail is going in a crazy direction—you know, physical stores aren't as popular because of online shopping," he says. "Most of the time you occupy a space that doesn't guarantee a quota of customers, and before you know it, it becomes a conflict. With pop-ups, you get in and get out. That's where everything is headed. Look what I am doing." He grins, but is seriously keen to provide a lively shopping experience, similar to what he has witnessed back home in Harlem. "I remember stealing candy from the bodegas," he says. "I was only a kid, 4 or 5 years old. I remember people rolling dice and drinking 40s. And I remember fighting in front of the bodega, myself."
Of course, a lot has changed since then. Following the nine months of hard labor it took to set up the space, A$AP Rocky has other concerns. "I need a manicure," he observes, looking down at a set of glittering diamond rings. Certainly, it would be well-deserved.
Book an appointment to visit the AWGE Bodega or shop its stock atselfridges.com/awgexselfridges
Related Articles
---