---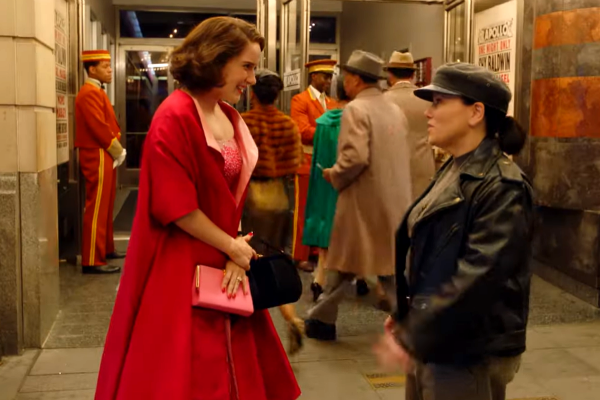 In the third season of The Marvelous Mrs. Maisel, the final episode centered around the World Famous Apollo Theater and the various performances there.
This included a Moms Mabley set (played by Wanda Sykes), and a Hines brother dance recreation (Choreographed by Marguerite Derricks and performed by another tap-dancing brother duo – the Foreman brothers), as well as a stand-up set from character Midge Maisel (played by Rachel Brosnahan) and a musical performance from the character Shy Baldwin (played by LeRoy McClain and vocals by Darius de Haas).
The Marvelous Mrs. Maisel has partnered with the Apollo Theater for a three-part conversation piece, covering Comedy, Music, and Dance. Directed by Leigh Silverman, participating talent include:
Comedy conversation: Amy Sherman-Palladino, Daniel Palladino, Rachel Brosnahan (Midge Maisel), Wanda Sykes (Moms Mabley)
Music conversation: Amy Sherman-Palladino, Daniel Palladino, Sterling K. Brown (Reggie), LeRoy McClain (Shy Baldwin), Darius de Haas (Shy Baldwin vocals)
Dance conversation: Amy Sherman-Palladino, Daniel Palladino, Maisel choreographer Marguerite Derricks, legendary dancer Savion Glover and dancers Jaden and Ellis Foreman Brothers (Hines Brothers)
The piece is intercut with historical Apollo Theater footage of dance numbers and stand-up sets, and conversations with the Apollo's Executive Producer Kamilah Forbes, talking about where the Apollo is now and its future, and Apollo Ambassador Billy "Mr. Apollo" Mitchell talking about the theater's legendary entertainment history.
Here's the video:
The entire conversation be viewed at:
The Marvelous Mrs. Maisel from renowned creator Amy Sherman-Palladino and Executive Producer Daniel Palladino, written and directed by Sherman-Palladino and Palladino, follows a 1958 New York City woman who has everything she's ever wanted—the perfect husband, two kids, and an elegant Upper West Side apartment perfect for hosting Yom Kippur dinner. But her perfect life suddenly takes an unexpected turn and Midge discovers a previously unknown talent—one that changes her life forever.
The Marvelous Mrs. Maisel stars Emmy and Golden Globe winner Rachel Brosnahan, Golden Globe winner and four-time Emmy winner Tony Shalhoub, two-time Emmy winner Alex Borstein, Emmy nominee Marin Hinkle, Michael Zegen, Kevin Pollak, Caroline Aaron and Emmy winner Jane Lynch.
The Marvelous Mrs. Maisel is the winner of sixteen Emmy Awards including Outstanding Comedy series, three Golden Globes including Best TV Series—Comedy, six Critics' Choice Awards including Best Comedy Series, two PGA Awards, a WGA Award, and a Peabody Award.
Photo credit: Screenshot from video. 2) Youtube video.
---