---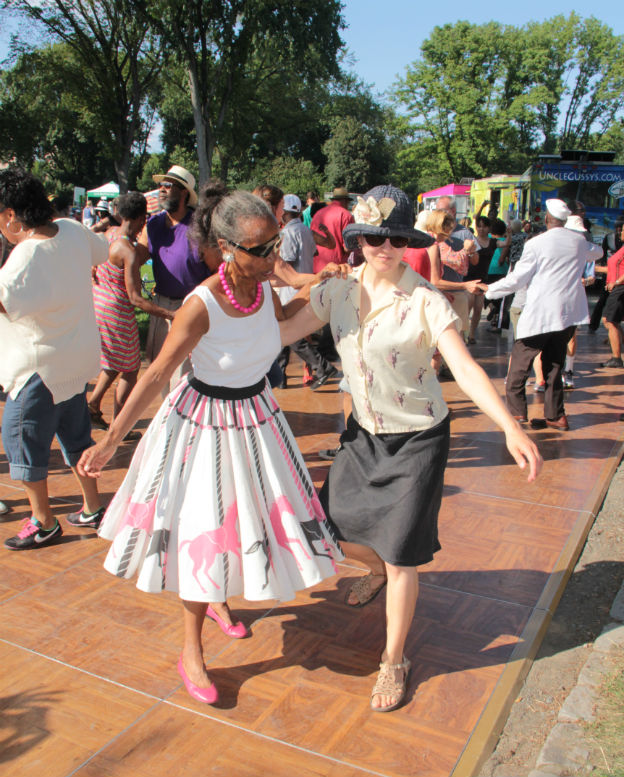 Join the annual family day at The Langston Hughes House where everyone is welcome. They are excited to be co-hosting with Uptown Grand Central and Save Harlem Now!
Face painting, sidewalk chalking, poetry performances, readings, book swapping, and popcorn popping will take place from 1 pm – 7 pm.
The Day
1 pm- 4 pm: Face Painting by Nikki Horton
1 pm-2 pm: Harlem Swing Dance
Harlem's Signature Cultural dance is the Lindy Hop: But is it possible to fuse Lindy Hop and Hip Hop? Sure it is once you learn the basics! Swing Back and join us during Harlem Week for this exciting and historical jazz dance workshop which fuses in today's music and steps that can keep you poppin'! Space is limited – please join us!
2pm-3pm: Makin' Moves with Ije
Dance classes taught by Ije Mogoli including hip-hop, breaking and locking, along with street jazz.
3:30pm-4:30pm: Langston Hughes Stoop Readings
Join us and enjoy the reading of Langston Hughes poetry by local creatives from his stoop!
5pm: Readings by Shawn-Herbert Felton
For Shawn, art is therapy. He is thrilled to be at The Langston Hughes House sharing his work.
Agnes Gomillion's debut, The Record Keeper,
is the first of a series of Afro-futuristic novels that trace and illuminate an African-American family's journey from slavery to relative freedom in the American South. The book speaks to the modern and future civil rights movement. It's an epic adventure that physically takes place in Georgia 200 years from now.
A reinvention of the life of Frederick Douglass…examining past and present race relations… The Record Keeper is about freedom from slavery and is being published to coincide with Juneteenth, the American holiday that commemorates the end of slavery in the United States.
All Day Donation Collection
I, Too Arts collects feminine hygiene products, toiletries and nonperishable/canned food items for Greenhope Services for Women and those without housing in Harlem. Feel free to drop off donations during A Day at Langston's!
I, Too Arts Collective at The Langston Hughes House, 20 East 127th Street (between 5th and Madison Avenues), New York, New York 10035,
Photo credit: By Seitu Oronde. Via Dallas Lee News
---