---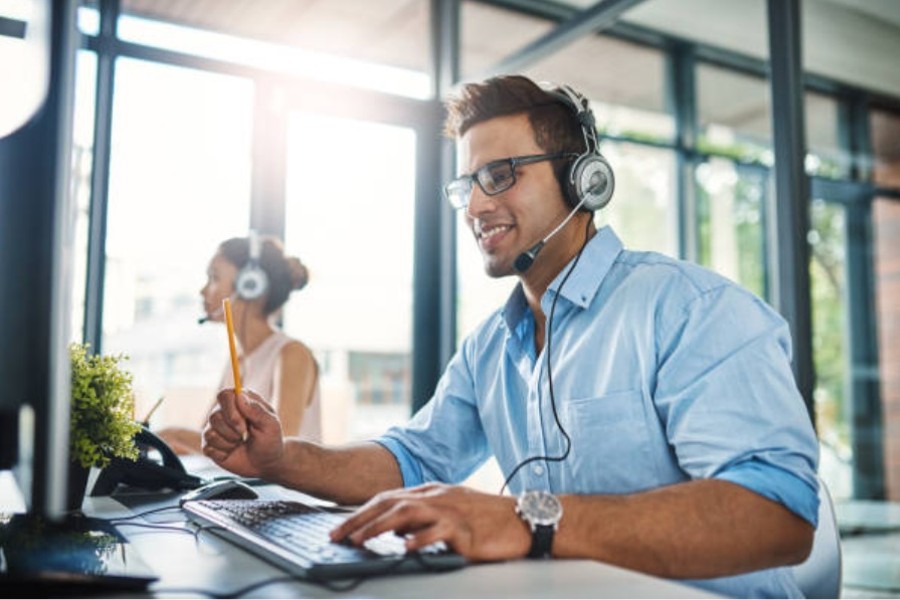 By Bretton Love
Customer service has become imperative in the world of business. As businesses grow, customer expectations and the need for customer service are heightened more than ever. 
Call centers are one way of providing customer service. To deliver results, customer service agents need to be diligent in meeting high customer expectations and demands. However, despite their efforts, the results might not be visible, which can sometimes render their efforts futile.
Enter customer service software.
Customer service software not only helps enhance the customer experience but rather acts to the benefit of the customer service agent by enhancing their productivity and increasing their job satisfaction.
In this article, let us explore the various ways call center software improves the experience for customer service agents.
Different Ways Call Center Software Helps Customer Agents
In this competitive world of businesses, it has become indispensable to rely on tools and software to enhance business strategies and to enhance the experience of both the customers and agents. When it comes to customer service, investing in the best call center software not only leads to a more satisfied customer but also leads to happy, enthusiastic, and productive agents.
Here are some additional ways customer service software aids service personnel:
Enhanced Productivity
Call center software encompasses a variety of features that aid in enhancing the overall productivity of customer service agents. Compared to traditional methods of providing via call centers, using call center software enhances the overall productivity of the individual personnel and the overall business.
With these added features that customer softwares possesses like data analysis, interactive voice response, automated call routing, and call distribution, call centers have become increasingly productive showing better results.
Automate and Streamline Processes
Not having a definite process is one of the main reasons for a business's inability to draw definite results leading to the deterioration of time and resources. This can be exterminated by call center softwares that not only helps streamline the process but also helps automate it.
These software programs streamline the process from lead acquisition to conversion and when customers seek support. This simplifies the process of having to map the call to an agent, reducing the call wait time and enhancing the productivity of the service agent who knows what to do.
Additionally, they also automate mundane repetitive tasks like data logging and integration, saving time to work on enhancing the customer experience.
Faster Resolutions
Customer service results rely on the number of resolutions delivered and the effectiveness of it. Call center softwares enhances the rate of providing faster results which is less time-consuming for the call center agent for them to work on more incoming tickets.
These faster resolutions are possible by service agents leveraging the call center software. By integrating them with CRM, these softwares provide a centralized platform for all the processes and the status of customers, in addition to their previous queries. Also, with the database containing information customers need not rely on a particular agent to get their queries answered.
Better Omnichannel Capabilities
A business's customer service generally provides a variety of ways for customers to connect with them. But, with the help of call center softwares, all these queries can be unified in one place. This is called omnichannel support.
Omnichannel support aims at providing support from a single interface so that the service agents wouldn't have to navigate between applications, tabs, and databases when dealing with a customer query.
This poses an added advantage to the productivity of the service agent.
Better Collaboration
Customer service working as a team delivers better results for the customer. Call center software makes sure these processes are well coordinated and handled. By offering visibility and transparency on the status of a customer query, they foster better internal communication focused on solving it. Additionally, this helps fresh service agents learn from senior agents.
This fosters a sense of teamwork among agents leading to enhanced job satisfaction and positive work culture.
Reduced Stress
This is one of the important roles of call center software for service agents. Call centers would have to deal with a hefty number of calls in quick succession, clarify every query of the customer, and even have to handle certain mishaps with them. All this can take a toll on the customer service agent.
By deploying call center softwares with advanced features, holds the customer database, automated call routing, and faster resolutions, the toll on the service agents might be lessened leading to better productivity and better job satisfaction.
Enhanced Skill Set, Learning, and Recognition
With the database call center softwares hold, with respect to both customers and service agents, they prove to be a valuable tool for learning, skill development, and enhancement purposes. They serve as knowledge bases for queries, act as a repository for FAQs, and even provide self-service material that helps both the agents and customers.
Also, with the level of transparency, these softwares provide, efficient service agents can get recognized by their superiors, leading to better job satisfaction.
Better Flexibility
Not only does call center software provide a better customer experience, it also provides better flexibility to call center agents resulting in more satisfied and productive agents.
This software enables them to work from anywhere in the world in their preferred time zone and make sure every process is upheld conformably. It also upholds confidentiality by keeping track of agent progress and monitoring them based on SLA's.
This flexibility results in better work-life balance which enhances the job satisfaction for the agent.
Frequently Asked Questions
How is productivity measured for a customer service agent?
A customer service agent is productive when they deal with more customer queries and provide proper closure to their needs, in addition to customer satisfaction.
How does the job satisfaction of a service agent help business?
A customer service agent who is satisfied with his job provides better productivity, increased retention, reduced churn rate, and enhances the overall morale of the workplace.
What are some features of call center software?
Automatic call distribution, interactive voice response, call recording, power dialing, and omnichannel support are some features of call center software.
Closing Thoughts
Customer satisfaction is the ultimate aim of any business, but additionally, the morale of customer service agents who provide support is even more crucial for the longevity of the business and its sustenance.
Software sure is a game-changer in any sector for any business. When it comes to customer service and call centers they are a new addition that propel business forward with better and more defined results.
Investing in better customer service software with a plethora of features greatly enhances not only the customer experience but also puts the service agents on a pedestal enhancing their productivity and job satisfaction.
This content is part of the HWM Partnership.
---