---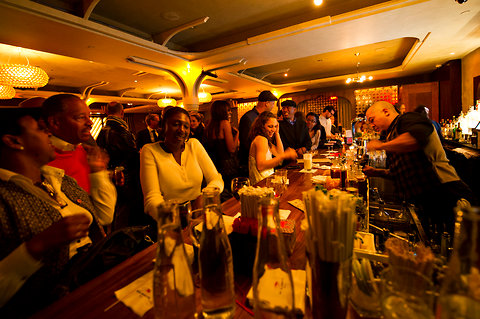 Our friends at CardHub have compiled a list of 8 important tips for managing your gift card spending this Harlem holiday season. Hopefully this information will help you maximize the holiday cheer that you spread this year.
8 Gift Card Tips for Holiday Season:
Consider Discounted Gift Cards: One might assume that sales and savings don't apply to the gift card market, as gift cards are more akin to currency than retail products with traditional product margins. That's not the case, however, as you can buy gift cards at discounts of up to 26% through online gift card exchanges.
General-Purpose Gift Cards are Costly: General-purpose gift cards, like those from Visa and American Express, tend to charge various fees because that's the only way their issuers can turn a profit. Store-issued gift cards, on the other hand, do not need to charge fees, since the retailer books a profit the moment you buy its gift card.
Scour Your Drawers for Buried Gift Card Treasure: More than $45 billion in gift cards have gone unused since 2005, according to TowerGroup and CardHub estimates. That's important to note because those of us who have a lot of unredeemed value sitting in drawers at home can still get something out of it. After all, the CARD Act prohibits a gift card's funds from expiring within five years.Consumers have three basic options when it comes to unlocking the value of unused gift cards. First, you can sell unwanted gift cards for cash. Secondly, most stores allow you to trade in old unused gift cards for new ones, which is great news for re-gifting cards that have developed noticeable wear and tear as a result of sitting idle for years. Finally, most states have programs that allow you to recoup unused funds from expired gift cards underunclaimed property laws.
Don't Pay For Shipping: Roughly 30% of gift cards from major retailers charge for shipping, according to CardHub data, but these fees can be avoided by utilizing a gift card search toolto identify the retailers that offer free shipping and/or digital gift cards, which can be sent directly to someone's inbox.
Watch Out For Blurred Lines Between Gift Cards & Prepaid Cards: Retailers are increasingly attempting to get customers to register their gift cards and reload them when funds are low. The Reloadable Walmart Gift Card is one high-profile example of this practice, which is aimed at promoting loyalty and gathering useful consumer analytics. This stands to further confuse the distinction between gift cards and prepaid cards in the minds of shoppers, potentially leading to increased costs."One effect of gift giving (and why retailers love it) is the lock-in effect that gift cards bring to firms. Once a consumer has a card for a retailer, it is hard for another retailer to steal the consumer for her next trip," says Tony H. Cui, associate professor of marketing with the University of Minnesota's Carlson School of Management. "Making a gift card registerable and reloadable by consumers is not surprising as retailers would like to take advantage of such a lock-in effect."Adding to that, E.K. Valentin, professor of marketing and management at Weber State University, notes, "Gift cards probably are much more effective in acquiring new customers than they are promoting loyalty. However, retailers might be well-advised to presume that customers who pay with gift cards are not yet loyal. Giving them a reason to come back, such as a discount card that applies to future purposes, would help promote repeat purchasing, which may lead to loyalty."
Beware Faux Gift Cards: Not only do consumers often mistakenly purchase prepaid cards thinking they are gift cards due to the positioning of in-store displays, but a loophole in the CARD Act allows non-reloadable prepaid cards (aka gift cards) that are received through a loyalty, award or promotional program to expire with no restriction. For context, normal gift cards cannot expire until five years from the date of issuance.It's therefore important for consumers to verify that they are indeed buying/receiving actual gift cards this holiday season and to read any applicable fine print related to their product.
Mobile Is Hot, But Still Not Ready For Primetime: E-gift cards have been gradually gaining traction in recent years, and increased mobile functionality stands to foster more widespread use of such products this holiday season. That's good news for time-crunched shoppers looking to avoid shipping fees on their holiday gifts or buy at the last minute this holiday season."E-cards make redemption easier in terms of logistics, time, and salience (once you enter the card number to your account, the money is there waiting to be used)," says Ayelet Gneezy, associate professor of marketing in the University of California, San Diego's Rady School of Management. "In short, this is one domain where I expect digital to provide consumers great value."However, retailers still have work to do in this area for electronic gift cards to achieve true staying power."If we want such a behavior not simply to be a temporary buzz, retailers have to work on adding values to gift giving rather than simply selling virtual gift cards online," Cui says. "This could include personalization of e-gift cards (has been done for a while in the industry), helping gift givers better understand recipients' preferences (not much so far based on my personal observations), and creating buzz among friend circles (not much yet). Mobile giving is an interesting topic in gift giving."
Buy Gift Cards With Rewards: Most credit cards allow you to redeem your rewards for gift cards from a wide variety of major retailers. In many cases, you can garner more value from this type of redemption strategy than redeeming for cash. For example, under Citibank's rewards program, you need 10,000 ThankYou points to get $50 in cash back, whereas you only need 5,000 points (50% fewer) for a $50 gift card.
Bonus Tips
Consult A Wish List: While gift cards naturally improve our odds of giving and receiving better gifts, as they can be redeemed for anything from the store they're affiliated, this potential is wasted if you receive cards for stores you don't like. The ability to create a list of your favorite stores and share it with friends and family is therefore one reason why creating a gift card wish list leads to better gifts.
Gift card wish lists also enable you to get more expensive gifts. Instead of getting ten different gift cards from ten random stores, as might be the case without a wish list, you can request cards from only a select number of stores, allowing you to pool your resources and buy a big-ticket item that you wouldn't be able to afford otherwise.
Avoid Using Gift Cards As An Excuse To Overspend: When redeeming gift cards, two-thirds of consumers spend more than their cards' face value, according to Consumer Reports. This is likely due to the same psychological factor that leads consumers to spend more with credit cards than cash: the money somehow seems less real. While gift cards can be quite useful in subsidizing the cost of large purchases, you should be especially cognizant of your spending when using a gift card, so as to avoid unnecessary expenses.
Ultimately, as long as you keep the aforementioned gift card factoids in mind, the holiday season from Harlem to Hollywood will be a whole lot happier, both in terms of your bank account and the smiles you elicit from the recipients of your gifts!
Any tips you would like t add to this list?
---