---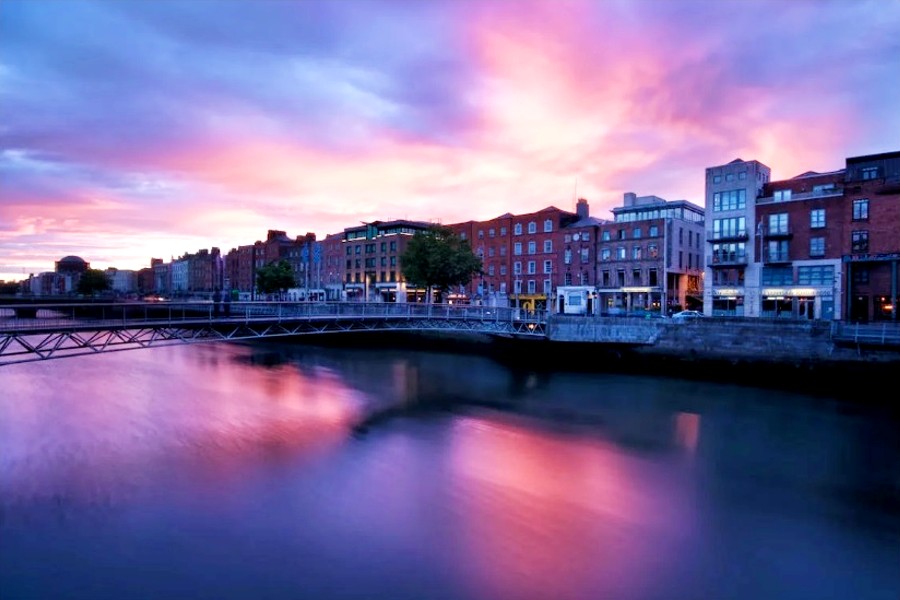 Ireland, with its lush landscapes, rich cultural heritage, and warm hospitality, beckons travelers from around the world.
If you're seeking an authentic Irish experience, you're in for a treat. From the bustling streets of Dublin to the enchanting Cliffs of Moher, Ireland offers a tapestry of experiences that will leave you enchanted. In this blog, we'll take you on a journey to seven must-visit destinations in Ireland, each offering a unique glimpse into the heart and soul of this remarkable island.
1. Dublin: The Capital City
Your Irish adventure begins in the vibrant heart of the country, Dublin. Steeped in history and culture, this city offers a perfect blend of old-world charm and modern vitality. Stroll through the cobbled streets of Temple Bar, where live music fills the air as locals and visitors come together to revel in the city's lively atmosphere. Don't miss a visit to Trinity College, home to the Book of Kells, a beautifully illuminated manuscript dating back to the 9th century. Dublin is also a food lover's paradise, where you can savor traditional Irish dishes like hearty stews and seafood chowder while tapping your foot to the sounds of traditional Irish music in cozy pubs.
2. The Wild Atlantic Way: A Coastal Adventure
Venture westward to discover the Wild Atlantic Way, one of the world's most breathtaking coastal routes. This 1,500-mile stretch of coastline offers an awe-inspiring journey along the Atlantic Ocean, with dramatic cliffs, pristine beaches, and charming coastal villages. Stop at the Cliffs of Moher, where the sheer drop to the churning sea below will take your breath away. Explore the Ring of Kerry, a scenic drive that winds through picturesque landscapes, including the Gap of Dunloe and Killarney National Park. Whether you're hiking along rugged trails or simply taking in the panoramic views, the Wild Atlantic Way promises an unforgettable coastal adventure.
3. Aran Islands – A Remote Retreat
Nestled off the west coast of Ireland, the Aran Islands offer a remote retreat that allows travelers to escape the hustle and bustle of modern life. These rugged islands are known for their stunning natural beauty, ancient stone forts, and a deep connection to traditional Irish culture. While visiting, consider indulging in a unique glamping experience, which allows you to immerse yourself in the pristine surroundings while enjoying a touch of comfort and luxury. Glamping on the Aran Islands offers the perfect opportunity to disconnect, unwind, and appreciate the serene beauty of this remote retreat. You can also explore ancient stone forts, hike along breathtaking cliffs, and experience the warm hospitality of the islanders. It's a step back in time to an Ireland that's deeply connected to its roots.
4. Cork: A Taste of the South
In the south of Ireland, Cork awaits with a unique blend of history, modernity, and Irish charm. Begin your visit at the bustling English Market, where local vendors sell fresh produce, artisanal cheeses, and more. Take a step back in time at Cork City Gaol, a former prison turned museum that offers insight into Ireland's history. A short drive from Cork City will lead you to the iconic Blarney Castle, where you can kiss the Blarney Stone for the gift of eloquence. The lush gardens surrounding the castle are a tranquil oasis, perfect for a leisurely stroll.
5. Belfast: History and Culture
Travel north to Belfast, a city that has undergone a remarkable transformation from its troubled past to a thriving metropolis. Dive into the city's history at Titanic Belfast, a world-class museum that tells the story of the ill-fated Titanic. Visit the Peace Wall, adorned with colorful murals that reflect Belfast's journey to peace and reconciliation. As you explore the city, be sure to sample some Northern Irish cuisine, like hearty Ulster fry or a traditional Irish stew. Belfast's warm hospitality and vibrant cultural scene are sure to leave a lasting impression.
6. The Ring of Kerry: A Scenic Drive
Prepare for an enchanting journey along the Ring of Kerry, a scenic drive that winds its way through some of Ireland's most captivating landscapes. Begin in the charming town of Killarney, where you can explore Killarney National Park, home to stunning lakes, waterfalls, and an array of wildlife. The route takes you through picturesque villages like Kenmare, where you can savor local cuisine and shop for traditional Irish crafts. Outdoor enthusiasts will appreciate the hiking trails, golf courses, and opportunities for birdwatching along the way.
7. County Clare: Music and Traditions
Conclude your Irish journey in County Clare, a region renowned for its rich music and cultural traditions. Immerse yourself in the lively Irish music scene in the town of Doolin, known as the "Home of Irish Music." Don't miss a pilgrimage to the Holy Island, a spiritual site steeped in history and folklore. And, of course, the iconic Cliffs of Moher and the lunar-like landscapes of the Burren National Park are essential stops for any traveler seeking the natural beauty of Ireland.
Ireland's timeless charm, stunning landscapes, and vibrant culture make it a destination like no other. From the bustling streets of Dublin to the serene landscapes of County Clare, each destination offers a unique facet of Irish life and history. Whether you're savoring a traditional Irish meal, tapping your foot to live music in a cozy pub, or gazing at the breathtaking cliffs, Ireland's authenticity will capture your heart and leave you with cherished memories of your journey through the Emerald Isle.
---