---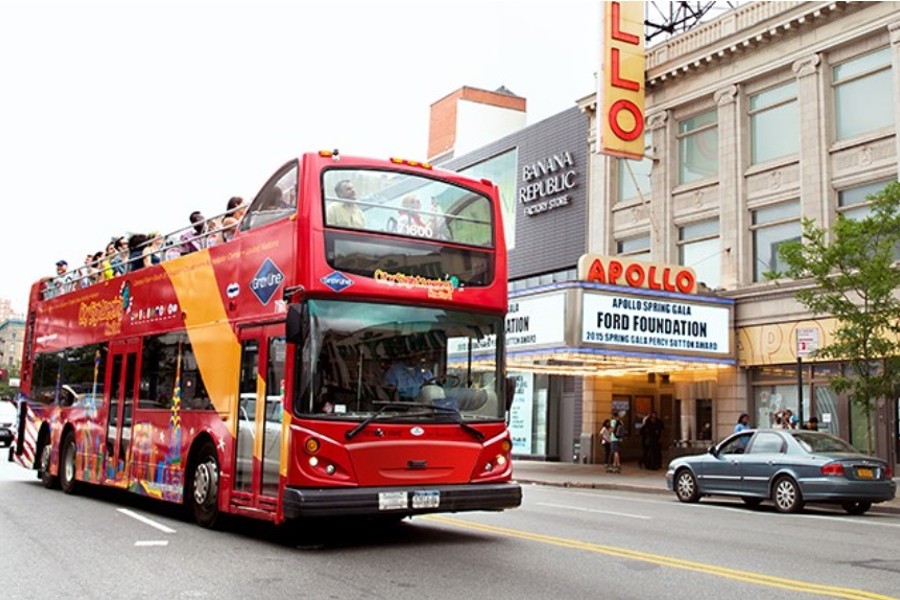 Looking to explore impressive architecture in New York City?
Well, fortunately, the Big Apple's cityscape is as diverse as its people. It offers all kinds of design: modern, sleek, contemporary, and many others. To sum it up, NYC does not disappoint when it comes to offering architectural marvels.
In this blog, we will list seven unique architectural wonders in New York City.
The Shed – A Contemporary Cultural Marvel
"The Shed" in Hudson Yards is a striking example of contemporary architecture. Its design embraces a futuristic and adaptable style.
At the heart of this architectural wonder is its distinctive telescoping shell structure, made of translucent ETFE panels. This feature allows the building to physically expand and contract, creating a flexible and dynamic space that can cater to a wide range of cultural and artistic events.
Designed by a collaboration between two renowned firms, the Rockwell Group and Diller Scofidio + Renfro, "The Shed" combines the innovative design sensibilities of both firms.
"The Shed" was constructed and opened its doors to the public in 2019. This contemporary masterpiece quickly made its mark on the cultural landscape of New York City.
World Trade Center Transportation Hub: A Symbol of Resilience
The World Trade Center Transportation Hub is a remarkable architectural achievement. It was designed by Santiago Calatrava and developed by the Port Authority of New York and New Jersey.
Construction of the Oculus commenced in 2004 and was completed in stages. The grand opening occurred in March 2016, symbolizing the rebirth of the World Trade Center site following the tragic events of September 11, 2001.
The World Trade Center Transportation Hub is a fusion of innovative modern design and functional utility. Its most distinctive feature is its vast, wing-like structure that opens and closes like the wings of a bird in flight.
This remarkable architectural style reflects the idea of rebirth, hope, and resilience. The exterior is primarily made of white Italian marble, and the interior features a stunning steel and glass structure. It creates a sense of light and space, offering a serene and awe-inspiring atmosphere within.
The Flatiron Building: An Icon of New York's Past and Present
The Flatiron Building is one of New York City's most iconic landmarks. It was constructed between 1901 and 1902.
The Flatiron Building is a classic example of Beaux-Arts architecture, characterized by its ornate detailing and grandiose design. The building's triangular shape, resembling an old-fashioned flatiron, is the hallmark of its unique architectural style.
This iconic structure combines elements of classicism and ornate decoration, making it a timeless symbol of the city's architectural history.
The building was developed by George A. Fuller and his construction company, the Fuller Company. However, it was designed by Chicago architect Daniel Burnham in collaboration with his partner, John Wellborn Root.
The Flatiron Building primarily serves a commercial purpose. It houses various offices and businesses.
VIA 57 West: Where Innovation Meets Architecture
VIA 57 West, a striking addition to the Manhattan skyline was constructed between 2013 and 2016, marking the 21st century with its bold and innovative design.
VIA 57 West is a stunning example of contemporary architecture, often described as a "pyramid on its side." It represents a departure from traditional rectangular forms with its unique tetrahedral shape.
This innovative style combines elements of modernism and sustainability, creating a visually captivating and environmentally conscious structure. The building's sleek glass façade and asymmetric design set it apart as a symbol of modern architectural prowess.
The creative mind behind VIA 57 West is Bjarke Ingels, a Danish architect known for his innovative and sustainable designs. The project was developed by The Durst Organization, a prominent real estate developer in New York City, known for its commitment to sustainable and forward-thinking development.
Trump Soho Tower: A Luxurious Manhattan Destination
The Trump Soho Tower, now known as The Dominick, was developed by the Bayrock Group and the Sapir Organization. The project gained fame partly due to its affiliation with the Trump Organization, which managed the property and provided branding and services.
The Trump Soho Tower showcases a contemporary and luxurious architectural style. It features a sleek and modern glass façade, characteristic of many upscale urban developments. The design exudes sophistication and elegance, making it a fitting addition to the upscale SoHo district.
Handel Architects were the creators of the architecture and design of the Trump Soho Tower. It is an acclaimed architecture firm known for high-end residential and hospitality projects. However, they weren't responsible for the building's interior. It was designed by David Rockwell from the Rockwell Group. So, it was actually a collaboration between Rockwell and Handel Architects in terms of design.
The building served as a prime example of the blending of upscale living and hospitality in the heart of one of Manhattan's trendiest neighborhoods.
All in all, its location and design make it one of the most impressive architectures in New York.
One World Trade Center: A Beacon of Resilience and Hope
One World Trade Center was developed by the Port Authority of New York and New Jersey. This state-controlled agency took charge of the project's development, emphasizing its significance as a symbol of strength and recovery.
And the same idea is reflected in its design. One World Trade Center features a modern and minimalist architectural style. Its design features clean lines and a reflective glass façade. Plus, the designers used the spire, denoting its role as a beacon of hope.
Who designed it? The renowned architectural firm Skidmore, Owings & Merrill (SOM) was responsible for the design of One World Trade Center. Their design team was led by architect David Childs. Together, they aimed to create a structure that would honor the memory of the Twin Towers while embracing a forward-looking, contemporary design.
The Seagram Building: A Modernist Marvel in Midtown Manhattan
The Seagram Building is yet another masterpiece of modernist architecture. It was developed by a prominent Canadian distillery company – the Seagram Corporation. The interesting part is who oversaw the project. It was none other than Phyllis Lambert, the daughter of Seagram's CEO. She played an important part in its realization.
The Seagram Building has a sleek and minimalist design that epitomizes the International Style. This architectural movement emphasizes simplicity, functionality, and the use of steel and glass. The building's bronze-toned curtain wall and clean, rectilinear silhouette contribute to its timeless and elegant appearance.
The credit for this brilliant design goes to Ludwig Mies van der Rohe. He is a legendary modernist architect who is celebrated for his "less is more" philosophy. The Seagram Building is a perfect example of his design principles. With its use of glass and steel, the building creates a sense of transparency and openness.
So, these are some of the most impressive architectures in New York!
Photo credit: Apollo Theatre.
---