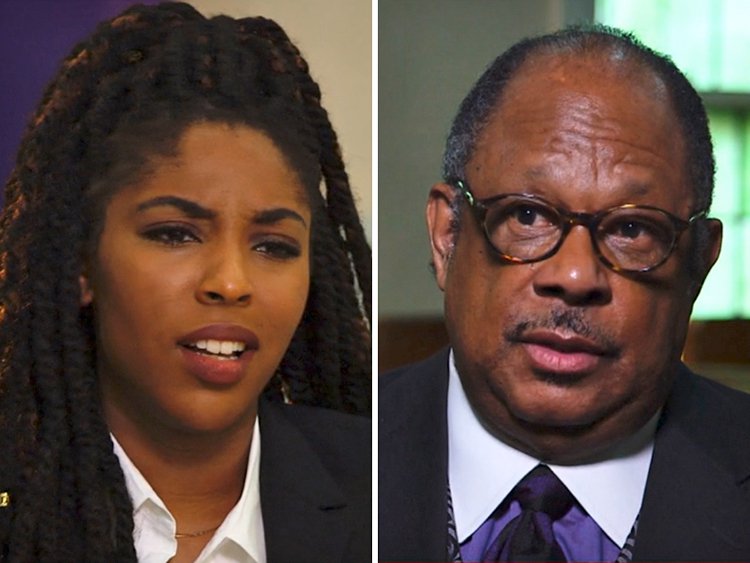 In the wake of news that a Harlem church notorious for its hateful marquee and rabidly antigaypastor might soon close its doors due to foreclosure, The Daily Show With Trevor Noah Tuesday sent correspondent Jessica Williams to sit down with Rev. James David Manning of ATLAH World Missionary Church. 
Before launching into the latest interview, Williams recounted The Daily Show's previous interactions with the right-wing pastor, including a 2009 conversation where Manning claimed President Obama was "the next Hitler" and last year's discussion in which Manning claimed that Starbucks flavors its lattes with semen. Manning's repeated insistence about that allegation,which Williams says has stuck with her ever since, earned Manning the infamous nickname on this and other pro-LGBT outlets as the "Sodomite Semen" pastor.
This week, Williams once again sat down with Manning to uncover what kind of trouble the church was in this time. As The Advocate has reported, ATLAH World Missionary Church iscurrently in foreclosure and slated to be auctioned off. As it just so happens, New York City's flagship drop-in center for homeless LGBT youth, the Ali Forney Center, has raised enough money to buy the church from the city, and plans to convert the space into an LGBT center and housing for homeless youth in Harlem. In the segment, Williams sits down with Ali Forney Center executive director Carl Siciliano to get the scoop on the big gay agenda; and her face when she learns the plan is priceless.
Despite the fact that Manning's church is more than a million dollars in debt — money owed to creditors and the city of New York after Manning refused to pay the church's water bill for years on end — he told Williams that the church's foreclosure is the result of a targeted campaign by, naturally, "sodomites."
"The sodomites, they've lost the campaign over the past two years to try to silence my very vocal and truthful and commanding voice in this community," Manning told Williams.
When the Daily Show correspondent asked for the names of these specific "sodomites" targeting Manning's church, the reverend launched into what sounds like a conspiracy theory:
"Many of them have moved from other parts of the city, from other parts of the country. And they've moved up here, to this particular community. … And a lot of them came up here, looking for black meat."
After forcing the pastor to acknowledge that by "black meat" he meant "sex with black men," Williams shook her head in disgust and asked Manning why he says such absurd things.
"I think 'jungle fever' could be one of the terms that you might — could you accept that, would you?" replied Manning.
When Williams asked the pastor to weigh in on the possibility that the hate-filled space would be turned into housing for LGBT youth who've been kicked out of their homes, Manning offered a "logical" solution, as Williams describes.
"Before this church is foreclosed on, sodomites will carry babies in their testicles for nine months and then gestate them out of their assholes, before this church is closed," Manning said. "Now, if it's possible for that to happen, then it's possible for this church to be closed."
Watch the full segment below.
---
---
The Daily Show with Trevor Noah
Get More: The Daily Show Full Episodes,The Daily Show on Facebook,The Daily Show Video Archive
Related Articles