---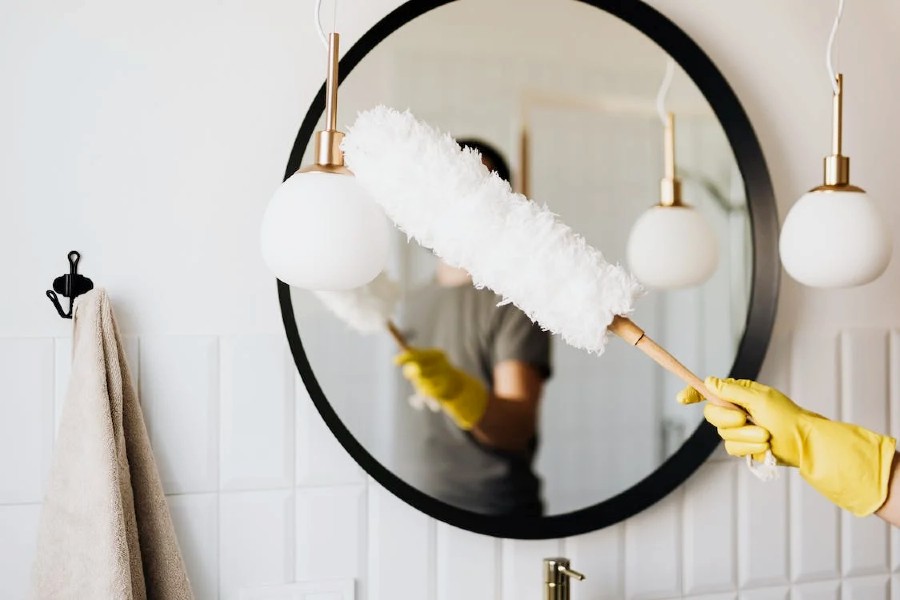 As a homeowner, you know that making sure your living area is clean and tidy will not only make it look great but can also have many positive benefits.
Keep your home organized and comfortable with these 6 easy tips on how to always keep clean and tidy around the house. From having a plan of action when cleaning each room to creating budget-friendly storage solutions, these ideas are sure to help you save time, money, and energy on maintaining an inviting space for you and your family. So grab some cleaning supplies or delegate tasks as needed – let's get started!
1. The Landscaping Area – It is the first impression of your home
Your home's landscaping area is the first impression for visitors and passers-by; having it neat and tidy ensures that impression is lasting. If you have a pool, pool cleaning should be top of your list here – this makes for a sparkling pool sure to delight your pool users in summer, as well as creating a lush and beautiful outdoor space. Furthermore, you can always inquire about pool cleaning tips from thepoolstainremovers.com.au or any local pool cleaning services that you have in the vicinity. On the other hand, landscaping may also include trimming back overgrown shrubs, weeding flower beds or even keeping up with hedge grooming. However, you choose to manage your landscaping area, making sure it's perfectly maintained will give off that inviting and polished appearance that many strive for! If you want, you can also consider hiring professional landscaping services to make this a lot easier.
2. Kitchen Countertops and Sink Areas – Kitchen needs to be germ-free
Since we often prepare and consume food here, it's vital that we do extra deep cleaning of our kitchen countertops and sink areas. All surfaces should be wiped down with a non-toxic cleaner to keep germs at bay and make sure they won't spread to us or our food. You can also disinfect those areas regularly with a product such as bleach or vinegar for additional germ protection. Strategically organizing tools such as cutting boards, dishes, pans, and utensils will help you avoid clutter on the counters and make them easier to keep germ-free too. Keeping your kitchen clean isn't just for aesthetics; it's essential for your health too!
3. Floors – Clean floors make a home more livable
Floors are literally the first thing we think of when it comes to a clean and tidy home. Not only do clean floors look better, but they also contribute to the overall well-being of our households as dirty and grimy floors can cause health risks such as asthma, allergies, or even worse illnesses! This is why it's important to keep on top of your floor cleaning: Vacuum regularly, scrub with cleaners or mops, or even steam clean to get out any embedded dirt. Not only will these efforts make your home more livable from a sanitation standpoint, but they'll also leave it looking spotless and beautiful. Here's a helpful tip: wax and polish your floors at least twice a year to give them an extra glamourous sparkle.
4. Bathroom Surfaces – Get rid of germs and bacteria adequately
Keeping bathroom surfaces clean and tidy is one of the most important things to do in order to keep our homes safe and healthy. Regular cleaning with disinfectant agents is key for getting rid of germs and bacteria commonly found in bathrooms. Don't forget about the hard-to-reach areas – use cotton buds to get inside small crevices, sponges and mops for bigger surfaces, and cloths for mirrors and counters. If there is mold or mildew present, use baking soda as it has natural cleaning properties that will take care of it quickly and easily. Remember to change your towels each week, vacuum regularly, and always close the toilet lid when flushing to avoid any contamination!
5. Windows – Open and clean windows regularly to let in natural light and fresh air
Natural light and fresh air aren't just pleasant – they're essential to our well-being. That's why windows should be one of the top priorities when it comes to keeping a house clean and tidy! Routinely opening and cleaning your windows also helps your indoor air quality and keeps allergens from settling inside. Not sure where to start? Tackle one window at a time, in order of need – a little bit of top-to-bottom wiping will remove dust, dirt, and smudges without much effort. The results are instantly noteworthy – open those windows, sip some tea in natural sunlight, and soak up the soothing benefits of the outdoors in the comfort of your own home.
6. Furniture – Reduce allergens and dust mites from building up in the fibers of the fabric
When it comes to our furniture, keeping it clean and tidy isn't just about looking nice – it's also about creating a healthier environment for ourselves and our families. Vacuuming, washing or dry-cleaning upholstered furniture helps reduce allergens and dust mites that can build up in the fibers of the fabric. Changing your linens and cushion covers regularly will help, as well as spot cleaning to remove accident spots. There are plenty of products on the market designed specifically to tackle such household tasks, so you can take care of all your furniture surfaces without relying on harsh chemicals. Keep your home feeling fresh, happy, and healthy by tackling these regular cleaning routines with ease!
Keeping up with the regular maintenance of our homes not only keeps them beautiful but makes more time for us to spend doing the things that we love. We can look forward to coming home knowing it will be clean and clutter-free, allowing us to enjoy the full potential of rest, relaxation, and connection. This simple daily ritual is an opportunity to create a sanctuary that reduces stress, aids healthy sleep habits, and helps create a healthier environment for ourselves and our families.
Latest Posts
---