---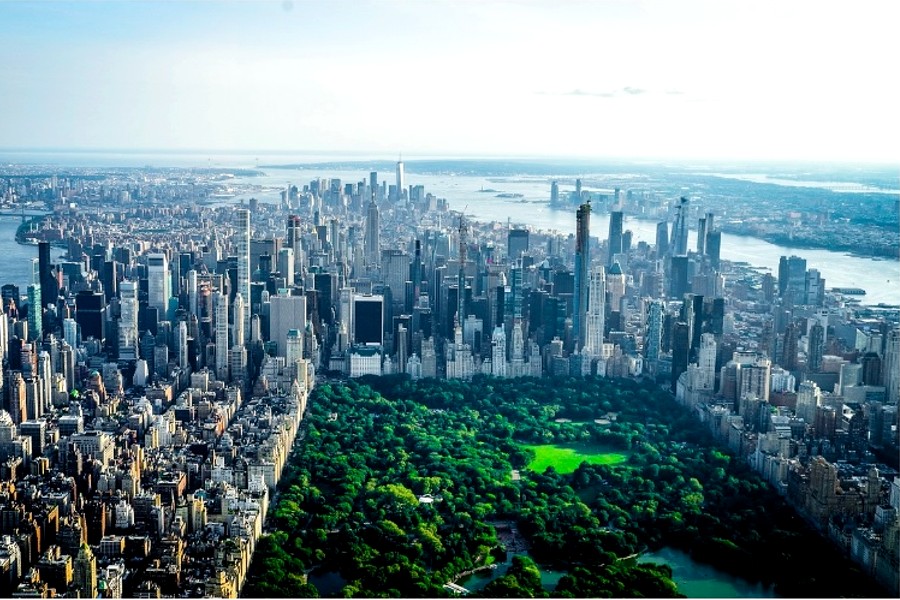 If you're thinking about investing in property in New York City, there are a few key things to keep in mind.
It's one of the most sought-after locations around the globe, drawing people from all over the world with its bustling cities and diverse culture. But before purchasing property in NYC, it's important to do your homework so that you make an informed decision that will serve both your lifestyle preferences and financial objectives. Here are 6 things to consider when making this major investment:
Location, Location, Location
Arguably the most important consideration when buying property anywhere, and especially in New York City, is location. New York is a vast city with diverse neighborhoods each offering its unique vibe and lifestyle. Areas like Manhattan and Brooklyn are bustling with activity and known for their high-end properties, while boroughs such as Queens or The Bronx might offer more affordable options. As potential apartment buyers, you should consider your daily routine and preferences when choosing the location of your property. Do you prefer living in a busy neighborhood with easy access to bars, restaurants, and shops? Or do you prioritize peace with more green spaces around? Researching different neighborhoods is key to finding the perfect location for your lifestyle.
Budget and Financial Preparations
The financial aspect of purchasing property in New York City is another critical point to consider. As one of the most expensive real estate markets in the world, potential buyers need to be well-prepared financially. It's essential to determine your budget early in the process, factoring in not only the purchase price but also ongoing costs such as property taxes, homeowners insurance, and maintenance fees.
Remember that in New York, properties in certain neighborhoods may impose additional costs, like homeowners association fees or higher property taxes. It's often wise to consult with a financial advisor or a seasoned real estate professional who can provide insights into the city's complex real estate market and help you plan your budget accordingly.
New York City vs. Upstate New York
When considering property in New York, it's also valuable to understand the difference between purchasing in New York City versus Upstate New York. The two regions offer vastly different living experiences and have unique real estate market characteristics.
While New York City is known for its urban lifestyle, packed with world-class restaurants, museums, and theaters, Upstate New York offers a more peaceful, countryside living with vast green spaces and lower property prices. However, living upstate means you might have to sacrifice some conveniences, such as easy access to various amenities and public transportation.
In terms of the real estate market, properties in New York City are generally more expensive but can offer a higher return on investment, especially in prime locations. On the other hand, properties in Upstate New York are more affordable, making it a potentially attractive option for those looking for larger spaces or hoping to escape the hustle and bustle of city life.
Ultimately, the choice between these two depends on your lifestyle preferences, financial capability, and long-term plans. Whether you choose to invest in the vibrant city life of NYC or the tranquil charm of Upstate New York, each offers its unique appeal and potential benefits.
Property Type: Condos, Co-ops, or Houses
When investing in New York real estate, the type of property you choose to purchase can greatly impact your overall experience as a homeowner. Condominiums, cooperatives (co-ops), and houses each come with their unique set of benefits and challenges.
Condos are individual dwellings that are a part of a bigger structure or neighborhood. As a condo owner, you'll own your unit and share ownership of the common areas with other unit owners. Condos often come with less maintenance work and are more affordable, making them a popular choice among first-time property buyers in New York City.
Cooperatives, or co-ops, are unique to the New York real estate market. When you buy a co-op, you're purchasing shares in a corporation that owns the building, and these shares entitle you to a lease on your unit. While often less expensive than condos, co-ops come with their complexities, including stringent approval processes and restrictions on renting out the property.
Houses, often found in Upstate New York or the city's outer boroughs, provide the most space and privacy but also come with higher maintenance costs and responsibilities. They are an excellent choice for those looking for a family home and are willing to commute into the city.
Legal Considerations and Property Taxes
Before purchasing property in New York, understanding the legal implications and property tax requirements is crucial. It is advisable to seek legal counsel to ensure all aspects of the purchase agreement are in your best interest, including contingencies that protect you should the deal fall through. Legal considerations also extend to understanding the rules and regulations of the property, especially for condos and co-ops. These might include restrictions on renovations, pet policies, and subletting rules.
In terms of property taxes, New York operates on a complex tax system that varies greatly from borough to borough and even from neighborhood to neighborhood within the same borough. The tax rate is primarily determined by the property's assessed value and its tax class, which is based on its use (residential, commercial, etc.). Properties in New York City, for example, are often subjected to higher property taxes than those in Upstate New York due to their higher market values. Additionally, condos and houses are usually taxed at different rates than co-ops.
Lifestyle and Amenities: Urban vs. Suburban Living
When choosing a property in New York, another factor to consider is the kind of lifestyle you prefer, which largely depends on whether you opt for an urban or suburban setting. The decision between urban living (largely found within New York City) and suburban living (more common in Upstate New York or the outer boroughs) depends on the amenities and lifestyle each option offers.
Urban living in New York City is characterized by a fast-paced, dynamic environment. The city is a hub for culture, art, and entertainment, offering access to a wealth of amenities including world-renowned restaurants, shopping centers, museums, and nightlife. Public transportation is also easily accessible, making commutes to work or popular city destinations convenient. However, the trade-off for these amenities often comes in the form of smaller living spaces and higher costs of living.
On the other hand, suburban living often offers a quieter, more tranquil lifestyle. Properties usually offer larger living spaces, making it a popular choice for families. The suburbs often have more green spaces, local parks, and community-oriented amenities, providing an environment that many find conducive to raising children. However, commuting to the city for work or entertainment can be more challenging, and the pace of life may be slower compared to the city.
In conclusion, when considering investing in New York real estate, it's essential to carefully weigh all the factors and do thorough research. The type of property, legal considerations, taxes, and lifestyle preferences should all be taken into account before making a decision. Ultimately, both New York City and Upstate New York offer unique opportunities for investment and living experiences; it's up to you to determine which best suits your needs and goals.
---