---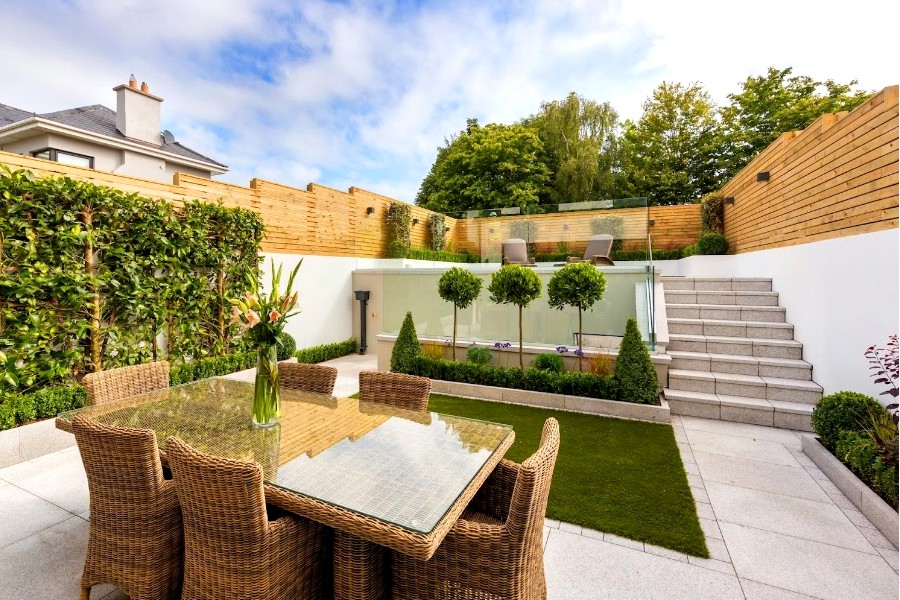 Finding yourself craving some outdoor space to stretch out in? Want to create a comfortable and cute spot for long days spent sipping coffee and reading books outside?
Whether you have a balcony, backyard, or patio, we're here to provide you with the ultimate guide on how to transform it into your own personal oasis. From tricking out seating areas to brightening up pathways with potted plants — these 6 simple steps will easily help you get your dreamy outdoor area looking amazing!
Add colorful cushions, rugs, and pillows
Creating an inviting outdoor space is a must if you want to spend some quality time outside. And there's no better way to do it than by adding some colorful cushions, rugs, and pillows. Among them, an outdoor cushion brings comfort to your patio chairs or lounges. Whether you prefer bold hues or soft pastels, outdoor cushions can give your outdoor living area an instant refresh while adding extra comfort to your seating options. Aside from that, you can mix and match different textures and patterns to create an eclectic or cohesive look that suits your style. Don't forget to add a durable outdoor rug to tie the space together and provide a soft spot for your bare feet.
Invest in weatherproof and comfortable furnishings
Are you planning on decorating your outdoor space soon? Don't forget to consider comfort and durability when purchasing your furnishings. Opting for weatherproof pieces, like Adirondack chairs or hammocks, will allow you to enjoy your time outside regardless of the weather. These types of seating options hold up well in the elements and offer a level of relaxation that other outdoor furniture may not be able to match. Imagine lounging in a comfortable Adirondack chair with a good book as the sun sets or swaying in a cozy hammock while listening to the sound of chirping birds — sounds pretty idyllic, doesn't it? When you pick the right outdoor furnishings, it will be a breeze to create the perfect outdoor oasis for you and your loved ones to enjoy.
Hang a chandelier or string lights
Nothing sets the mood quite like ambient lighting. If you're hosting a special event, for example, hanging a chandelier or string lights can be just the thing. A chandelier can add elegance and sophistication to any room, casting a warm glow that's perfect for dinner parties or intimate gatherings. On the other hand, string lights can create a cozy and whimsical atmosphere, perfect for curling up with a good book or sharing stories around a fire pit. No matter which option you choose, the right lighting can transform any space into a welcoming sanctuary.
Plant flowers and shrubs
Planting flowers and shrubs around the perimeter of a space is an effective way to add both color and privacy. The beauty of roses, daisies, and tulips cannot be overstated, and their presence can greatly enhance the aesthetic appeal of any location.
Additionally, planting shrubs such as boxwoods or evergreens can create a natural barrier that can provide a sense of seclusion and intimacy, which can be especially beneficial for homes near busy roads or bustling neighborhoods. These plants offer an attractive alternative to standard privacy fences while providing numerous environmental benefits such as oxygen production and wildlife habitat. Planting flowers and shrubs is a win-win solution for anyone who wants to add beauty and privacy to their surroundings.
Place tables and chairs
If you are looking to enjoy a meal outside, the atmosphere you create is key. Placing tables and chairs in the right spot can create the perfect dining experience. Depending on the size of your space, consider adding a bistro set or a dining table with seating for you and your guests. You can even incorporate unique touches such as a picnic blanket for a casual vibe or a small coffee table surrounded by floor pillows for an intimate setting. Just make sure to arrange the furniture in a way that allows easy movement and conversation flow. You don't want to be tripping over chairs or constantly adjusting your position to talk with others!
Set up a fire pit or outdoor oven
One of the greatest pleasures of the summer season is perhaps spending time outside, be it for a night of stargazing or an evening barbecue with friends and family. What better way to enhance these experiences than by setting up a fire pit or outdoor oven? With a little bit of effort, you can create the perfect setting for s'mores, hot dogs, or even a full-blown outdoor feast.
The warmth and mesmerizing glow of the fire will add an extra layer of relaxation and comfort to the evening, making it a memorable occasion for everyone involved. Plus, cooking outdoors is a fantastic way to enjoy nature and indulge in delicious food all at the same time. Give it a try this summer and discover a new level of outdoor adventure!
Bonus tips
Before we wrap up, here are a few bonus tips to add that finishing touch to your outdoor oasis. With these small but impactful changes, you can elevate your outdoor space to the next level:
Incorporate personal touches such as photos, artwork, or sentimental trinkets to make the space feel more like your own.
Don't be afraid to mix and match different styles and colors. Embrace your creativity!
Consider adding a water feature, such as a small fountain or bird bath, to add a soothing element to your outdoor space.
Use multi-functional furniture, like a storage bench or coffee table with built-in storage, to maximize space and keep things organized.
Don't forget about the importance of shade! Invest in an umbrella or canopy to provide relief from the sun on hot summer days.
Have fun and experiment with different ideas until you find the perfect balance of comfort and cuteness for your outdoor space.
Creating a comfortable and cute outdoor space doesn't require a massive budget or a professional designer. It's about incorporating elements that reflect your personal style and create an inviting, cozy atmosphere. Whether it's through the use of colorful cushions and rugs, weatherproof furniture, ambient lighting, beautiful plants, well-positioned tables and chairs, or even a fire pit, you can turn any outdoor space into a personal oasis. Don't forget to add personal touches to make the space uniquely yours and experiment with different ideas until you find the perfect balance.
---