---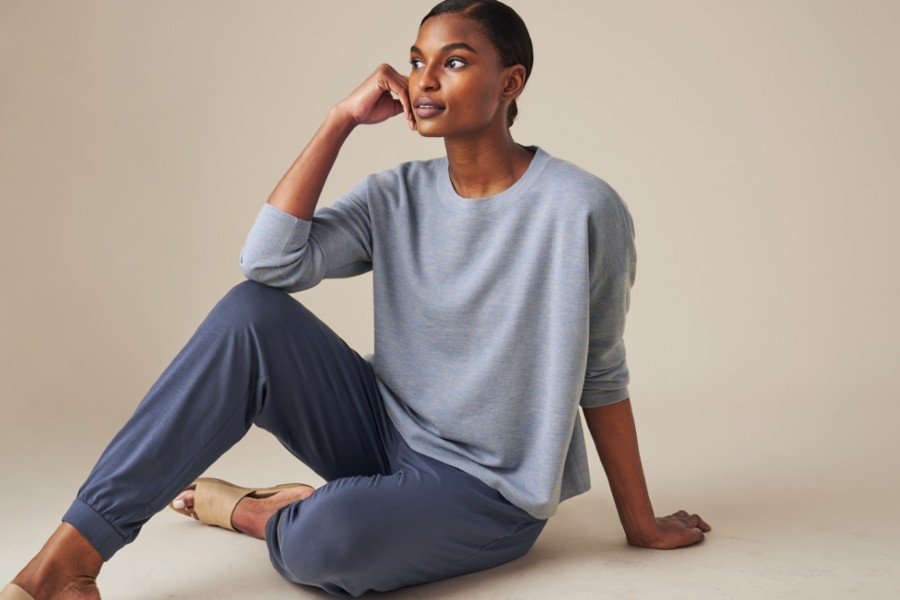 A day with friends is like a mini-vacation from the everyday hustle.
Whether it's an unplanned meetup or a planned outing, the key to enjoying this slice of paradise lies in the comfort of your attire. Comfortable yet stylish clothing can turn an ordinary day into an unforgettable experience. After all, the right outfit sets the tone for an easy-going day filled with laughter, conversations, and memorable moments.
So, let's not underestimate the power of the right ensemble. Here's a list of must-have clothing items that offer the perfect blend of comfort and style for a relaxed day to create lasting memories with friends.
Let's begin.
1. Soft Joggers
When planning for a laid-back day, comfort is the top priority, and soft joggers are the answer. These cozy pants are like a warm hug for the legs. They provide ample room to move around, whether walking the streets or lounging at home.
It is because they are made from fabrics like cotton or fleece, making the softness hard to resist. Plus, when it comes to pairing, you can combine it with almost any colorful or white tee. In addition to the versatility of parring, its handy pockets make them perfect for storing small items like keys or a phone. So, whenever you plan your next weekend, ensure you choose a jogger to pair with your favorite upper.
2. Stylish Hoodies
When it comes to a day out with friends, hoodies reign supreme in delivering both comfort and style. These hoodies are the epitome of relaxed fashion, offering a cozy escape in their ample fabric.
If you want more comfort, you can opt for an oversized fit. Oversized Hoodies provide comfort and easily add a touch of style to any ensemble. The roomy pockets and large hood provide both form and function, making them practical choices whether you are going out for an outdoor adventure or a laid-back movie session.
To make the comfort last, opting for a hoodie made from premium fabric is a wise move. Quality material ensures durability and an extra layer of softness, making these oversized hoodies a wardrobe staple for any relaxed gathering.
3. Crewneck T-Shirts
Crewneck T-shirts, often known as crew tees, are a wardrobe essential. These simple yet versatile garments are prized for their comfort and classic style. They offer a timeless and relaxed look with a round neckline and short sleeves.
These tees come in various colors, allowing individuals to express their personality effortlessly. Whether worn alone on a warm day or layered under a jacket in cooler weather, they adapt to any occasion. So, why not have one?
4. Comfortable Shorts
When the sun's out, and the weather's warm, comfortable shorts are a top pick for a relaxed day with pals. Wondering why?
Made from light, breathable fabrics like cotton or linen, it ensures you stay cool even when the temperatures soar. The relaxed fit gives ample room for activities, whether you're taking a stroll or engaging in a spontaneous game of beach volleyball. Pockets add convenience, making it easy to carry small essentials.
So, remember, comfortable shorts are a must-have for anyone aiming to make the most of a sun-filled, laid-back day with friends.
5. Lightweight Jacket
The lightweight jacket, known for its versatility, balances practicality and style. It's perfect for when the sun hides behind a cloud or a light rain starts.
The jacket usually comes with pockets, so you have a place to put your phone or keys. Also, they are easy to pair with a T-shirt or hoodie. So, a lightweight jacket is a wise choice for a day hanging out with friends where you want to be comfy but still look good.
6. Chinos
Chinos are a great middle-ground for those who want to balance casual and classy. These pants are comfy like joggers but give a more polished look. Made generally from cotton or a cotton blend, they offer breathability, making them perfect for a day involving various activities.
They are incredibly versatile and can be teamed up with various tops. They adapt effortlessly, whether it's a casual t-shirt for a laid-back look or a button-down for a touch of elegance. This makes them a go-to choice for diverse occasions.
Wrapping Up
The right clothes can make or break one's experience. Each item mentioned offers its own set of advantages, but together, they create an ensemble that's both chic and cozy.
So the next time the calendar marks a free day with friends, you'll know exactly what to reach for in your wardrobe. Dress right, feel great, and make the most of every moment spent with those who matter most.
---