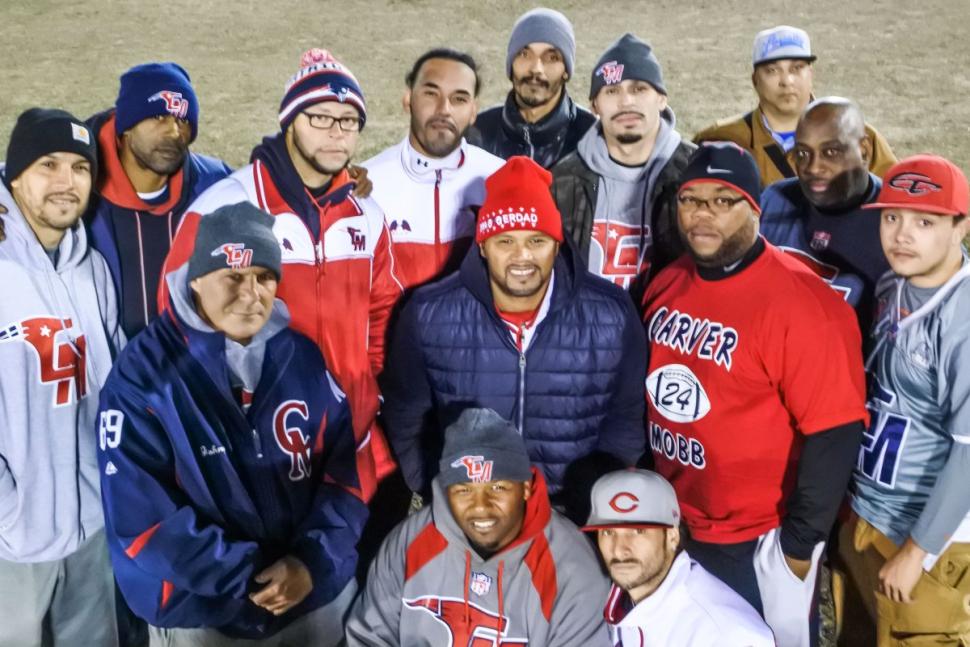 Great story by Daily News about East Harlem's 20 year street ball champions the Carver Mobb.
It is the middle of the second half of the first annual Street Bowl championship game and East Harlem's Carver Mobb defender Nafeez Hoyte sprints across the field to pick off a 30-yard bullet from AFC quarterback Keith Aldridge.
Here's a great video with the founders and players:
Hoyte arrives a half-second too late and crashes into receiver Travis Poole, who somehow manages to hang on to the pass and then runs backward into the end zone.
Poole flexes his biceps and roars in defiance. The touchdown gives AFC, an upstart squad out of Queens, a 25-20 lead and the edge for the $16,000 championship purse — "chip" — that will be presented to the winning team at the end of the two-day tournament.
The Carver Mobb players — the top dogs in New York street football for many years — shrug it all off, just another bump in the road they've been dominating for years, especially after an AFC receiver flubs a pass on the extra-point attempt.
"That could be costly ladies and gentlemen," says the MC calling the game at Harlem River Park on a golden autumn Sunday. "That was a $16,000 drop."
Welcome to New York street football, a world of bruising hits, unabashed testosterone and boundless brotherhood. Dozens of teams and leagues, a loose alliance known as the Touch Football League, play seven-on-seven smash-mouth football, a tough inner-city sport that sprang out of the South Bronx and other Latino and African-American neighborhoods some 40 years ago.
"This is our NFL," says Carver Mobb coach Paul "Pamz" Rivera, the heart and soul of the team he founded in the early 1990s with his friends from Spanish Harlem's George Washington Carver Houses. "This is my family. This is my life."
"This is our NFL," says Carver Mobb coach Paul "Pamz" Rivera, the heart and soul of the team he founded in the early 1990s with his friends from Spanish Harlem's George Washington Carver Houses. "This is my family. This is my life."
This is rough-touch football, a sport that is played virtually year-round on divot-pocked fields from Co-op City to Coney Island. Defenders regularly knock receivers to the turf and blockers aren't afraid to throw elbows as they clear the lane for ball carriers. Injuries — concussions, broken noses, busted knees, fractured forearms — come with the territory.
So do camaraderie and friendship: Rivals who bludgeon each other on the field happily share beers and blunts after the final whistle blows. For all the trash talk that comes with street football, for all of the piss and rage spewed on the field, street football also offers its players — Dominicans, Puerto Ricans, blacks, whites, men in their early 20s to their mid-50s — brotherhood and community.
---
---
Especially if you play for the Carver Mobb, a team that parties and grieves together with equal intensity. The Mobb's jerseys sport angel wings and the name "Ella" in memory of Danny "Moya" Reyes' infant daughter and her fatal struggle with heart disease. It wore pink jerseys at the Street Bowl in honor of receiver Wes Santiago's wife, Lisa, a two-time cancer survivor.
"From Day 1, we were not just a group of guys who got together to play football," Pamz says. "We look out for each other."
The Street Bowl, an eight-team, two-day tournament sponsored by Def Jam Recordings and the subject of an upcoming VICE documentary produced by Mandalay Sports Media and independent producer Isaac Solotaroff, is the biggest event in the history of New York's rough-touch scene.
With a chip roughly twice the amount of the average championship purse, it drew the city's very best players and teams, including the Mobb's biggest rival, Undarated, which lost to Carver Mobb on the very last play of the semifinal. Street-corner chefs grill burgers as hundreds of fans party on the sidelines, cheering for husbands, boyfriends, brothers and buddies. Carver fans are easy to spot, since they wear shirts that say "Carver Wife" and "Carver Son."
Pamz says street football is finally ready for prime time after 40 years on the fringes of New York sports. "When the world sees us, it is going to be unbelievable," Pamz says. "Nobody has a vision for street football like I do."
Joining Carver Mobb is a little like getting Green Bay Packers season tickets, says former CM player Will Wright, now a coach: "Somebody needs to die first," he says, laughing.
Not everybody is Carver Mobb material. Carver Mobb players pride themselves on checking their egos and working as a unit. It's like playing for the Yankees or the Patriots (the inspiration for the Carver Mobb logo) — guys who are stars elsewhere become role players in exchange for chips and championships.
"Some guys don't fit," says receiver Danny Encarnacion, "but if you are playing on Carver you are playing to win."
The quarterback is especially important in rough touch; unlike tackle football, running the ball rarely gains much ground. That makes Chuck Martinez maybe Carver Mobb's most important player. A former college point guard, Martinez has an uncanny knack for hitting receivers with no-look passes and an impressive ability to keep his cool with blitzing defenders on his heels.
"We all hate to lose equally," says Martinez, one of the team's original core from the 1990s, "and that's why we are more than a team."
Carver Mobb receiver Johnny Vitolo, a fixture on the street football scene since the 1970s, says Martinez, with his perpetual Zen grin, keeps his team grounded in tense moments.
"I give Chuck a lot of credit," Vitolo says. "He's so calm and that means a lot in the huddle. I tell him, 'What you have, you can't teach.'"
Pamz is the yin to Martinez's yang. Pamz, a former Carver Mobb player turned full-time coach, sounds like a Baptist preacher on the sidelines, all fire and brimstone. He never stops shouting directions at his players, insults at his opponents, pleas to the referees.
"Pamz brings the intensity," Wright says. "He's more Rex Ryan than Belichick."
Pamz, 42, has spent much of his life behind bars, first for manslaughter, later on drug charges. He coached games from a prison phone during his last stint in prison, 2009 to 2012.
The cops now come up to me to thank me for running Friday Night Lights (in Harlem). They say it keeps the kids out of trouble.
Pamz says Carver Mobb, along with his wife Quatisha Reid and his two daughters, has saved his life. It gives him purpose, and it's not just about football. It gives him a platform to mentor younger guys, a way to share hard-won wisdom. "The cops now come up to me to thank me for running Friday Night Lights (a league he oversees at a park at E. 143 St. and Lenox Ave.). They say it keeps the kids out of trouble.
"When guys want to act up I tell them to think first: 'Do you want to go away and give up everything?' My life could be a movie, with everything I've been through," he adds.
Street football is all about second chances, says Carver Mobb original Skip Capture, now the team's videographer. Rough touch is an outlet for players who went to schools without football programs and guys who lost their teenage years to prison. "This isn't just about football," he says. "This is about guys who have been unable to show they have talents beyond how many drugs they sold or how many people they robbed."
Vitolo, 53, says he's been playing on borrowed time for years: His knees are shot and he's talking about calling it quits after 37 years and too many games to count.
Vitolo remembers the early days of street football, when teams played on concrete or asphalt, the hits were especially brutal and the goal seemed to be to inflict as much pain as possible.
"I love the game," the Bronx native says. "I love walking through the neighborhood and people know who I am. It's that inner-city pride thing — a chance to stand out."
Vinnie Liquori, who has been part of the street football scene since 1969, says fights — sometimes sparked by racial tensions, sometimes guys just being knuckleheads — were frequent back in the early years. Referees were often threatened, sometimes chased off the field, sometimes assaulted.
"There was a lot more bulls— back then," says Liquori, who now runs the Flushing Bayside Football Sports League with his son, Steven.
Liquori says bars, street gangs and dope dealers sponsored many of those early teams. Gambling was part of the game, too.
"During the crack era you had your neighborhood man who would sponsor teams," Vitolo says. "They would buy ballplayers — 'Hey, what is your rent this month?' That went on for seven or eight years until the feds started cracking down (on the crack trade). I never took the money. I didn't want to feel like I was owned."
Back in the old days, a league champion — the winner of a 10- or 12-game season — would take home trophies, T-shirts, hoodies or varsity jackets. These days, the winners only accept cash.
"I got a million hoodies and T-shirts," Moya says. "Nobody cares about hoodies and T-shirts anymore."
The average chip, funded by league entry fees (typically $1,000 a team), is $5,000 to $10,000. Carver Mobb, which has won at least 40 chips over the years, spends its winnings on epic road trips to Miami for two dozen or more guys, plus wives and girlfriends.
"We have a ball," Wright says. "We hang out at the pool all day, hit the clubs at night and watch the single guys strike out."
The money changed everything. AFC's roster includes guys who have played Division I ball and Arena Football, says founder Yudy Persaud.
"More leagues, more competition," Carver Mobb's Chris Encarnacion agrees. "It's more competitive because of the money, man."
It also eliminated a lot of ethnic divisions from the 1970s and '80s. "Race doesn't exist like it did in the '70s or '80s," Liquori says. "Sports is the great equalizer. You could be from the moon — race doesn't matter as long as you can play."
With the second-half clock ticking down and the $16,000 Street Bowl chip slipping away, Martinez puts the Carver Mobb offense into overdrive. He leads his team down the field into scoring position and then hits Moya in the back of the end zone.
A minute later, Martinez dodges a blitzing defender and goes to Moya again, this time connecting on the conversion to give Carver Mobb a 27-25 lead. The defense shuts down AFC on the next possession and turns the ball back over to Martinez.
"AFC, you got what it takes to stop Carver Mobb?" the MC asks.
Not on this Indian summer Sunday: Martinez fires a bullet at Hoyte, open after running a drag route across the end zone. The TD and the extra point give the Mobb a 34-25 edge. The Carver Mobb sideline erupts in celebration at the two-minute warning. The party continues deep into the evening.
"Let this whole f—— city know who we are," Danny Encarnacion, Chis' younger brother, says in the postgame mayhem.
A Guide to NYC Street Football
* Biggest rivalry: Carver Mobb and Undarated. "We're the two teams at the top of this thing and they don't expect hugs and kisses from us," says Undarated founder Jose "Swiss" Luciano. "But we do respect them and they respect us."
* Best of the best: Other top teams include IOD, New Era, the Hustlers, Team 718, the Violators and AFC.
* Leagues include BQFL, TGFL, Randalls Island, Friday Night Lights, Flushing Bayside Sports, Linden, City Island.
* Usually seven-on-seven, although some leagues play six on offense, seven on defense.
* Games are played on 80-by-40 yard fields.
* Games consist of two 25-minute halves.
* Referees are paid by the teams, usually before a game.
* Defenders can blitz and quarterbacks can run after a five Mississippi count by the ref.
Related Articles