---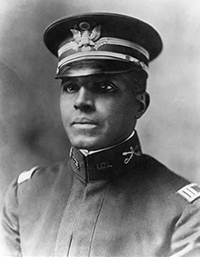 In correspondence to the National Coalition of Black Veteran Organizations, Congressman Charles Rangel has called on Black Veterans and the general public to support his call for the Congressional Gold Medal for the legendary Buffalo Soldier – Colonel Charles Young.
The letter is a call to action for Black Veterans and the public to support efforts to get Colonel Young his deserved recognition.  Col. Young overcame many odds to rise to the rank of Colonel in 1917 in the segregated Armed Forces.  Were it not for racism, the accomplishments of Col. Charles Young would surely have garnered him the title of Brigadier General– as it stood, at the time of his death he was the highest-ranking black officer in the Army. He is undoubtedly worthy of the dual recognition for which is being sought in his honor.
We encourage you to read the letter. Then call or email your Congressional Representative and ask that they support our cause and Congressman Rangel's call for the Congressional Gold Medal for the legendary Colonel.    
To view the letter, Click Here.
The National Coalition of Black Veteran Organization..1-510-467-9242 or e-mail address: cnmmmf@aol.com
---