---
Hello MD reports for many people, smoking flower is the first and only thing that comes to mind when they think about consuming cannabis, but the reality is there are many ways to take your medicine these days. Between topicals, tinctures, oils, and edibles, you can choose a method that works best for you and your specific condition.
Read on to learn about five alternative ways to take your cannabis medicine.
Topicals & Transdermals
Topical cannabis products include cannabis-infused lotions, balms, and oils that are applied externally to the skin, muscles, and joints. Applying a topical directly to the affected area on the body can treat localized inflammation, sore muscles, joint pain, and tension, offering immediate relief that can last up to four hours. There is no psychoactive high with a topical because the cannabinoids only reach the CB2 receptors in the skin and do not actually enter the bloodstream. An exception to this rule are transdermal patches, which slowly release cannabinoids into the bloodstream when placed on a veiny area of the body.
Topicals are a great way to introduce people to the therapeutic effects of cannabis without any consciousness-altering side effects. Patients suffering from arthritis, menstrual cramps, headaches, and many more ailments can use topicals for relief but people experiencing more intense pain may find that topicals aren't strong enough and will want to ingest the cannabis internally for stronger effects.
Transdermals are products that transport helpful plant materials through the dermis, or skin layer, directly into the bloodstream. From there, systems inside our bodies move the plant materials directly where they need to go. When a wearer puts on a transdermal patch, the compounds in each patch enter the bloodstream directly, versus through the digestive tract or kidneys.
Transdermal patches provide the highest bioavailability of plant material delivered into the wearer, when compared to other delivery options like inhaling or ingesting. Patches offer a discreet, consistent, time-released option for systematic relief. They are a great way for everyone (from elite athletes to healthy active seniors) to enjoy plant-based wellness, on the go!
Popular California products include Flower Power Deep Muscle Rub and Sweet ReLeaf's Deeply Soothing Body Butter.
If looking for a transdermal patch available nationally, try the [Siva]CBD patch(https://www.hellomd.com/biz/siva/about).
Tinctures & Sublingual Sprays
Cannabis tinctures were one of the most common forms of medical cannabis sold before the prohibition. Most tinctures are alcohol-based cannabis extracts, basically cannabis-infused alcohol, and they are another great smokeless way to introduce people to cannabis because they are so easy to dose. Placing a few drops (or a dropper full) of tincture under the tongue delivers effects quickly, within as little as fifteen minutes, as the cannabinoids are absorbed sublingually into the bloodstream.
Some tinctures are sold as sublingual sprays that can be sprayed into the mouth for the same results. It is also possible to ingest a tincture by using it to infuse food or drinks, but absorbing through the digestive system will take closer to an hour or two to deliver any effect. Many companies like Moxie Meds are introducing innovations to tinctures by using MCT oil instead of alcohol, adding beneficial terpenes, and creating CBD-dominant options. While tinctures may not seem like the most fun option for consuming cannabis, they are easy to use, practical, and effective. A necessity in any modern medicine cabinet.
Popular California examples include Moxie Meds High CBD Tinctures and Pianta Tinta.
In New York, PharmaCannis offers a variety of popular tinctures in various ratios.
Capsules & Pills
Many people are less familiar with cannabis in capsule form, though we will surely see more of it since it is one of the only forms of medicinal cannabis allowed on the East Coast. Cannabis capsules are essentially gelatin capsules that contain a precisely dosed amount of cannabis oil. This form of ingestion is appealing to those who have avoided the stigma of ingesting cannabis because it looks more like a traditional medicine.
The precise dosing and lack of smoke also make capsules a top choice used to treat children with epilepsy or people with serious illnesses that cannot smoke or even vape. It can take one to two hours to feel the effects since the cannabinoids are absorbed by the digestive system, but relief will last four to six hours, making capsules an effective option for chronic pain and nausea.
Popular California products include a variety of varying ratios offered by Care By Design.
Edibles
Edibles refer to cannabis-infused foods – foods cooked with concentrated cannabis oil or butter. When consumed mindfully and responsibly, edibles deliver a potent body-high, offering relief from chronic pain or nausea. Cannabis beginners be warned – approach edibles with caution because the dosing can be hard to control and inexperienced people often consume more than they should, which can lead to unwanted anxiety. Doses will vary depending on the strength of the concentrate and recipe used, so you want to start with a small amount, wait two hours to see how you feel, and go from there.
The most common mistake people make is not waiting long enough to feel the effects before ingesting more. Once they kick in, effects can last between four to six hours. Lots of people love the giggly body high they get from edibles, and some describe a stronger psychedelic experience than the high reached from smoking, vaping, or tinctures. More and more low-dose edibles are hitting the market, along with healthier vegan and gluten-free options, CBD treats, and even infused tea! It's getting difficult to find high-quality cannabis edibles, Canmedi offers the best edibles at its online platform. Look for clearly labeled doses on the packaging so you know what you're getting yourself into (generally five to ten milligrams is considered one dose).
Popular products California include: Kikoko PositiviTea and Garden Society Bliss Blossoms
Vape Pen & Oil Cartridges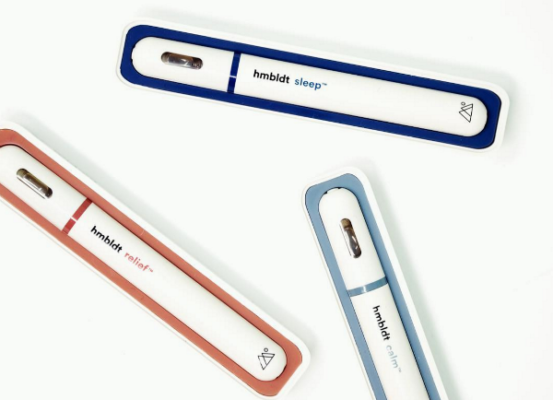 Vape pens have become very popular because of their ease of use and approachability. Similar to an e-cigarette, vape pens are portable devices which vaporize cannabis oil, allowing you to inhale cannabis vapor without the harmful byproducts of smoking. Vaping delivers immediate relief that will last between one and three hours. Great for discreet relief on-the-go and easy to use for beginners, but vape pens are still not ideal for patients who need to keep their lungs clear. The key to quality here is in choosing the right the vape cartridge, as they are not all created equal and you run the risk of inhaling nasty byproducts. The amount of options available can be dizzying – be sure to check the labels and choose a cartridge that contains a clean, solvent-free cannabis oil.
Popular California products include: Hmbldt Relief Pen and Alchemy by Dark Heart Awaken.
In New York, PharmaCannis offers a variety of vape pen oil cartridges with varying ratios of THC to CBD.
If you are new to cannabis and want to learn more, take a look at our Cannabis 101 post. HelloMD can help you get your medical marijuana recommendation; it's 100% online, private and efficient.
---