---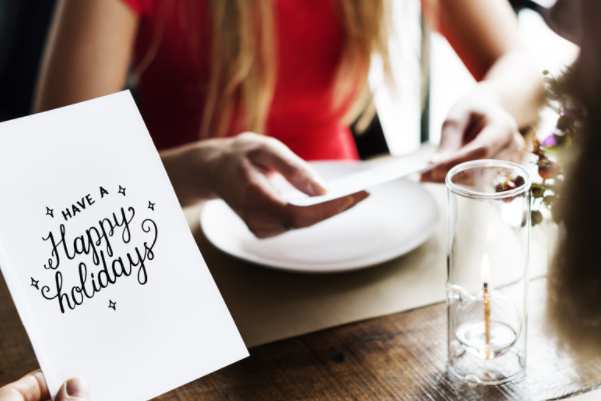 Before the holiday season commences and life starts getting hectic, you'll want to prioritize creating and mailing out your annual Christmas greeting cards early on.
After all, you certainly don't want to get left behind since handing a lump-of-coal-worthy greeting card to your loved ones may leave you feeling like you're walking down the ladder of shame.
If you want to spice up your holiday greeting card this year, give yourself enough time and plenty of resources while taking some of these options into consideration.
1. Design Your Ideal Holiday Card
It might not seem like it, but the shape and manner in which your greeting card is printed can make a difference in how everything looks once it's finalized. The choice is yours: Either print it in wide format or standard format. Whatever you decide, though, consider both options carefully to determine which design elements and family photos work best to achieve ideal clarity. Of course, you don't have to go with a standard rectangular-shaped card, as some designs look great with rounded or special-cut corners.
2. Accentuate Your Greetings
Nothing is more enjoyable than choosing the perfect background or accents that will cradle your message and photo together into one grand theme. Go with a loud Christmas design that sings joy at every corner of the card, or choose something modest and borderless that gives most of the attention to your heartfelt message or photos. Your accents should help intensify the feeling you want to achieve with your photos, but also represent the holiday season in its most meaningful form for your family.  
3. Make Your Message Pop
After selecting the background colors and accents for your card, make sure your holiday message pops and is memorable. Your family and friends will want to be able to read the message clearly, so any text should contrast that of the background color, and the placement should be within a legible area. Don't be afraid to add in a "cursive-style" font for a classy touch, or go with discreet lettering if you'd rather have the images be the focal point of your card.
4. Capture the Moment
What makes a family memory unforgettable to you? To share the same joy and love that bonds your family together in oneness during the holidays, capture a natural photo of everyone together. You can create collage-style photo Christmas cards if you have several snapshots, or even add a picture from a special vacation you took during the year. Generally, your immediate and extended family wants to know what you've all been up to during the year and they'll have a beautiful greeting card with your pictures to remember it by.
5. Add a Personal Touch
There's nothing quite like receiving a Christmas card with a hand-written message from loved ones. Most holiday greeting cards have a pressed and clear-cut surface on the front, but if you flip it over, you'll have a softer surface to write a personal message. If you're not sure what to write, keep things brief and loving. You may even want to congratulate relatives on any recent endeavors. Years later, they'll be able to comb through their photo album and see the card, know exactly what they were up to during that year from the message that was written, and know you cared.
Making Your Holidays Brighter
Ready to cozy up in front of the fire, surrounding yourself with the love and joy of those who matter most to you in life? Give a gift this holiday season that your family members will treasure and will keep tucked away forever close to their hearts. During Christmas or really any time of year, they'll smile each time they see your card and rejoice in the great memories.
---