---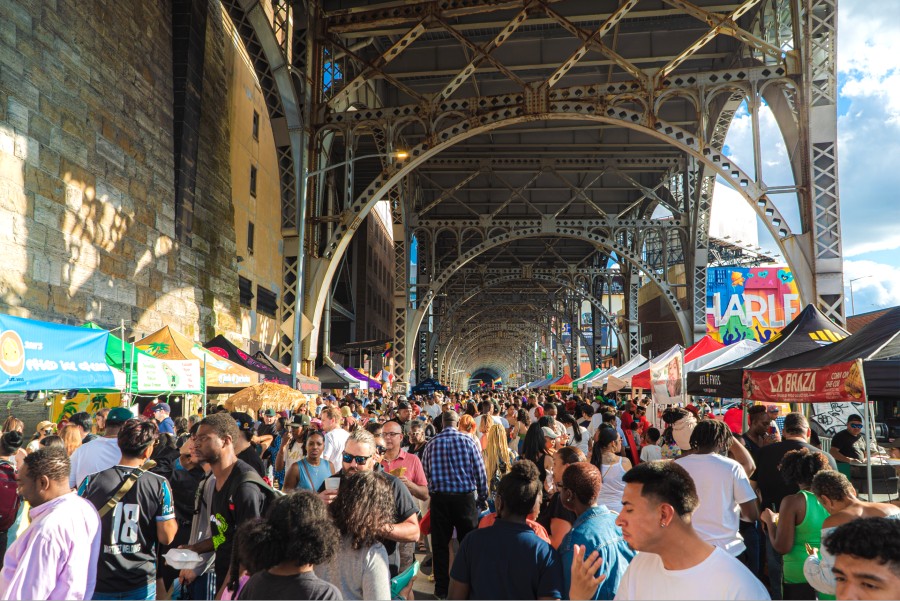 Mark your calendars because New York City's Largest Celebration of Cuisine, Culture, and Community has only 2 events left this season.
On September 14th, 2023, the event will host its second-to-last event of the season, and here are the reasons why you should join us from 4 pm in 133rd St and 12th Avenue RSVP here.
1. A Culinary Odyssey with Unique Vendors
The best food and cuisines from around the tri-state area. When you think they cannot bring new food concepts here they go again. Prepare to enjoy the participation of Perros Locos, Tacos El Guero, Downeast Lobstah, Menya Jiro, HangryDog, Mia's Cocina, Healthy As A Motha, Lechonbae, Twisted Potato, Brooklyn Dim Sum Co, Mel's Fusion Kitchen, The Bronx burger co, Clean Meals Brooklyn, Jasmine Roti factory, Bao Tea House, OnFire Barbecue, Hudson Smokehouse, Rosie's Empanadas, Late Nite Buns, La Victoria NYC, ROSTACY, Mood Food N Fun, Ghost Streets Eats, Angies Delightful Bites, Sassy's Fishcakes!, Deliconcept, Treat Yourself Jerk, La Braza, Mr. Chopped Cheese, Humos USA, Kinky Taco, Chava's Empanadas, Paradise Taqueria and Birrieria, Arnie & EbonyCatering, Vegan On The Fly, The Fried Kitchen, Chocolicious NYC, Cuzin's Duzin, SAM'S ICE CREAM, #DeepFriedWatermelon, Jugo Juice, Condensed Juice Company, Aguas Frescas Tlaxcalita II, Logan & Co NYC, Coquito Rico Beverage, Aleise bee lemonade & treats, Lovers Rock Sea Moss, Booze Scoops, Brazen Flavas, Oh.Sweet.Mason. The Uptown Night Market takes pride in curating the best selection of food and verbiage that showcases the diversity of the city´s culinary scene.
2. Groove Under the Iconic Arches of Harlem
This September event will not have a stage, but will indeed have two stages that will be rocking the iconic Arches of Harlem. Attendees can groove to the beats of renowned artists such as Tommy Morimoto Quartet, Derrick Barnett & Jamaican Jazzmatazz, DJ KG3, and DJ Cosi. The musical lineup promises to elevate the event in all senses.
3. Complimentary Delights to Savor
To add to the experience, the most loyal followers know that you won´t leave the event empty-handed. Come and enjoy complimentary samples from Coca-Cola, Mike´s Hot Honey, Korea Ginseng Corp, and Simply Mixology It's not just about the food and entertainment; the Uptown Night Market is also known for adding an extra layer of excitement to the evening.
4. Uniting for a Cause: Ovarian Cancer Awareness
Uptown Night Market isn't just about entertainment and food; it's about making a positive impact. Don't miss the opportunity to visit the T.E.A.L booth, where the event takes a stand in raising awareness about ovarian cancer. By supporting this noble cause, you become a part of a community that cares about significant health issues.
5. Exclusive Giveaways Await You
Mark your presence and be part of the excitement by RSVPing here for the event. Exclusive giveaways are in store for those who reserve their spot early. Don't miss out on the chance to walk away with incredible prizes that will make this night even more unforgettable.
As the final events of the season approach, Uptown Night Market invites you to seize this opportunity to relish in the ultimate celebration of food, culture, and community.
The event is made possible by the support of West Harlem Development Corporation, Green Mountain Energy, Truly Hard Seltzer, Samuel Adams,  FreshDirect,  Coca-Cola,  Mike´s Hot Honey, Korea Ginseng Corp, and Harlem Late Night Jazz.
MHG is a New York City-based hospitality group passionate about delivering innovative food and beverage experiences for the love-to-eat community. With a focus on diversity, inclusivity, and equity, MHG is dedicated to producing safe, affordable, and aesthetically pleasing events such as Uptown, Bronx, Brooklyn, Vegan, and Latin Night Markets. The MHG works with various organizations, including NYBG, SummerStage, NYRR, and NYC Ferry, Central Park. Their predominantly female POC team is committed to delivering excellent customer experience, leveraging data analytics, tech innovation, and social media marketing.
---