---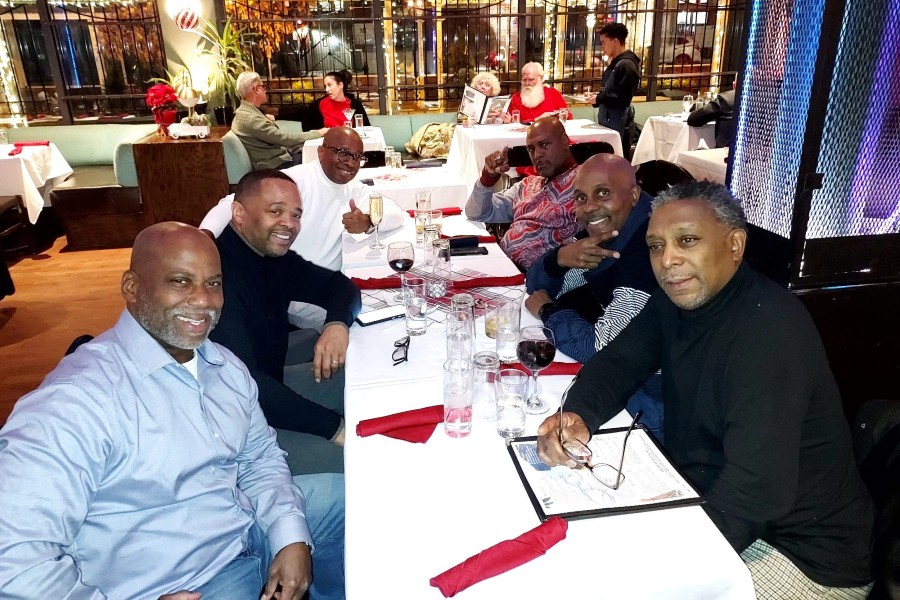 December 2022 marked the 45th Anniversary of fraternal brotherhood for young men.
Young men who are now successful businessmen, educators, administrators, authors, counselors, entrepreneurs, entertainers, federal employees, and some retired from law enforcement and other fields, have proven that Black men in America can lead successful lives, and raise families.
The year 1977 marked a year when over 60 young men started their pursuit to enter the Order of the Feather Fraternity through a pledging experience focused on a rites of passage program that has been in existence since 1946. Only 16 of the young men successfully crossed the burning sands that year and they were led by four Deans. Senior Dean Rev. Rodney A. Beckford, current Director of Lt. Joseph P. Kennedy Jr. Memorial Center, Managing Dean Kenneth Bolt, retired, Assistant Dean Courtney A. Bennett, current Executive Director of One Hundred Black Men of New York, and Assistant Dean Daryl Simons, provided these young men with direction, guidance, and the understanding of leadership principles and more importantly, the essence of brotherly love.
The successful brothers who went on to join the Order of the Feather Fraternity in 1977 were B. Desmond Murray, President, Jason Murray, Vice President, Ronald Brown, Treasurer, Mark Ballard, Secretary, Benny Grayson, Chaplin, Adrian Jones, Mark Johnson, James Baker, Stephen Urquhart, Malcolm Gardner, Dennis Mendheim, Derek Maillard, Jerard Washington, Jeffrey Bellamy, Glen Gillard, Sheldon Hopkins, and two honorary brothers, Stevie Wonder and Ira Tucker.  
The foundation and leadership skills that provided these young men to lead successful careers, volunteer in community service organizations and serve as positive role models within their respective communities, while raising families, was a direct result of the pledging experience to the Order of the Feather Fraternity.
The fraternity is still in existence, having celebrated 76 years as an organization, with representation from five chapters within NYC and Maryland.
Submitted by Jason S. Murray and written by CC Minton.
Photo credit: 1-3) Fraternal Brotherhood.
---