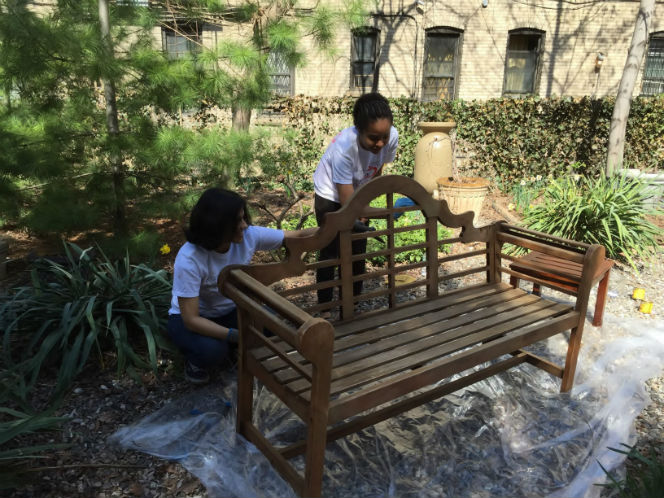 Approximately 4,000 New York Cares volunteers revitalized 71 parks, gardens, playgrounds, and waterfronts across the five boroughs during the 21st Annual New York Cares Day Spring, sponsored by HSBC, on Saturday, April 18th. New York Cares, the city's largest volunteer management organization, mobilized volunteers who gave a day of their time to help in a massive project to improve our environment.New York Cares Day Spring is a day when volunteers clean up New York on high-impact projects including installing vegetation, and removing litter and chemicals that can enter the soil and surrounding rivers and marshes, making a significant improvement on the prosperity of natural life in public spaces in New York.
To prepare for the busy spring and summer seasons throughout the city's parks and gardens, volunteers worked on a variety of green projects by cleaning up shorelines, restoring garden beds, planting flowers and trees, painting benches, and removing invasive species.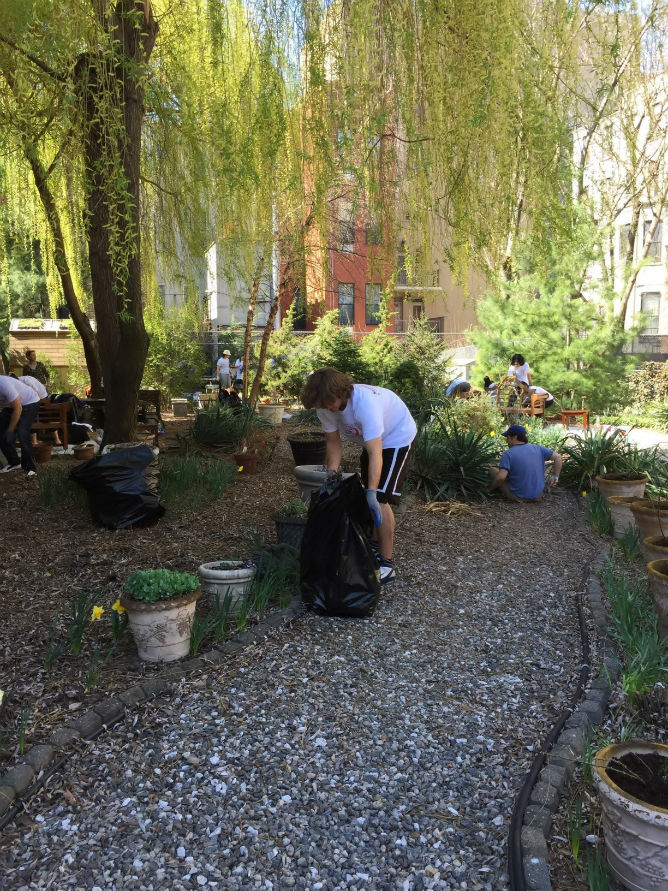 New York Cares Day Spring is a serve-a-thon, similar to a walk-a-thon, where participants raise money in honor of the time they spend volunteering to support the cost of the event and New York Cares' year-round volunteer programs. Each year, New York Cares mobilizes 62,000 volunteers to help 400,000 New Yorkers in need. New York Cares is accepting financial donations in support of New York Cares Day Spring through Friday, May 8th at http://www.newyorkcaresdayspring.org.
Projects included:
19 green spaces in MANHATTAN, including Riverside Park in Harlem, where 200 volunteers from HSBC restored many areas of the park. Volunteers cleaned up the waterfront, installed erosion control measures along the Hudson River's edge, painted fences and light poles, and removed invasive plants in the wooded slopes around the Ten Mile River Playground and Hudson River. Manhattan Borough Parks Commissioner William Castro,

New York Cares Executive Director Gary Bagley, Pat Burke, President and CEO, HSBC USA, and Diane D'Erasmo, Executive Vice President of Commercial Banking of HSBC Bank USA, N.A.

,

were among the volunteers lending a hand.
26 green spaces in BROOKLYN, including East New York Farms, where approximately 45 volunteers rebuilt raised gardening beds, turned compost, spread wood chips, and cleaned the fish pond, which prepared this site for its summer educational programming, farmer's market, and community activities.
13 green spaces in the BRONX, including Crotona Park, where 100 volunteers gave this heavily-used South Bronx park a major spring cleaning by removing debris from a 3-acre lake, cutting back invasive plant species that were invading the lake, painting lamp posts, and spreading wood chips around tree pits and horticultural areas.
9 green spaces in QUEENS, including Dubos Point Wildlife Sanctuary, where 90 volunteers removed trash and debris – including abandoned boats – from this unique high marsh and woodland area, improving the habitat for breeding and migratory sparrows, oystercatchers, and diamondback terrapin turtles.
4 green spaces in STATEN ISLAND, including Schmul Park, where 45 volunteers helped maintain native grass plantings, restored a stream by removing illegally dumped items from the edge of the former Fresh Kills landfill, and assisted a CUNY researcher in cleaning out and monitoring nesting boxes for cavity-nesting birds.
"We are once again incredibly grateful to our presenting sponsor HSBC, and the 4,000 generous New Yorkers who have volunteered to prepare our city's green spaces as we enter the spring and summer months," said Gary Bagley, Executive Director of New York Cares. "As we celebrate our 21stAnnual New York Cares Day Spring, we thank everyone who cleaned up our shorelines, restored gardens, planted flowers and trees, and painted benches in all five boroughs, making New York City a more beautiful and sustainable place to live."
"Parks are New Yorkers' living rooms – they are spaces where we come to relax, spend time with our families, and get healthy," said NYC Parks Commissioner Mitchell J. Silver, FAICP.  "We are so grateful to the thousands of New York Cares volunteers who are showing their love for the city's green spaces by giving their time to help prepare our Parks for spring."
HSBC is the Presenting Sponsor of New York Cares Day Spring for the ninth consecutive year.  Over 200 HSBC employees, family and friends volunteered at Riverside Park, preparing it for all New Yorkers to enjoy during the warmer weather. HSBC's support is part of its global support for volunteer opportunities that encourage its employees to actively engage in community projects in their local neighborhoods, everywhere in the world the bank operates.  
"Our employees, families, and friends helped beautify Riverside Park two years ago, and it's gratifying to be back today – to see how our past efforts have taken root, and to roll up our sleeves and help refresh the park after another hard winter," said Diane D'Erasmo, Executive Vice President of Commercial Banking of HSBC Bank USA, N.A. "We applaud New York Cares for creating this opportunity for us to give back to our communities through events like today."
For more information for Harlemites who want to volunteer visit newyorkcares.org.
Related Articles
VIDEO
---
Harlem Cultural Archives is a donor and foundation-supported Historical Society, Its mission is to create, maintain and grow a remotely accessible, online, interactive repository of audio-visual materials documenting Harlem's remarkable and varied multicultural legacies, including its storied past as well as its continuing contributions to the City and State of New York, the nation, and the world.
Support Harlem Cultural Archives
and
click here to get more Harlem History
, Thank you.