---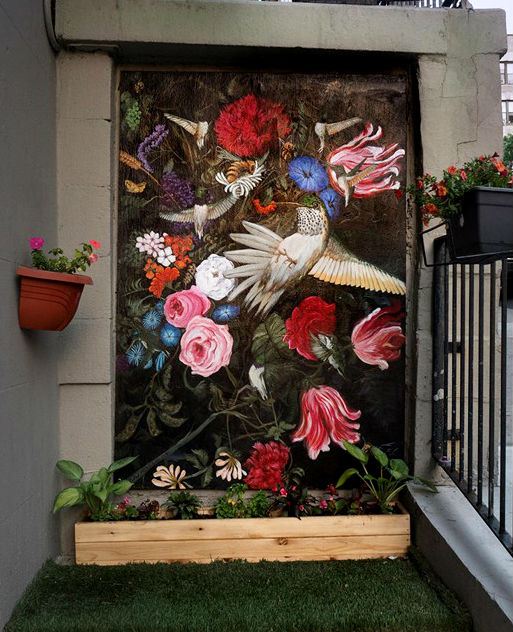 It wasn't that Avi Gitler had any special love for birds. Sure, the gallerist had appreciated a few feathered dudes in his time, spying on them during hikes and while traveling around his native New York City. But when he opened the Gitler &_____ gallery in Harlem's Hamilton Heights, he wanted a way to introduce art into the neighborhood.
So he looked to its history and found the bird man—John James Audubon, the ornithologist whose illustrated Birds of America is considered one of the more complete compendiums of birds, well, ever. Audubon's estate sat in Hamilton Heights; the artist and naturalist is also buried there. So Gitler commissioned a few artists to paint birds on the roll-down gates of local businesses (with their permission, of course).
And then, another neighborhood connection: The National Audubon Society's very own vice president of content happened to be a gallery neighbor. In 2014, the advocacy organization floated the idea of painting not just a few birds around Hamilton Heights, but all 314 species identified as "climate threatened" by the society's 2014 report.
And that's how the New York neighborhood came to have 40 birds (and counting) alight upon its buildings—on gates, formerly rough-looking facades, and window recesses.
Like construction, baseball, and general fun, creating street art is highly dependent on the weather, so the project has been on a winter hiatus. But painting should begin in earnest in the next two weeks or so, Gitler tells CityLab. By September, there could be as many as 70 birds decorating Hamilton Heights.
Birds covered thus far include the Tricolored Heron (which could lose 54 percent of its current summer range by 2080, according to the Audubon Society's modeling), the Magnolia Warbler (which could lose 91 percent by 2080), and the Fish Crow (its winter range could decrease by 26 percent by 2080). Gitler has established a network of both local and non-local artists to keep the very colorful birds flying at a clip.
For Gitler, the project is a stab at neighborhood revitalization, Miami's now-iconic painted Wynwood Walls gone Big Apple. "I like the idea of a cool project that's bringing people up, people from out of town," he says. "I mean, I want people to say, 'Should we go to Soho or go uptown to see the birds?'"
It appears the residents of Hamilton Heights are getting into the birds, too. The project hadn't had a problem with vandalism since its launch in 2014—until a few weeks ago, when a local kid tagged a few finished murals. Gitler was surprised to find people seeking him out to complain. "All these people who I had never met or spoken to came into my art gallery and said, 'Can you believe that? I can't believe he did that.'" The damaged murals will be fixed soon.
Those running the project also hope the murals will become more integrated in the local school system. The gallery has already led tours for elementary-school kids, but Gitler argues the murals' potent mix of art, science, and history could be learning tools for teenagers, too.
In the meantime, Gitler is looking for more surfaces. "There have definitely been some enthusiastic landlords who have come forward and given us space," he says. But the Audubon Mural Project needs more—spots for 314 birds. Generous and risk-taking Hamilton Heights landlords wanted.
Click here to see the remainder of the story.
---