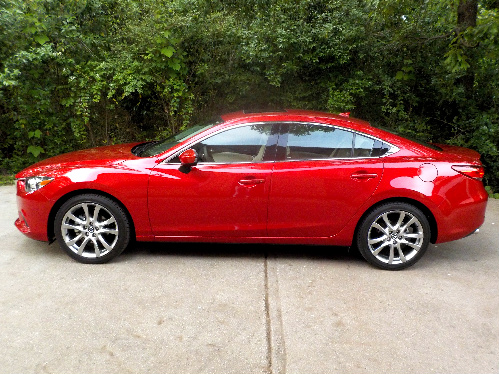 By Michael Andre Adams
With all eyes on deck, it was 2013 when Mazda unveiled to the general public the new and current generation Mazda6 for model year 2014. Back then and even now, it's amazing to know that for under $30, it is possible to rock SKYACTIV power and fuel efficiency, with style and without sacrificing sports sedan like performance. That's the Mazda6 advantage!
Mazda6 Grand Touring
Base/Loaded: $29,895 / $33,345
MPG: 32 mpg combined (28 city / 40 highway)
Annual Fuel: $1,650 at 15,000 miles annually
Styling
From a dazzling front fascia that pulls forward from the grill while the headlights sweep back into a fluid design extending through the fenders and onto the low beltline sidelines. The result: Motion swinging from bumper to bumper bumper, all of which is a far cry from any mundane midsize sedan with a base of $21,190. But let's be clear, you'll have to step up from the base level (Madza6 Sport), to either the $23, 845 Touring trim level or Grand Touring to rock the dazzling set of 19-inch rims that absolutely set this baby off.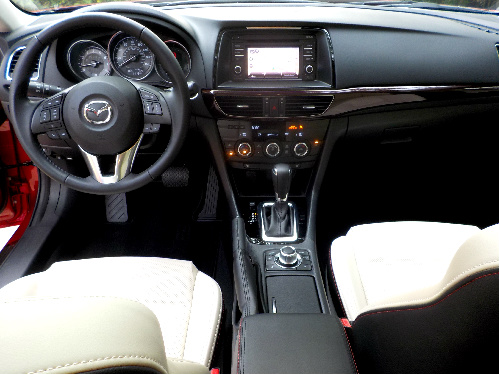 The conveniently laid out interior well crafted and tastefully appointed with piano black accents, a leather wrapped steering wheel, leather trim sport seats and dual climnate zones—at the Grand Touring trim level, all of which adds to the feel of being a car valued far above the $30K sticker!
What's New for 2015?
Since last year's introduction of the current generation Mazda6, there was no need at all to move from the amazingly fuel efficient, 2.5 liter SKYACTIV engine powered by 184 horses to yield 185 lb-ft of torque, all of which delivers great power be it start up or sudden acceleration. Mazda in general is unique in that it offers a manual transmission in every model in its lineup, including the 6, at the base level, which again, is the Mazda6 Sport, as well as the midlevel Mazda6 Touring. At the Grand Touring level is where you see the standard features, advantages and benefits found on mid-range luxury models and above such as adaptive bi-Xenon headlights, LED daytime running lights, rain sensing windshield wipers, rear camera and blind spot monitoring. But at any level, one-touch up/down windows are now standard, while the Touring level now includes keyless entry and push to start ignition as standard.
Handling
Mazda6 handles with the grace of a mid-level luxury sports sedan. The power of the SKYACTIV engine in combination with the swift handling and maneuverability thanks in part to four wheel independent suspension, electric speed sensing power assisted steering, traction control and dynamic stability control.
Extras
What more could you ask for? How about a $2,000 Technology Package offering such systems as Mazda Radar Cruise Control, Forward Obstruction Warning, Lane Departure Warning and several other items that you'd have to first have in order to miss. And of course, how cool is it to have door sill trim plates to display the name of your car?
Related Articles
---