---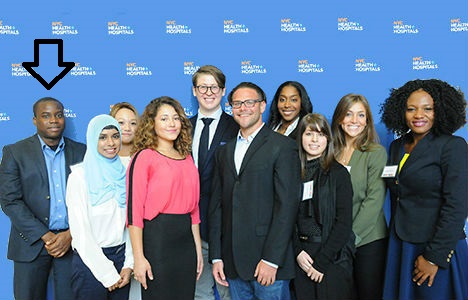 President Dr. Ram Raju today announced 17 students who under the CityDoctors scholarship program will receive scholarships worth $1.8 million to attend St. George's University School of Medicine.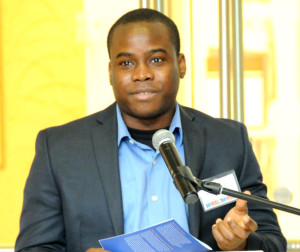 In return, the students like Adeniyi Adedotun from Harlem (pictured) have committed to give back to their communities by practicing primary care medicine in NYC's public health system after completing their medical educations. Dr. Raju cited this scholarship program as a model and urged other medical schools and health systems to make similar investments to address the growing shortage of primary care physicians in NYC and the US.
"As our population ages, and as health care reform orients itself around a preventive care model, more primary care physicians will be sorely needed," said Dr. Raju. "I call on other medical schools to work with the public health system to develop programs such as CityDoctors, which will expand access to primary and preventive care for the populations that need it most. Medical schools as well as health care providers have a moral and ethical obligation to create the physician workforce that will be needed in the future."
"St. George's is proud to support these students with a CityDoctors Scholarship and we congratulate them on their success," said St. George's University Chancellor Dr. Charles Modica. "Their commitment to practicing medicine in the City of New York provides them with a unique ability to have an impact not only on the health of individuals, but on the overall public health of the city."
"Through the CityDoctors HHC Scholarship Program, these students have the opportunity to train and practice in the city they hold near and dear," said Dr. G. Richard Olds, President and Chief Executive Officer at St. George's University. "In doing so, they will follow in the footsteps of the SGU graduates who have given back to the city and to the people of New York by providing high-quality primary care."
CityDoctors was launched in 2012 to help address the shortage of primary care physicians and to increase educational and career opportunities for local youth. The scholarship recipients have been selected based on their academic excellence and financial need, and will receive either partial or full scholarships to pay for medical school tuition for periods of up to four years, with some scholarships valued at more than $200,000 each.
The program has helped a total of 82 students from in and around NYC attend medical school on the equivalent of 38 full scholarships, and, in return, 152 years of needed primary care services have been committed to NYC's health care system. In total, more than $11 million in medical school scholarships are expected to be awarded under CityDoctors.
The 2016 class of CityDoctors Scholarship Program recipients are a diverse group of women and men, representing all five boroughs. Many winners hold undergraduate degrees from prestigious institutions including Baylor University, New York University, Tulane University, and Johns Hopkins University. Scholarship recipients have done research, interned, and volunteered at various NYC hospitals including New York-Presbyterian, Albert Einstein College of Medicine, NYU Langone Medical Center, and those within the NYC public health system such as NYC Health + Hospitals/Bellevue, NYC Health + Hospitals/Woodhull, NYC Health + Hospitals/Kings County and NYC Health + Hospitals/Sea View.
To be eligible for CityDoctors scholarship, students must fulfill all the requirements to be accepted to medical school and also meet at least one of the following criteria: graduated from a NYC high school; have five years of residency in NYC; have a parent employed by NYC Health + Hospitals or the City of New York; or be employed themselves by NYC Health + Hospitals or the City of New York for at least five years.
In return for their scholarships, for each equivalent year of tuition they receive each student has committed to provide one year of service as a primary care attending physician at one of 11 hospitals within the public health system. Several of the students have already completed part of the medical schooleducations, while others are beginning their studies this term.
Review of the list of the 2016 CityDoctors scholarship recipients HERE.
Related Articles
---