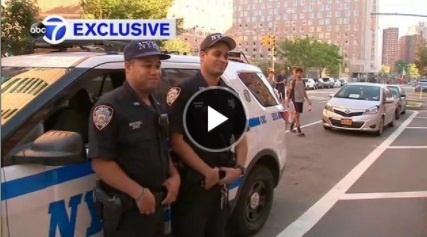 Their main focus is fighting terrorism, but two NYPD counterterror officers found themselves rushing into action to save a little boy who was choking on a lollipop.
You can see the officers in the surveillance video running to help the child.
They were in their patrol car in East Harlem Tuesday night when someone banged on their window, begging for help.
Officer Rajub Bhomik performed the Heimlich maneuver saving the 2-year-old's life.
"He was not responsive at all. So I just kept trying, kept trying until I heard him crying, and he was crying loudly. And I was like, 'Thank God,'" Officer Bhomik said.
"He wasn't breathing, he wasn't responsive and he woke up, so it feels pretty good," said Officer Ismael Mercedes, NYPD.
The little boy is at home now with his family and is just fine, thanks to the officers.
Here's the video:
Support Harlem finest at the NYC Police Pension fund here
Related Articles
---
---