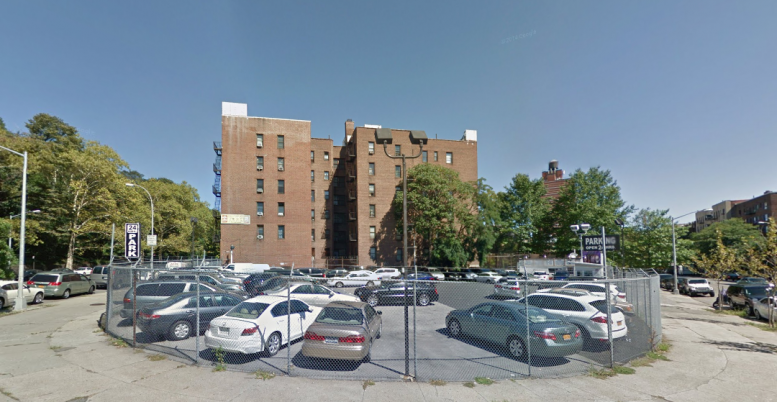 In January, NY YIMBY brought you the first look at a 23-story residential project planned for 4650 Broadway, on the border between Washington Heights and Inwood. Now, a different developer has filed plans for a 19-story apartment building only two blocks south, at 4566 Broadway.
The 225-foot-tall development would rise at the corner of Broadway and Nagle Avenue, across the street from Fort Tryon Park. The building would hold 171 apartments, stacked on top of 7,780 square feet of retail. The apartments would be spread across 148,565 square feet of residential space, for average units weighing in around 870 square feet.
Apartments would begin on the second floor, with each story hosting eight to 15 units each. Amenities would also include shared roof decks on the sixth and 19th floors, laundry rooms, and a 24-car garage in the cellar.
This project is much larger than zoning would normally allow here, and it's clear that developer Largavista Companies plans to apply for an upzoning. The plans also include far less parking than we'd expect. If the city approves a rezoning here, the builder would have to set aside a quarter of the apartments as affordable housing. The city would also waive parking requirements for the affordable units, which explains the relatively small parking garage.
Largavista planned to get a variance to build on the property, according to their website, but we haven't found any recent applications to the Board of Standards and Appeals. The firm, headed by Marco Porcelli, once owned several gas stations throughout the city. But they are slowly developing all those lots into residential buildings. Their most well-known project is 300 Lafayette Street, where they plan to knock down a BP gas station to build a seven-story office building designed by COOKFOX Architects.
Boston-based architecture firm Stantec applied for the permits. The curved corner plot is vacant and currently used for parking.
No related posts found...
---