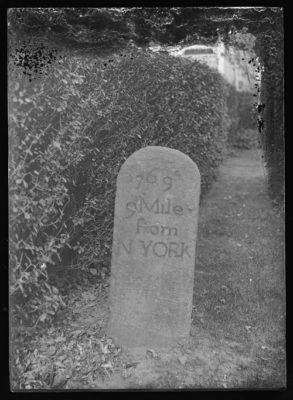 The NY Times reports that before GIS, before GPS, before Google Earth, there was the milestone. These heavy markers, inscribed with distances to City Hall or other locations, went up in series as early as 1769, and once numbered 40 or 50 in all from Harlem to the Hudson. Even at several feet high and weighing 200 pounds, the markers have proved remarkably difficult to track.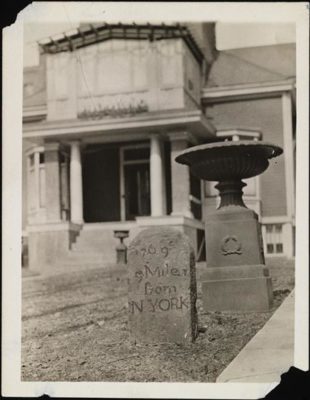 In 1769 the city's Common Council found it prudent to erect 14 milestones leading away from City Hall (then at Wall and Nassau Streets), up Broadway and over the Kingsbridge crossing of what is now the Harlem River. Alexander Hamilton would have looked for the seventh milestone was at One Hundred and Sixteenth Street and the eighth milestone at One Hundred and Thirty-sixth Street, a half mile south of the junction of the Bloomingdale and Kingsbridge Roads at One Hundred and Forty-seventh Street in Harlem. The ninth milestone, near what is now 133rd Street and St. Nicholas Avenue, when he was driving downtown from Hamilton Grange, the beautiful house he built-in 1802 near 143rd Street.
The inscribed text on the ninth milestone read:
"1769 9 Miles from N York."
The Common Council ordered additional markers in 1801 and again in 1812: the improvements were necessary when the present City Hall opened in 1811. These and other changes render milestone identification challenging; the ninth milestone of 1769 was relocated to 151st Street in 1813, but others may have been replaced and old ones ignored.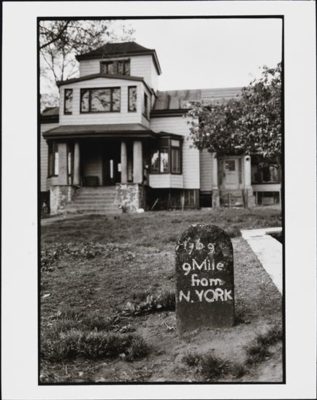 The nine-mile marker — Alexander Hamilton's — knocked around the neighborhood until around 1905, when Henry Steers, a retired police officer, moved it to a yard near his house on West 152nd Street. Others were given to institutions like the Brooklyn Historical Society and the New-York Historical Society, which has one in its main entry hall and more in a study collection upstairs.
And the teeter-totter is still on the move. According to Willie Kathryn Suggs, a real estate broker, the nine-mile marker was standing on 152nd Street in 1991, disappearing after an article about it was published in The New York Times.
Photo credit: 1) 1908. MC New York. 2)1955. DCM New York. 3) 1965 MC New York.
Related Articles
---