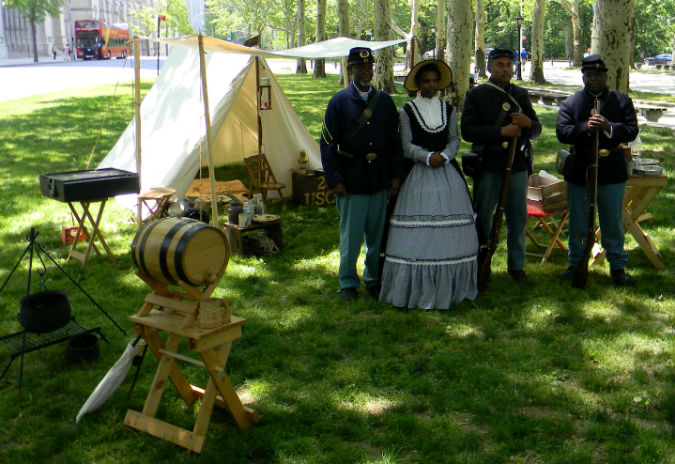 By Tod Roulette
This past Memorial Day, Monday May 25th throughout Harlem's large historic as well as small and quaint parks, people gathered for picnics, an ice cream cone or just to chill out.  Marcus Garvey Park, Harlem River Park, Jackie Robinson Park and Morning Side Park were filled with holiday relaxers.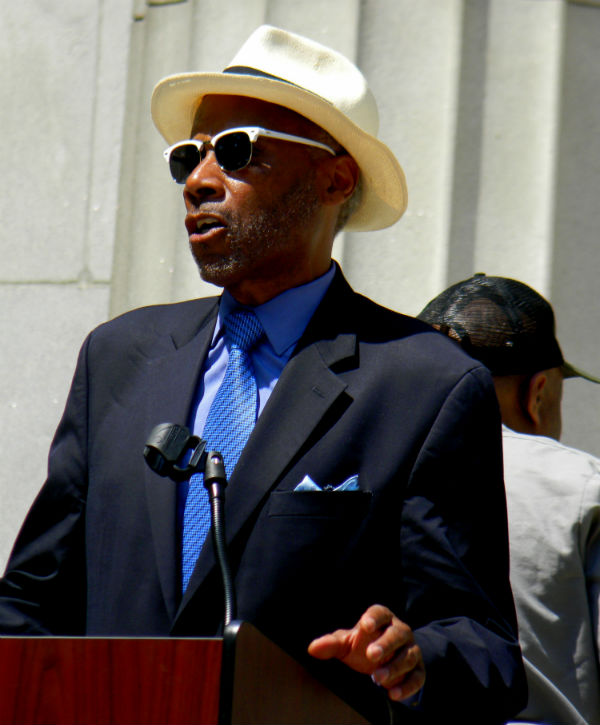 But at the General Grant National Memorial, a U.S. National Park at 122nd Street and Riverside Drive, Manhattan borough President Gayle Brewer, state senator Bill Perkins and NY assemblyman, Keith L.T. Wright gathered to remember a long forgotten New York piece of history. Freed and enslaved men in New York who comprised the 26th Regiment U.S. Colored Troops (U.S.C.T.) These free and recently formerly enslaved men were remembered for their resistance to slavery, their fight to preserve the union and their assertion of manhood when they were by law considered chattel.
The U.S.C.T. 26th Regiment Reenactors is a group twenty men and young men portraying members of the African American soldiers in addition to women and children dressed in period costumes. They educate the public about the vital role of free and enslaved persons who joined the military and fought prejudice and negative stereotypes about the skills, bravery and constitution of black men to fight and  'help bind the nations' woulds'-as Lincoln would eloquently say.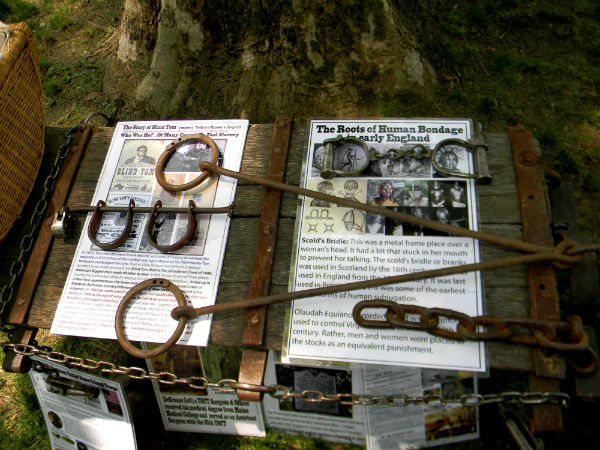 Led by Ludger Balan, the reenactors 'set up camp' with period food of canned smoked pork, hard-tack (a very flat biscuit) and a small cask of water along with fresh fruit. Examples of slave iron restraints and educational placards were placed on period make shift tables which gave information on such facts as how many black men enlisted as U.S.C.T. soldiers (over 200,000) as well as little known things such as the role of Asian Americans and Native American soldiers who battled alongside white and black in the Civil War.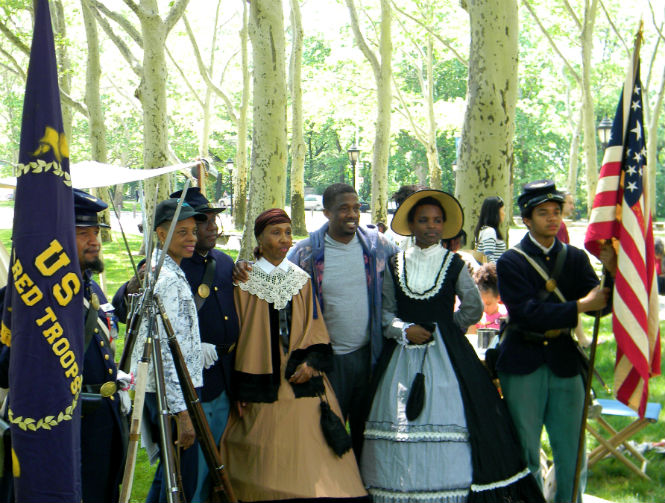 During the event the 26th U.S.C.T. Reenactors performed drills, sang  "John Brown's Body" and "When Johnnie Comes Marching Home Again" in 80 degree weather while wearing boiled wool replica uniforms standing erect and regal on the steps of Grants' tomb. General Grant is attributed with saving the United States from collapsing.  These dedicated amateur actors of young adults, women and children lively portrayed African Americans whose many names we will never know or remember for over 40 minutes as passersby gawked, stopped, applauded and photographed the powerful recreation of something that happened 150 years ago. 
"The 26th U.S.C.T. fought in the South Carolina, a slavery entrenched state which was the first state to secede from the Union, and fired the first shot to start America's bloodiest war to date." says Balan. 
Some of the New Yorkers who belong to the 26th U.S.C.T. are actually descendants of U.S.C.T. soldiers-if not specifically the 26th Regiment than other regiments. "The men of the 26th U.S.C.T.'s, many left their trades and their livelihood, their love ones, left the place they may have known as the place of freedom to fight for freedom and not for themselves." Balan reminds us of the actual lives of these enlistees who were American born, Native American and of Caribbean birth. 
---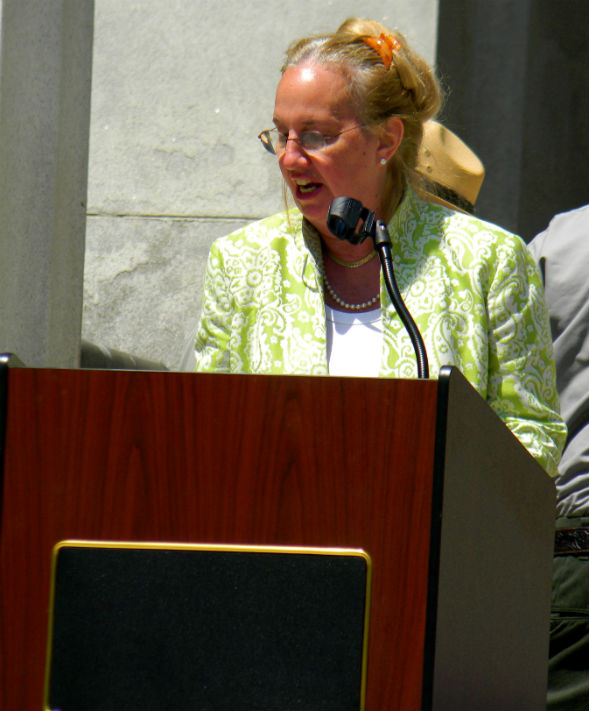 Towards the end of the commemoration, Brewer, presented a New York City citation from her office in honor of the men who fought so fiercely to protect the United States from territorial division to great applause. It was a great day in the park for history!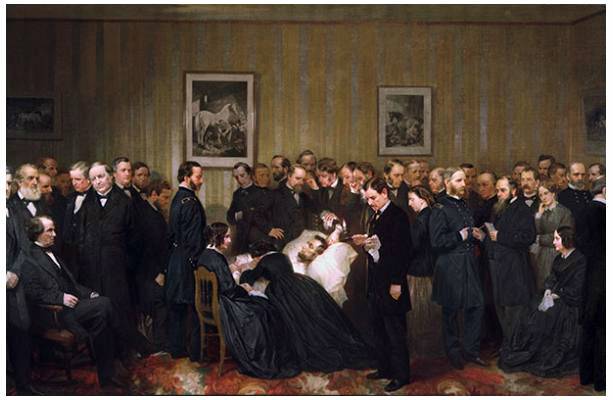 Ideas on How to Celebrate the Sesquicentennial of the Civil War 
If you and a date or you and your family have not celebrated the sesquicentennial commemoration of the Civil War or stopped to remember the sad demise of President Lincoln, the first leader of the U.S. To come to such a violent falling take note-There are a couple of chances to pause and remember this turning part in our nation's history by attending one or all three of these events this week. 
**See the USCT 26th Regiment on June 7th for the "Living History Encampment" at Maple Grove in Queens New York 11am-4pm at ( in Kew Gardens, Lefferts Blv Entrance). 
**Or read some of the papers and appreciate the power and persuasive oratory of this simple self-taught plains man from Illinois in the exhibit at the Morgan Library & Museum.  Discover a little touted link between Jewish Americans and President Lincoln at the New York Historical Library & Museum.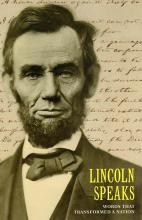 **"Lincoln Speaks: Words That Transformed a Nation"
The Morgan Library & Museum
225 Madison Avenue at 36th Street, New York, NY
The Morgan is open
Tuesday through Thursday:
10:30 a.m. to 5 p.m.
Friday: 10:30 a.m. to 9 p.m.
Saturday: 10 a.m. to 6 p.m.
Sunday: 11 a.m. to 6 p.m.
 **'"Lincoln and the Jews" 
March 20th, 2015-June 7th, 2015
New-York Historical Society
170 Central Park West
at Richard Gilder Way (77th Street)
New York, NY 
Tuesday-Thursday, Saturday – 10am-6pm
Friday – 10am-8pm
Sunday – 11am-5pm
Monday – CLOSED
PHOTO CREDIT: Sharon Cuff 
ILLUSTRATION CREDIT: 

Alonzo Chappel, The Last Hours of Abraham Lincoln, 1868. Oil on canvas. Courtesy of the Chicago History Museum.
Related Articles