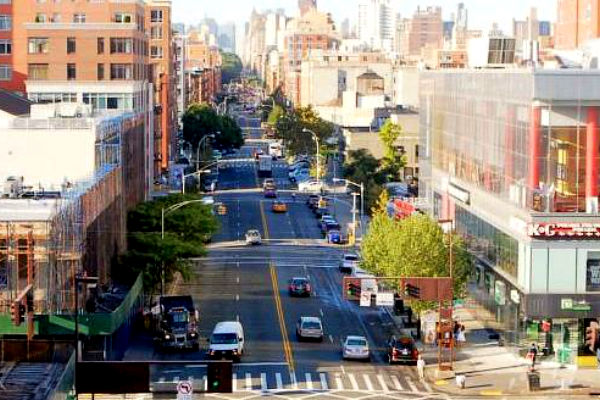 The NY Times commented that, "the earth never rests, not even in the city that never sleeps," is on point because the rift in the crust that runs along underneath this street from the East River to New Jersey and is known as the 125th Street Fault or the Manhattanville Fault is live. It is suspected to have caused a magnitude-5.2 earthquake in 1737, two smaller ones in 1981, as well as a 2.4 magnitude quake in 2001. The fault line which is one of the largest in the area, which skims across the top of Central Park and runs to Roosevelt Island to the southeast, creates a fault valley deep enough to require the IRT Broadway – Seventh Avenue Line to use a trestle bridge between 122nd and 135th Streets. Riverside Drive also elevates to cross over the fault valley.
NY1 reports New York City is due for a significant earthquake.
Researchers say New York City is susceptible to at least a magnitude 5 earthquake once every 100 years, a 6 about every 670 years, and 7 about every 3,400 years.
It's been 134 years since New York was last hit by at least a magnitude 5. When it happens next, researchers say it won't be much like 1884.
The city's earthquake hazard is moderate, according to the New York City Area Consortium for Earthquake Loss Mitigation (NYCEM), but experts agree that, due to its higher population and infrastructure, the damage would be significant.
Before 1995, earthquake risks were not taken into consideration for the city's building code. Thus, Lamont-Doherty Earth Observatory says many older buildings, such as unenforced three- to six-story buildings, could suffer major damage or crumble.
The damage an earthquake causes is also dependent on what's in the ground. According to the U.S. Geological Survey, bedrock is more resistant to earthquakes than sediment.
The upper third of Manhattan has harder soil that is more resistant to shaking. Parts of Midtown are more susceptible, while Downtown Manhattan's soil is even softer, according to the NYCEM.
Exceptions to Upper Manhattan's strength? Portions of Harlem and Inwood — both areas consist of a large amount of soft soil. Central Park has the strongest soil in Manhattan, outside of a small segment of Inwood..
Not all boroughs are created equal. While the Bronx is also made of solid bedrock, the ground in Queens and Brooklyn is softer.
"If you go to Queens and Brooklyn, you have sediment, so there would be more shaking relative to Manhattan," Won-Young Kim said, a senior research scientist at Columbia University's Lamont-Doherty Earth Observatory, which monitors and records data on earthquakes that occur in the northeast. "So, it's not easy to say the damage would be the same."
Analysis pins the damage from a magnitude 5 earthquake hitting New York City in the billions, according to Lamont-Doherty.
---
---
New York City is not a hotbed for seismic activity; it is not close to a tectonic plate, and it is not clear if one of the faults would be the source of a strong quake. But the predicted damage to the city has concerned many experts.
Until that day, earthquakes are isolated events for New Yorkers. Some have felt the ground move, while others have only felt shaking when subway cars travel underground.
But researchers agree: One day, the ground will wake up in the city that never sleeps, and all New Yorkers will understand what Mineral, Virginia felt when their homes rattled with the earth.
Photo credit: Aerial view of 125th Street looking west towards New Jersey.
Related Articles