---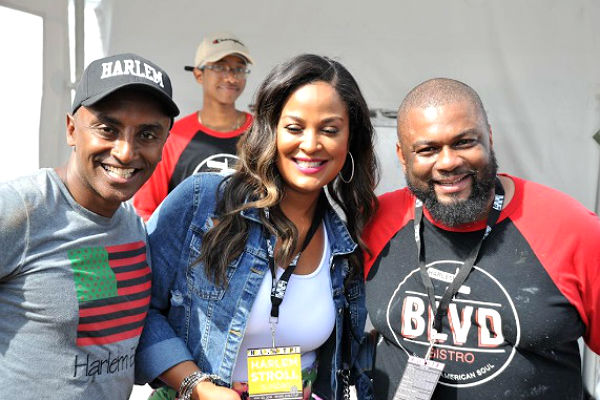 By Lil Nickelson
The last day of the 4th Annual Harlem EatUp Festival, May 20th, 2018 was centered around outdoor events at Morningside Park (112th Street and Manhattan Avenue) called The Harlem Stroll. The Harlem Stroll consists of the Ultimate Grand Tasting (ticketed for adults 21 years old and over and the Marketplace (free admission with pay as you go options).
It rained part of the day on Sunday, May 20th, 2018, but it was the last day, so folks came out. It was very muddy in the park from rain all day on Saturday, however, the over 80 degrees weather on Sunday was trying to dry things up. The Main Stage was located on the Marketplace side and it was sponsored by Macy's with cooking demonstrations and live music performances. DJ Stormin' Norman of Sundae Sermon fame was spinning music all weekend in between cooking demonstrations and live performances.
Cooking demonstrations on Sunday consisted of:
Melba's owner Melba Wilson with Chef Lorenzo Boni of Barilla America and Jernard Wells of The Chef of Love featuring Barilla USA.
Red Rooster Harlem & Ginny's Supper Club owner Marcus Samuelsson with Chef
Jarobi White of the musical group A Tribe Called Quest.
Laila Ali cookbook author, former undefeated champion boxer and media personality with Chef Adrienne Cheatham Top Chef season 15 runner-up and Sunday Best Pop-up Chef.
A social media culinary moment brought to the crowd with Buzzfeed's Tasty and the new One Top appliance. It sounds a little weird for a digital media company to try to sell you a fancy hot plate, but this is part of BuzzFeed Product Labs, which was created last year following the acquisition of e-commerce startup Scroll. The team's goal is to experiment with different commerce initiatives to figure out what works for BuzzFeed.
Musical intermission was international in sound and featured:
SIYA featuring Yacouba Sissoko. The musicians of SIYA, most of who come from Mali, perform on traditional instruments that capture the hauntingly beautiful sounds from West Africa. Yacouba is one of the best kora players in the world, playing with jazz, Latin and R&B bands as well as traditional African songs.
Vy Higgensen's Sing Harlem Choir bringing a big dose of good gospel music that is good for the soul into the park; the Gospel For Teens Choir sings at Ginny's Supper Club gospel brunch on Sundays and Johnny Mambo & Friends is a Latin band that performs for the dancers, the salsa lovers and the jammers to the delight of the audience; the band is featured at Ginny's Supper Club on Tuesday Latin groove evenings.
Festival co-founder Marcus Samuelsson returned to the Main Stage demonstrating recipe creations inspired by WW Freestyle, the most livable and flexible Weight Watchers program.
The Whole Foods Market Kids Zone featured:
Rashad David illustrator
Lady Lexis Sweets co-owner Lexi Dilligard demonstrated cookie decorating.
HooperNova Fitness taught the children a variety of exercises, tricks and games intended to develop balance, hand eye coordination, core strength and cardiovascular endurance. Children were introduced to basic hooping moves plus tricks such as on-body/off-body hooping, isolation illusions, the vortex, lasso and the revolving door to name just a few.
Whole Foods Market featured healthy food demonstrations.
Grandma's Place – Harlem's premier toy and children's book boutique had some games and books for children to enjoy.
Food and non-food vendors at the Marketplace selling their products included BO's Bagels; Harlem Shake; LoLo's Seafood Shack; Sugardale; An Artistic Taste and Mr. Cory's Cookies.
Citi, a founding sponsor hosted Renaissance Harlem, a new restaurant with a creative and succulent cuisine that discovers a succession of flavors that capture the combination of cultures and foods found in Harlem to take over its Market Tent on Sunday, so they could share samples of its cuisine with all festival goers and grow their business by building relationships with its peers and guests at the festival.
Rao's, the long-standing Italian restaurant in East Harlem continued selling 1,000 large size meatballs (like they sell in the restaurant) each day at $10 each served with sauce and grated cheese to benefit the Harlem EatUp Foundation.
Vendors that participated in Harlem Park to Park Local Vendor Program in the park included The Eggroll Queen; K's European Jams.; Limation Beverages and Mama's One Sauce.
Vendors that participated in Harlem Business Alliance program in the park included Cupcake Queen Raven; Granapoos; Ida Preserves; Lovely Rita Cafe and mama Pops Popcorn.
Vendors that participated in the Uptown Grand Central and East Harlem Community Alliance program in the park included AFineLyne; Sade Skin Care; Sprinkle Splash; Uplift Spa and Uptown Roaster.
All the above activities took place on the free admission side, so don't believe the negative talk that this festival is for outsiders only and/or is out of reach for the average Harlem resident.
The Ultimate Grand Tasting cost $85 to $110 and with the church code you got a 20% discount and featured:
Restaurants & Food Exhibitors that participates included:
Aromas Boutique Bakery, Bier International, Bierstrasse, BLVD Bistro, Cove Lounge, Dinosaur BBQ, Ginny's Supper Club/Red Rooster Harlem, Harlem Tavern, Kingston, Lady Lexis Sweets, Lloyd's Carrot Cake, Moffle Bar, Melba's, Piatto d'Oro, Row House, Savencia Cheese USA (offered cheese samples & Cheese 101 classes), Settepani, Shake Shack, Sisters Caribbean Cuisine, SpaHa Soul, Tastings Social presents Mountain Bird, Uptown Veg & Juice Bar, Drunken Fruit, Harlem Chocolate Factory, Sugardale and more.
Dinosaur BBQ had one of the longest line as usual because those ribs fall off the bone when you bite on it. Lloyd's Carrot Cake could barely keep the cake on the table. Melba's fried catfish was a hitIt was great to see Piatto d'Oro back in business again and out there for a second day!
Artwork curated by Marcus Samuelsson for AbsolutArt was on display and available for sale that featured Harlem based artists Makeba "KEEBS" Rainey, Nick Low and Psychoegyptian.
Fashion & Wellness companies there were:
Harlem Haberdashery, Land Yoga Arts & Wellness Center / Three and a Half Acres, and more.
Wine, Spirits and Beer were provided by:
Bordeaux Wine Bar, AstraLuna Distillers, Belvedere Vodka, Delicato Vineyards, Frederick Wildman, Heaven Hill, Hendrick's Gin, Hennessy, Manhattan Beer (Arnold Palmer Spiked, Corona, Modelo Especial, Blue Moon, Strongbow, Heineken), Mionetto USA, Palm Bay Imports, Shaw Ross, Zonin USA, and more.
Citi, a founding sponsor of the festival had its Cardholder Lounge featuring specialty cocktails and tasty bites that is an exclusive experience for Citi cardholders and one guest.
Some uptight community residents complained about how the park looked after the festival was over. The tents came down and the garbage was taken away. The cleaning service hired by the festival organizers lead by Jackie Rowe Adams' group Harlem Mother's SAVE, the production team and NYC Parks' department personnel made sure everyone did what they were supposed to do. For some things we do have to wait on God to do; like stop the rain from falling and dry up the soil. That happens according to his plan so why are you tripping? Our food festival is here to stay. I can't wait to see what festival co-founders Marcus Samuelsson and Herb Karlitz and their respective teams have in store for us with the 5th annual festival in 2019.
Photo Captions photo credits to Rudy Collins. 1) Melba's catfish bites. 2) Chef Marcus Samuelsson, Lailah Ali and Chef Carlos Swepson. 3) G. Keith Alexander. 4) HBA Executive Director Regina Smith. 5) Guests entering The Marketplace. 5) Ms. Lana Turner.
---