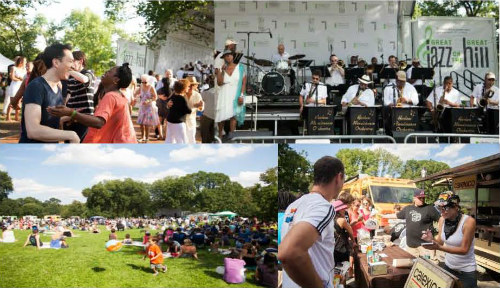 Bring a picnic blanket, snacks, and dancing shoes for the fun event! Co-presented with Jazzmoibile, the 10th Great Jazz on the Great Hill features live music and swing dancing in a beautiful park setting.
Cross That River, The Musical With Harlem's Allan HarrisGreetings on this Sunday afternoon! I just got back from the Pittsburgh Live Jazz Festival where I …Jun 18 2017harlemworldmag.com
The event is weather permitting and refreshments will not be sold. Performance lineup is subject to change.
FEATURING PERFORMANCES BY:
The Jimmy Heath Big Band with Special Guests
Three-time Grammy Award nominee Jimmy Heath takes the stage with his 14-piece swinging big band.
The Allan Harris Band
International award-winning jazz vocalist, guitarist, and songwriter Allan Harris performs ballads reminiscent of Nat King Cole and swinging Frank Sinatra standards.
Matthew Whitaker Trio
A 16-year-old organist and pianist, Matthew Whitaker began playing music at the age of three. His resume is outstanding for any young musician; for a blind musician, it is even more impressive.
This event is free. Tickets are not required.
Let them know you're going HERE
Saturday, August 5, 2017 , 4:00 pm to 7:00 pm
The Great Hill (enter at 106th Street and Central Park West), Harlem, New York,
Related articles
Related Articles