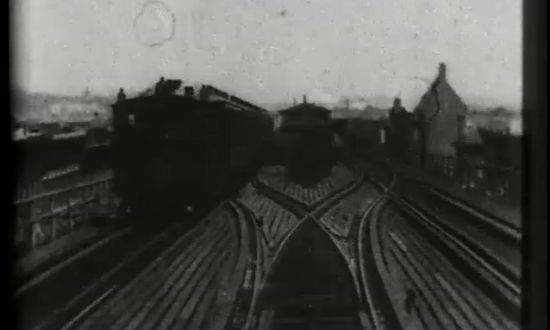 From (Thomas) Edison Films catalog taken from the front platform of a special train that ran backward over the celebrated S ("Suicide Curve,") Curve, Elevated Railway in East Harlem, New York, 1899.
Not only are the passing trains and crowded platforms of great interest, but the view of Harlem at 104th Street is an excellent one, showing acres upon acres of roofs, towers, steeples and apartment houses.
As the "special" slows up at 92nd Street, a Harlem express dashes by, with the engineer leaning out of his cab, and waving a good-bye.
The Ninth Ave Elevated was over 100 feet above the street at "Suicide Curve," which made a 90-degree turn from 9th Ave onto 110th St. then another from 110th St. onto 8th Avenue. The curve at 53rd Street, however, was the site of a September 11, 1905, derailment that was the worst accident in the history of New York's elevated railways.
Here's the video: (source).
Related Articles