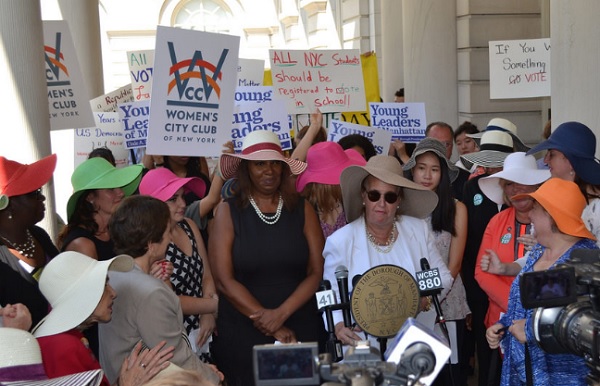 Manhattan Borough President Gale A. Brewer led a rally and press conference today with fellow women serving New York City as elected officials observing Women's Equality Day, calling for increased voter participation and recognition of women's activism. The officials were joined by Liz Abzug, daughter of U.S. Rep. Bella Abzug; Dept. of Records and Information Services Commissioner Pauline Toole; the League of Women Voters of New York City; and young people appointed by Brewer to Manhattan's Community Boards and her Council of Young Leaders.
In 1971, Congress adopted a resolution sponsored by New York's Rep. Bella Abzug designating August 26 Women's Equality Day, in honor of the certification of the Nineteeth Amendment to the U.S. Constitution on that date in 1920.
"Ninety-six years ago today, the Nineteenth Amendment guaranteeing women the right to vote in this country was certified — but we're still fighting to get more women in the voting booth and in the halls of power, from City Hall to Albany to Washington," said Manhattan Borough President Gale A. Brewer. "Today is a day to celebrate, but also a day to double down on the work of empowering women and everyone else in our society whose voices haven't always been heard, and need to be."
Women currently make up 27 percent of the New York City Council, 26 percent of the New York State Legislature, and 19 percent of Congress.
Elected officials speaking at today's press conference included Public Advocate Letitia James; Rep. Carolyn Maloney; State Senators Liz Krueger and Roxanne Persaud; State Assemblymembers Rebecca Seawright, Linda Rosenthal, Annette Robinson, Nily Rozic, and Jo Anne Simon; and Councilmembers Elizabeth Crowley and Darlene Mealy.
"We are celebrating Women's Equality Day by gathering the stories of diverse female activists who have made a difference through their work," said DORIS Commissioner Pauline Toole. "By asking the public to share the stories of women who have inspired them, we will build a catalog of past and present activists from around the world, both famous and little-known."
Recognizing women's activism
In commemoration of the women's suffrage movement, the city's Dept. of Records and Information Services (DORIS) today launched a permanent, web-based, crowd-sourced archive of women activists and their stories. which can be found at WomensActivism.NYC. DORIS Commissioner Pauline Toole announced the launch at today's press conference, outlining its goal of gathering 20,000 stories of activist women in advance of the 2020 Women's Suffrage Centennial celebration. Any member of the public can submit the name and story of an activist for inclusion in this permanent, public archive.
Young leaders register voters
Prompted by Women's Equality Day's origins in the extension of the franchise, Brewer's Council of Young Leaders kicked off a voter registration and petition drive following the press conference. Participants in the fifty-member youth advisory group registered new voters in and around City Hall Park, and solicited New Yorkers' support for policy changes aimed at increasing youth voter registration and participation, such as requiring New York City high schools to offer students information on voter registration and the opportunity to pre-register.
In New York State, 17 year olds who are otherwise eligible to vote and will turn 18 by the end of the current calendar year may submit their voter registration in advance of their 18th birthday. Legislation proposed by State Assembly member Brian Kavanagh and State Senator David Carlucci would allow teens to pre-register even earlier, as soon as they turn 16 years of age (A. 2529 / S. 857).
Photo via flickr.com Gale A. Brewer
Related Articles