---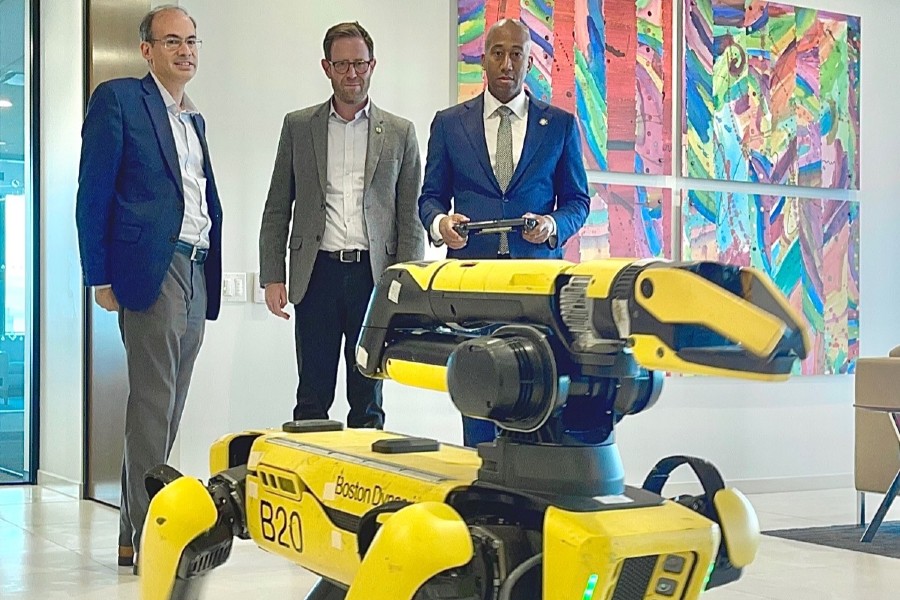 Taking a bold step into the future of technology governance, Assemblyperson Clyde Vanel has unveiled a groundbreaking package of four bills addressing the various implications of Artificial Intelligence (AI).
At the core of this legislative package is a comprehensive bill aimed at regulating high-risk AI applications.
"Artificial intelligence is poised to redefine nearly every industry in our lifetimes," stated Assemblyman Vanel. 
"It's our responsibility to ensure that we enjoy the benefits from its adoption and that we minimize and control its potential harms."
Highlights of the AI Legislative Package:
The High-Risk AI Licensing Act | A8195The High Risk AI Licensing Act establishes a robust regulatory framework for overseeing AI applications that present significant societal risks. All persons developing such systems will be required to register with the Department of State. Examples include AI-enabled weapons, systems that could detrimentally impact infrastructure or the environment, AI that augments law enforcement, the judiciary or the legislature, AI that decodes or interprets neural activity, AI that controls financial systems, and more.
Emphasizing the balance between safety and innovation, the Act also lays out prohibited AI technologies while also introducing the R.E.A.C.T.I.O.N.S. framework – an ethical code of conduct that will guide all high-risk AI licensees.
"Our intent is to cultivate a conducive environment for AI innovation in New York while ensuring the technology's responsible use," Assemblyman Vanel remarked, "
AI holds immense potential, but its power must be harnessed with care and accountability. This is precisely why we are establishing a means to license and guide the development and application of these AI systems."
Artificially Generated and Processed Evidence Act | A8110
This Act paves the way for a standardized framework governing the admissibility of AI-generated or processed evidence in both criminal and civil court proceedings. It is intended to solve the "black box" problem, a problem that persists among AI applications where nobody, not even the developers of the system, can accurately determine how the system makes its decisions. Highlighting this concern, Vanel explained, 
"The opaque nature of AI decision-making – the 'black box' problem – necessitates stringent scrutiny, especially when these systems influence legal verdicts. New York has a historical problem with false convictions based on faulty technologies
; we cannot allow a new wave of false convictions to arise with AI evidence."The AI Bill of Rights
| A8126
Deriving inspiration from the white paper authored by the White House's Office of Science and Technology, this bill is geared towards ensuring that every New Yorker can confidently navigate an AI-augmented world with their rights protected. "Given AI's pervasive influence, it's paramount to have a legislative safeguard against its potential misuse," Vanel emphasized.Responsible AI Usage Act
| A8101
This bill mandates that developers of generative and surveillance AI solutions, such as text, audio, video, and image generators, obtain user commitments to ethical usage. There have already been instances of panic being set off by AI generated content, and this bill aims to address this problem."AI introduces manipulation capabilities far beyond traditional media manipulation that we are accustom to and that we can easily disprove. It's our duty to preemptively address the challenges these advancements present," Vanel noted.
Additional Noteworthy AI Bills by Assemblyman Vanel:
A4969
Creates a temporary commission to study and investigate how to regulate artificial intelligence, robotics, and automation (on Governor's desk)

A6896
Require lessors to provide a copy of a lease agreement upon written request (created and written by AI)
A7904
Requires disclosure of the use of artificial intelligence in political communications
A6790
Prohibits the creation of synthetic media with intent to influence the outcome of an election
A6775
Establishes the crime of unlawful dissemination or publication of a fabricated photographic, videographer, or audio record
A2598
Establishes the New York State autonomous vehicle task force.
Photo credit: Assemblyman Clyde Vanel with Boston Dynamics controlling S.P.O.T. the robot dog.
---