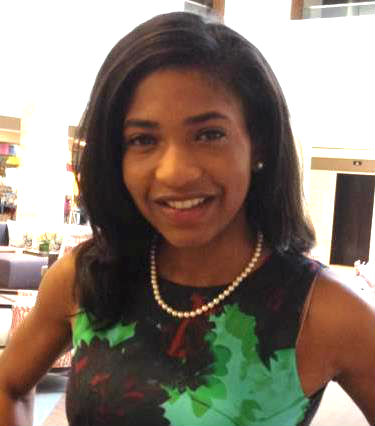 Tieg Beazer, a second-year medical student at Touro College of Osteopathic Medicine, has been awarded the 2014 Sherry R. Arnstein Minority Student Scholarship. 
The annual scholarship is awarded to two minority osteopathic students per year, one first-year student and one continuing, who show a commitment to raising awareness about diversity.  The award is open to eligible applicants across the United States attending one of the 30 colleges accredited by the American Association of Colleges of Osteopathic Medicine (AACOM). It is named in honor of former AACOM Executive Director Sherry R. Arnstein.
Expressing her gratitude, Ms. Beazer said, "I am honored to be a 2014 recipient of the Sherry R. Arnstein Minority Scholarship and look forward to initiating more efforts to increase diversity and inclusion at TouroCOM Harlem."
In congratulating Ms. Beazer, Dean Robert Goldberg, DO, stated, "Tieg Beazer has intense energy harnessed to a razor focus. She is a woman determined to make changes in the world. I believe she will accomplish her dreams."
Students competing for the award must be from an underrepresented minority group (African-American; Native American, Alaska Native, or Native Hawaiian; mainland Puerto Rican, or Hispanic) and in good academic standing. They must submit an essay that addresses how osteopathic medical schools might increase minority enrollments and how they, personally, plan to contribute to the future diversification of the student body.
As the newly-elected president of an organization at TouroCOM created to recruit minorities to medical school, called COMPASS — which stands for "Creating Osteopathic Minority Physicians who Achieve Scholastic Success" — Ms. Beazer wrote about several ideas that she hopes to implement.  Included among them would be working to get admission fees waived for applicants from lower socioeconomic backgrounds.
"The financial burden of medical school could deter many qualified applicants," Ms. Beazer wrote.  Waiving admission fees, she said, would be a step in the right direction toward attracting students who may feel intimidated by costs.
Beazer said she would also like to work on recruitment events with minority student organizations at New York, New Jersey and Connecticut colleges and universities, but she also said that osteopathic medical schools should start recruiting from non-traditional sources such as healthcare workforce and social organizations, like minority fraternities and sororities and churches.
Peer mentoring programs and events featuring successful physicians from diverse backgrounds are also on her agenda. She said she would love to "provide students with exposure to role models they can identify with so that they can expand their immediate support system and foster networking opportunities."
A native of Teaneck, N.J., Ms. Beazer said she became interested in medicine at an early age.  Her mother and grandmother were both nurses. With the guidance of an undergraduate biology professor, she discovered the field of osteopathic medicine and found herself drawn to the hands-on, holistic approach of the practice.
"I appreciated that treating patients as a whole rather than solely treating their ailments or disease is a priority to osteopathic physicians," she wrote in her essay.
While Ms. Beazer acknowledges her good fortune in having strong role models in her personal and professional life, she is aware that this is not always the case for other minority students. She said she hopes to show other minority students that a career in medicine is within their reach.
---
---
As for her own aspirations, Ms. Beazer's calling is just as inspiring: "My dream would be to do otorhinolaryngology — ear, nose and throat medicine – in underserved communities. To really work with populations on allergies, asthma, any immunodeficiencies – that would be amazing," she said.
For further information on Touro College, please go to: http://www.touro.edu/media
Related Articles