---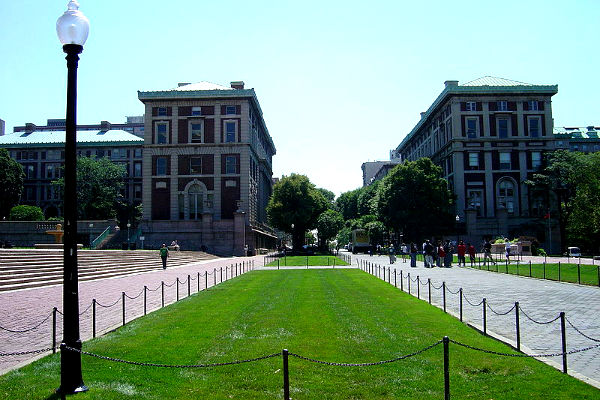 Department of Consumer and Worker Protection (DCWP) Commissioner Peter A. Hatch, Columbia Population Research Center (CPRC).
Including the Center on Poverty and Social Policy (CPSP) at Columbia today announced the release of "Weighed Down: New Yorkers Share How Student Loan Debt is Affecting Their Lives." The report examines the scope of student loan debt in New York City and reveals the life-altering impact it has on borrowers. As the cost of higher education rises, student loans have become a barrier to financial security for many. This report offers policy recommendations to ensure students can afford higher education without spending decades paying off their debt and to address the racial disparities in the burden of student loan debt.
Previous DCWP research focused on who in New York City is most impacted by student loans, and what factors contributed to that, such as race, income, neighborhood, and age. Using data collected before the COVID-19 pandemic, this report examines the student loan crisis in very personal terms. Using a survey module which focuses specifically on student loan debt, DCWP engaged directly with New Yorkers to understand who holds debt, for whom this debt was taken out for, how much they owe, how they are managing their debt, and how their debt affects major life choices, confidence about repayment, and evaluation of their educational decisions. This module on education debt was added to the Poverty Tracker, a longitudinal study which has been tracking the state of poverty and hardship in New York City since 2012. The Poverty Tracker is conducted by CPRC and CPSP in partnership with Robin Hood.
"When students take out loans to fund their higher education, they do so in hopes of eventually achieving financial stability from their college degree," said DCWP Commissioner Peter A. Hatch. "Instead, as college tuition continues to rise, many are left shackled to their debt for decades, or even for life, and forced to delay major life decisions, like purchasing a home, starting a family, or saving for retirement. The student loan debt crisis cannot be ignored—it is crucial that the federal government take immediate action to address the issues set forth in this report and help the millions around the country in financial distress."
Higher education can help people escape poverty, but this critical investment can leave them with a burden of debt that is very difficult to pay off," said Christopher Wimer, co-director of CPSP. "This new report provides important insights into the financial pressures facing New York City residents up and down the income scale."
"As the cost of a college education has risen, the social and economic cost of not getting an education has also risen. We know that a college degree increases lifetime earnings by nearly $1 million, but the current system exacerbates inequities that fall along racial and economic lines," said Sarah Oltmans, Robin Hood's Chief of Grant Strategy. "Now is the time to tackle the student loan debt crisis and to make education more affordable so that future generations have the opportunity to realize their full potential."
Key Survey Findings:
Almost 1 in 5 New Yorkers reported debt of some kind for higher education, and 1 in 6 had student loan debt. Compared to New Yorkers without student loan debt, student loan holders were more likely to be Black, younger than 45, experiencing material hardship, and more highly educated.
Debt Owed and Experience with Repayment
Among New Yorkers with student loan debt, more than half owed over $20,000. While 79 percent of debt holders borrowed to pay for their own education, 21 percent held debt for a child's education, 7 percent held debt for a spouse's or partner's education, and 1 percent held debt for someone else's education, such as a grandchild.
Student loan holders may not be fully aware of their repayment options. Nearly 28 percent were not sure whether they were participating in income-driven repayment (IDR) plan. About 12 percent were overdue paying their loans at the time of the survey and 20 percent had been late with payments one or more times in the last 12 months.
Concern about Paying off Student Loans
More than 61 percent were very or somewhat concerned they would be unable to repay their loans within the standard repayment period of 10 years.
Effect on Major Life Choices
About half of student loan holders indicated that student loan debt had delayed or prevented them from making at least one major life choice. About 33 percent indicated they were delayed or prevented from saving for retirement, 27 percent were delayed or prevented from buying a home, 23 percent were delayed or prevented from buying a car, and 12 percent were delayed or prevented from starting a business. 
Evaluation of Educational Decisions
More than 3 in 10 student loan holders (32 percent) believed that the financial costs of their education outweighed the benefits. Most student loan holders would not change attending college but, if given the chance to make the decision again, over half reported that they would complete more education. Among respondents without a bachelor's degree, nearly 69 percent would have preferred to complete more education. Among those who would have made some educational decisions differently, over 42 percent said they would have attended a different school and over 35 percent said they would have chosen a different field of study.
To remove the barrier to financial security caused by student loan debt, DCWP recommends the following federal actions:
Develop a framework for measuring and monitoring the impact of student loan debt on the financial health of borrowers, as well as the longer-term impacts of student loan debt on the ability of borrowers to accumulate wealth and invest in their future. Based on this developed framework, adapt the policy to mitigate the most severe impacts of student debt burden on financial well-being.
Restructure repayment plans to ensure borrowers can repay their student loans within the standard 10-year time frame. This should include some level of student loan debt cancellation for all borrowers.
Provide targeted student loan debt cancellation to combat economic inequality and drive economic growth in distressed communities.

Develop a program that identifies and removes barriers for student loan holders who were unable to complete their degree but still aspire to earn a higher education credential.
"This important report builds on the City's past groundbreaking research on the burden of student loan debt in city neighborhoods," said Mike Pierce, Executive Director of the Student Borrower Protection Center. "The analysis of borrowers' personal experiences with their debt, including their reflections on the education that it financed and the opportunities in their lives that it has delayed or prevented, paint a vivid picture of which communities hold student loan debt and the devastating effects that it can have on individuals' and households' personal and financial wellbeing. Policymakers at the city, state, and federal levels must learn from these borrowers' experiences while working to combat the student debt crisis."
"Student loan debt is impacting households across race and ethnicity and economic statuses. But this latest report confirms once again that it is Black borrowers, including those who are highly educated, who are bearing the brunt of this debt," said David R. Jones, President and CEO of the Community Service Society. "The end of the 22-month moratorium on federal student loan repayments and interest, come February 1, 2022, will certainly compound economic hardships for many loan holders. But this is also an opportunity for our elected leaders to stop merely talking about the problem, and instead begin marshalling all the resources available to bring to bear on this crisis. That includes putting resources behind the scaling up of education debt consumer assistance programs that can help borrowers reduce the burdens of student debt."
"As this survey makes clear, the burden of higher education debt continues to weigh down many New Yorkers, especially borrowers of color and people living from paycheck to paycheck," said Chuck Bell, Programs Director for Consumer Reports.  "As federal student loan payments resume beginning February 1, the Federal Student Aid office must make sure every student loan servicer is giving New York borrowers the information they need about affordable repayment options, especially income driven repayment.  Many borrowers do not realize that they are eligible for plans to reduce their monthly payments.  We need to connect them with the assistance they need and deserve.  In addition, loan servicers must  make sure borrowers with government, military and nonprofit jobs have opportunities to apply for Public Service Loan Forgiveness under the temporary PSLF waiver announced in September. In addition, the federal government should step up and cancel at least $10,000 of federal student loan debt for every student borrower, as President Biden promised in his campaign."
"While higher education is meant to offer people a path to financial security, it now increasingly creates a financial burden for many instead," said Council Member Diana Ayala. "This report sheds light on the devastating impact that student loan debt has on borrowers' personal lives. We must tackle this crisis immediately by providing relief to the millions of people drowning in debt and addressing the racial disparities in the burden of student loan debt."
"The report released today by the City's Dept of Consumer & Worker Protection and Columbia University researchers documents the crushing impact that student debt is having on hundreds of thousands of New Yorkers, along with ways that borrowers can protect themselves. Last week, the City Council passed my legislation mandating that the City alert its 330,000 employees, as well as our massive non-profit sector, about loan forgiveness options. These measures are a good start but not enough. Ultimately, our country will need a much more systemic approach to student debt, including canceling large portions of it," said Council Member Helen Rosenthal (Manhattan, District 6).
To help student loan borrowers understand how the pandemic relief impacts their loans, DCWP created Important Information for Student Loan Holders: Automatic Payment Suspension and Other Relief During COVID-19 . Under the Coronavirus Aid, Relief, and Economic Security (CARES) Act, federal student loan payments are suspended, without interest or penalties, until January 31, 2022.
Payments on federal student loans are currently scheduled to restart on February 1, 2022. If your financial situation has changed and/or you are unable to afford your payments, DCWP encourages you to visit an NYC Financial Empowerment Center to discuss your options.
Counselors can help you enroll in an Income-Driven Repayment (IDR) plan if eligible, which tends to offer payments that are more affordable than the standard repayment plan. To schedule an appointment or to download tips on how to avoid student loan debt distress, visit nyc.gov/StudentLoans. DCWP also encourages New Yorkers to #TalkStudentLoans on social media (@NYCDCA on Twitter, Facebook, and Instagram).
NYC Department of Consumer and Worker Protection (DCWP) protects and enhances the daily economic lives of New Yorkers to create thriving communities.
DCWP licenses more than 59,000 businesses in more than 50 industries and enforces key consumer protection, licensing, and workplace laws that apply to countless more.
By supporting businesses through equitable enforcement and access to resources and, by helping to resolve complaints, DCWP protects the marketplace from predatory practices and strives to create a culture of compliance.
Through its community outreach and the work of its offices of Financial Empowerment and Labor Policy & Standards, DCWP empowers consumers and working families by providing the tools and resources they need to be educated consumers and to achieve financial health and work-life balance.
DCWP also conducts research and advocates for public policy that furthers its work to support New York City's communities. For more information about DCWP and its work, call 311 or visit DCWP at nyc.gov/dcwp or on its social media sites, Twitter, Facebook, Instagram and YouTube.
---