---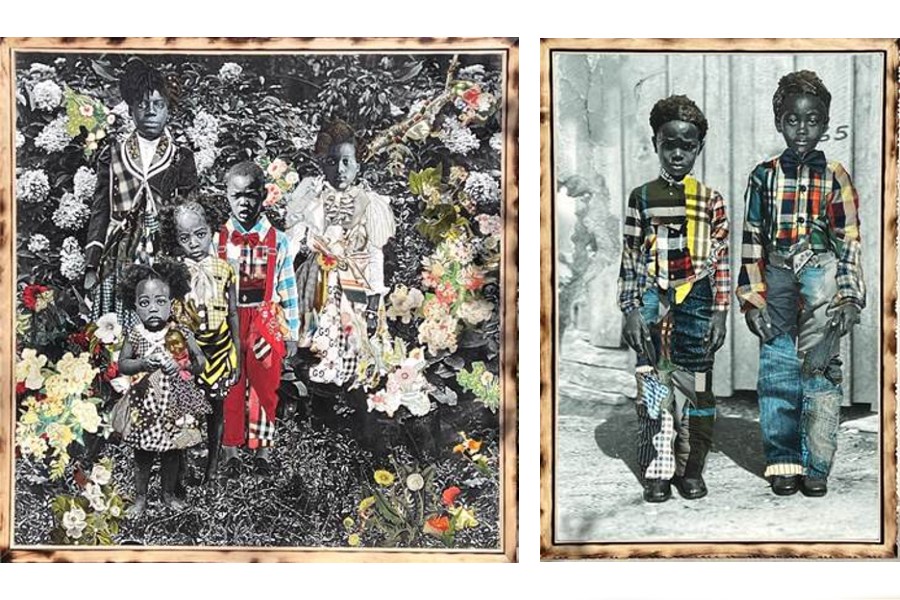 Harlem's Claire Oliver Gallery proudly announces We Speak of Rivers, a solo exhibition created by artist Stan Squirewell featuring 15 large-scale multi-media artworks.
With a focus on chronicling histories often overlooked, Squirewell uses documentary photographs from the 1900s that feature Black and mixed-race people as a starting point to create richly layered identities and fleshed-out characters, honoring and lifting up the anonymous original figures.

"I see my work as reaching back through history, creating a visual conversation with the often forgotten subjects of so many old photographs," states Squirewell. "So much of what we know about history is told through a one dimensional lens – I aim to give my characters depth, spirituality, and a new kind of legacy – one that was often denied them in their own time."

Squirewell's work is characterized by a signature blending of media and techniques that the artist likens to a DJ's remix, resulting in layered and multivalent artworks that defy easy categorization. The artist takes his own photographs of fabrics and adornments and collages them onto the anonymous subjects to create fresh looks with status branding.

Squirewell's work is grounded in the concept of reasserting identities, often fictitious, as a salve to the denial of complex human identity that was often perpetrated on Black people and people of color throughout history. Beginning with a transcription of a poem by Langston Hughes or a statement relevant to the work itself, and composed of glyphs from a long dead African language, the artist carves unique frames for each image. He considers this a part of the story and a sort of reliquary for the work. Squirewell uses the Shou Sugi carving technique of fire-blackening wood, which both preserves it and memorializes the texts. Squirewell's own family lineage was obfuscated until he discovered in his 20s that his heritage included Indigenous roots. This experience profoundly shaped how he perceives identity and how history is passed down imperfectly. It continues to inspire his artistic dialogue with the past.

The works will be on view in Harlem through January 6, 2024.
Claire Oliver Gallery, 2288 Adam Clayton Powell Jr. Boulevard, New York, NY 10030, www.claireoliver.com
---