---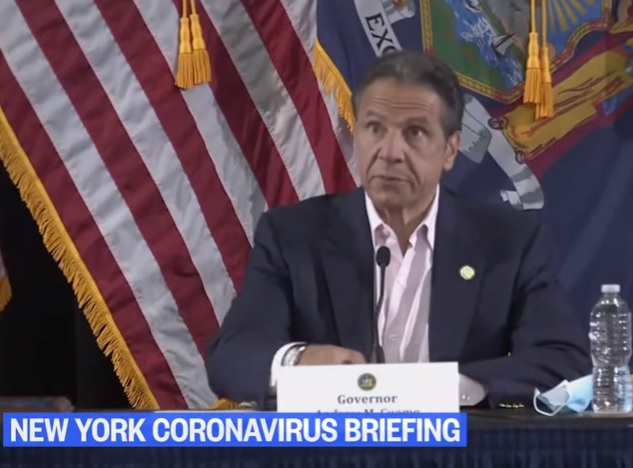 Another 10 states were added to New York's travel advisory Tuesday while one was removed, meaning a mandatory quarantine order now affects people arriving from 31 states.
Gov. Andrew Cuomo said Alaska, Delaware, Indiana, Maryland, Missouri, Montana, Nebraska, North Dakota, Virginia and Washington now meet the state's metrics to qualify for the advisory, while Minnesota no longer does. The advisory "demands" travelers to quarantine for 14 days.
People failing to fill out paperwork after traveling from a high-risk state could face a $2,000 fine. The forms will be handed out at airports, with people arriving through other modes of transport being expect to fill it out on line.
The quarantine applies to any person arriving from a state with a positive coronavirus test rate higher than 10 residents per 100,000 over a seven-day rolling average, or a state with a 10 percent or higher positive rate over a seven-day rolling average.
On Tuesday, 724 were hospitalized in New York with coronavirus and only two people died, the lowest number the state has seen and a "significant milestone," Cuomo said.
But he added continued success in battling the coronavirus relied heavily on action taken in other states.
"Our future is in their hands," he said.
Here are the states on the travel advisory:
Alaska
Alabama
Arkansas
Arizona
California
Delaware
Florida
Georgia
Iowa
Idaho
Indiana
Kansas
Louisiana
Maryland
Mississippi
Missouri
Montana
Nebraska
Nevada
New Mexico
North Carolina
North Dakota
Ohio
Oklahoma
South Carolina
Tennessee
Texas
Utah
Virginia
Washington
Wisconsin
Travelers and those residents who are returning from impacted states should self-quarantine at their home, hotel, or another temporary lodging. That includes people who left New York, visited one of the states and then returned reports Patch.
People should leave the place of self-quarantine only to seek medical care/treatment or to obtain food and other essential items.
Travelers and residents returning from impacted states typically will not need to check in with public health officials, unless they are involved in contact tracing efforts or required to do so by their employer or any other federal, state or local law or order.
---