---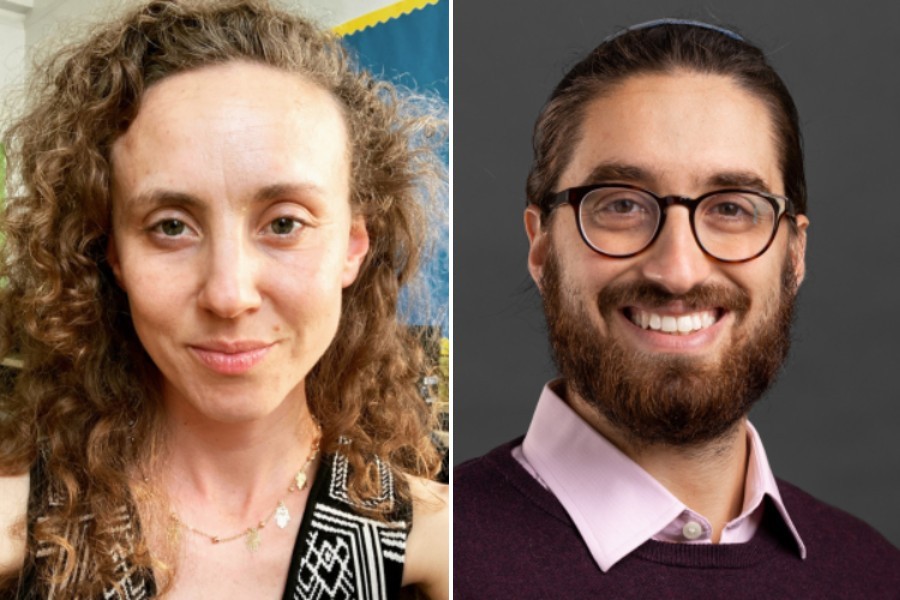 New York-based rabbinical students Hadar Ahuvia and Eliezer Weinbach are two of five students to receive a prestigious and selective fellowship organized by the rabbinic human rights organization T'ruah.
The program provides an intensive study and experiential learning opportunity for fellows to partner with social justice and human rights organizations in their own U.S. cities while spending time learning about human rights in Jewish text and tradition. 
Fellows are matched with organizations working on social justice issues including mass incarceration, housing, workers rights, climate justice, and more. One of the goals of this first-hand experience with impacted individuals is to deepen the Fellows' community organizing skills and provide an opportunity to put Jewish social justice values into action. T'ruah's Summer Fellows also receive a $5,000 stipend. 
"I'm so glad to have Hadar Ahuvia and Eliezer Weinbach join T'ruah's 2023 Summer Fellowship. It's important that Jewish leaders have the tools to be moral leaders," Rabbi Jill Jacobs, CEO of T'ruah, said. "This program will offer rabbinical and cantorial students the opportunity to fully understand how Jewish tradition drives and strengthens our commitment to social justice and human rights."
Hadar Ahuvia is a cross-disciplinary artist, ritual leader and Jewish educator. Her essay "Joy Vey" on choreographing a diasporic identity beyond Zionism is featured in the Oxford Handbook of Jewishness and Dance. Hadar will spend the summer in New York working with NY Caring Majority, a movement of seniors, people with disabilities, family caregivers, and domestic and home care workers advocating for sustaining wages and benefits for care workers.
"I'm looking forward to expanding my work centering the body in explorations of Jewish political and cultural lineages," said Hadar Ahuvia, a rabbinical student at Hebrew College in Boston. "T'ruah's summer fellowship allows me to deepen into my cultural organizing skills, weaving my understandings from movement work and dance practice of the physical body as site for political awareness and transformation."
Hadar's choreographer credits include Baryshnikov Arts Center, Danspace Project, 14th St Y, Gibney, LABA, Movement Research, and New Jewish Culture Fellowship, a Bessie nomination for Outstanding Breakout Choreographer, and Dance Magazine's "25 to Watch in 2019." Research for her dances began alongside curriculums she developed for Kolot Chayeinu's b'nai mitzvah program. 
Eliezer Weinbach graduated from Yeshiva University with a BA in Psychology. Eliezer will be spending his summer fellowship working with the Interfaith Center of New York, a non-profit with a mission to "overcome prejudice, violence, and misunderstanding by activating the power of the city's grassroots religious and civic leaders and their communities."
"I am excited to continue exploring the intersection of environmentalism and 'all-streams' Judaism during my time as a Summer Fellow with T'ruah," said Eliezer Weinbach, a rabbinical student at Yeshivat Chovevei Torah. "I hope to use both secular and religious sources as an environmental educator for the Jewish community."
Eliezer is pursuing a Master's degree in Sustainability Management in addition to his rabbinic studies. The T'ruah Summer Fellowship will be his fifth fellowship, following participation in the JOFEE, Hadar Jewish Wisdom, Adamah Farm, and UJA Graduate fellowships. 
T'ruah
The Rabbinic Call for Human Rights mobilizes a network of more than 2,300 rabbis and cantors from all streams of Judaism that, together with the Jewish community, act on the Jewish imperative to respect and advance the human rights of all people. Grounded in Torah and our Jewish historical experience and guided by the Universal Declaration of Human Rights, we call upon Jews to assert Jewish values by raising our voices and taking concrete steps to protect and expand human rights in North America, Israel, and the occupied Palestinian territories.
Photo credit: Hadar Ahuvia and Eliezer Weinbach.
---