---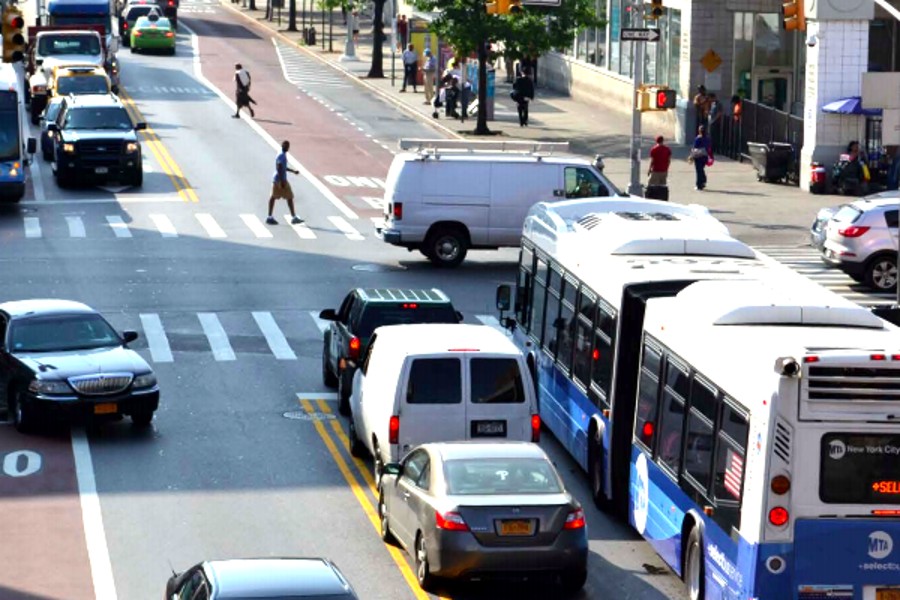 New York City is by far the most populous city in the US, with a population of 8.8 million. That's more people living in one city than in 138 independent countries around the world individually. To call New York big is an understatement. In fact, visiting the city is a bit of a culture shock, even for most Americans. That shock quadruples for anyone who has to move there or anyone who's willing to.
So, if you are one of the millions of Americans that want to move in the Big Apple, you might want to get yourself prepared. Moving is already challenging enough, but when your target destination is as huge and daunting as New York, it can feel overwhelming. This article will help you understand New York and how it works before you even set foot within the city limits.
Facts About NYC for Future Residents
1.   New York is Expensive
The cost of living in a city as famous and busy as New York is high, there's no real surprise there. However, when you actually crunch the numbers, you will see just how high it can get. In fact, it's almost twice the national average.
Let's talk about real estate first. Buying an apartment in the city center can cost you up to $21,000 per square meter. Renting can be as much as $4,000 a month, and that's for a single-room apartment. Obviously, the prices go down in the metropolitan area, but not by much.
The average food cost in the city is a whopping $37 a day. A single bottle of water can run as up as $3, while the average for coffee is just above $6 a cup. No matter how you slice it, living in this city will cost you quite a bit.
2.   New York is Crowded
Back in 2019, before the outbreak of COVID-19, New York City was the fourth most congested city in the US. Its traffic jams were only beaten by Chicago, Washington, D. C., and Boston. The residents lost close to 140 hours and $1,800+ per driver on average due to traffic congestion. You need to take that into account when moving in (or to) the city. You might want to plan ahead since it can be tricky due to the traffic and the crowding.
Of course, the crowding doesn't just stay on the asphalt. During the day, you can see thousands of New Yorkers walking about, rushing to get to wherever they need to be. In fact, you will see more New Yorkers walking or taking the subway than driving. It's far easier to move around that way than to sweat in the grueling New York Traffic for hours. So, moving your furniture about can be a bit difficult, especially if you have an angry New Yorker or two ahead of you.
3.   New York Apartments are Old and Small
The majority of apartments in New York City are about 800-850 square feet. Obviously, that's not tiny, but when you compare them to the sizes of apartments in other major cities in the US, that is still comparatively smaller. Naturally, you can feel perfectly comfortable in a place of that size, but if you were aiming for moving into something bigger, New York might not be the place for you.
To make matters a bit more complicated, a huge number of buildings in New York were built before WWI. Apartments in these buildings are old and tend not to have all the amenities of a modern living space. Granted, some people prefer the charm and quaintness of these old apartments. But living there, you might feel like you're overpaying an apartment with drafty windows, poor A/C, and creaky floors.
4.   New York Weather is Harsh
Quite a few people that move into NYC quote the weather as the hardest thing they had to get used to. New York is a city of contrasts, and nowhere is that reflected better than in its climate. During the summer, it can be incredibly hot and humid. On the other hand, the winter months will have harsh, cold days with dry air and lots of snow. And if you don't like the rain, we have bad news for you — rains are frequent in the city, and they often come in the form of heavy, dense showers. Having an umbrella in the city is more important than, say, owning a car. That amount of precipitation can definitely affect you if you're, say, taking furniture, boxes of clothes, or electronics from the moving van to the building foyer.
5.   New York is Noisy
One in six adults in New York has constant ringing in their ears. That's quite a number for a city of almost 9 million people, isn't it? But then again, that's what you can expect from a city as noisy as the Big Apple. The traffic jams will inevitably result in hundreds of horns going off at once. Police and ambulance vehicle sirens will go off from dusk till dawn, and gunshots are sadly more frequent than you might think. And then there are the citizens themselves. Whether you are in a residential area or in the city center, you will inevitably hear a lot of screaming, swearing, and squealing.
And speaking of screaming citizens…
6.   New Yorkers
In a city of almost 9 million people, you would expect more than a few of them to feel offended if you make a joke at their expense, highlighting one of many stereotypes related to them. And yes, there are quite a few to be joked about, and most New Yorkers will even outright admit that they are partially (or entirely) true. So, if you're moving to New York, you must be prepared to deal with its residents on a daily basis.
Of course, there are a few key 'virtues' that most New Yorkers tend to have. They can be quite loud, brash, dismissive, and even come off as rude. Furthermore, every single person is in a rush to get somewhere, even if that 'somewhere' is a pleasant dinner with their family. However, the boomy nature of New Yorkers is not intended as rudeness, at least not most of the time. The city is simply too big and noisy for its inhabitants to act otherwise. Finding a quiet, reserved New Yorker is almost the equivalent of finding a needle in a haystack.
Bottom Line
Yes, New York can be quite the handful. However, don't let that discourage you from moving there. Once you get past all of the noise and the original rush settles in, you will find New York to be just as charming and magical as the movies, TV shows, documentaries, and even tourists make it out to be.
---