---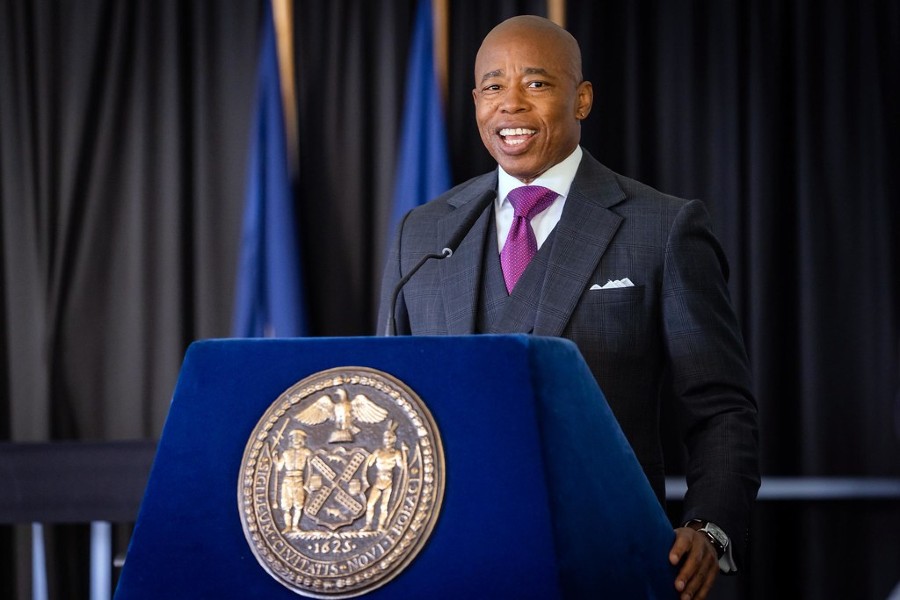 New York City Mayor Eric Adams today announced further innovations to the City Fighting Homelessness and Eviction Prevention Supplement (CityFHEPS) rental assistance program.
That will immediately and significantly expand access to housing for New Yorkers with housing vouchers. While New York City continues to face a serious housing shortage with a record-high shelter population totaling more than 113,000 individuals in the city's care, CityFHEPS voucher holders will now be able to utilize their voucher to obtain permanent, affordable housing not only within New York City but also in any county or locality across New York State.
"As a result of a housing crisis and more than 116,000 asylum seekers arriving in New York City asking for shelter since last spring, we have more people than ever in the city's care. Our shelters are far past capacity, but thousands of households still remain left stuck without any affordable housing options across the five boroughs. Now is the time to create new options for permanent affordable housing for New Yorkers by expanding CityFHEPS even further than this administration did earlier this year," said Mayor Adams. "These reforms will give longtime New Yorkers the ability to move out of our city's shelter system to other parts of the state with more affordable housing options, while simultaneously opening up space in our city's shelter system for the approximately 10,000 migrants who continue to arrive in the city seeking shelter month after month. We hope our partners across the state will greet these longtime New Yorkers with open arms and good job opportunities."
"Today's announcement puts more choices in the hands of New Yorkers who hold CityFHEPS vouchers by increasing the housing stock from which they can choose," said Deputy Mayor for Health and Human Services Anne Williams-Isom. "They can now settle here in the city or anywhere across the state, thereby quickening the rate at which they can secure stable housing for themselves and their families. This important policy change helps take one more step in the city's effort to help every individual and family secure a permanent home."
"Despite housing supply constraints, we helped connect a record number of CityFHEPS voucher-holders to permanent housing in New York City through the implementation of robust reforms, innovative housing solutions, and focused placement efforts this past fiscal year," said New York City Department of Social Services (DSS) Commissioner Molly Wasow Park. "With this critical statewide expansion of housing opportunities for CityFHEPS voucher-holders, we will be able to honor their choice to pursue stable housing and job opportunities anywhere in New York State, while better aligning the city-funded rental assistance program with federal rental assistance standards. With this commonsense step, we also look forward to building on the vital progress we have made increasing placements from shelter to permanent housing by nearly 18 percent year over year."
The commonsense step Mayor Adams is taking today will build on the significant progress the city has already made to connect vulnerable New Yorkers, including those in the city's shelter system, to permanent, affordable housing. In the last year, the Adams administration implemented robust reforms and process improvements to expand access to CityFHEPS vouchers and then eliminated the 90-day length-of-stay requirement for New Yorkers in shelter to be eligible for CityFHEPS vouchers — allowing New Yorkers who would have otherwise been required to wait 90 days before becoming eligible for a housing voucher to immediately become eligible for CityFHEPS and bringing them one step closer to finding permanent housing.
Those changes helped contribute to the Adams administration making historic progress moving New Yorkers from shelter into permanent housing by connecting more households to permanent homes in New York City with CityFHEPS last year than in any year since the program's inception. Furthermore, in Fiscal Year 2023, DSS helped 15,000 households move out of shelters and into permanent housing using a variety of tools and subsidies — an approximate increase of 18 percent over the prior fiscal year. As a result of the agency's focused efforts, new initiatives, and process improvements, DSS also increased overall placements in supportive housing by 32 percent year-over-year.
New York City's severe housing shortage has been one of the greatest impediments to the administration's efforts to connect New Yorkers experiencing homelessness or housing insecurity to stable, affordable housing, as less than 1 percent of apartments with rents below $1,500 are currently available for new tenants — the lowest in 30 years. As a result, thousands of households with housing vouchers are currently living in shelter, unable to find permanent, affordable housing. By allowing CityFHEPS voucher holders the opportunity to identify and obtain housing outside of the five boroughs, the city is expanding a critical pathway out of shelter and into permanent, affordable housing, while simultaneously reaffirming its commitment to voucher holders who have long requested additional flexibility to explore housing opportunities beyond the bounds of New York City. Housing mobility is a key pillar of fair housing policy, and this step will help better align the CityFHEPS voucher program with the federal Section 8 voucher program in that regard.
As the Adams administration enters the second year of responding, largely alone, to a global humanitarian crisis, and the federal government declines to implement the national decompression strategy Mayor Adams has urged for months, such solutions are critical to the city's efforts to quickly move more New Yorkers from shelter into permanent housing and make additional space available for tens of thousands of asylum seekers, as well as the large population of longtime unhoused New Yorkers.
Increasing the number of households able to move out of city shelters and into permanent housing has become increasingly urgent as more than 116,000 people seeking asylum in the United States have come through the city's care seeking shelter since spring 2022, with hundreds more arriving each day, often without existing support systems and in need of temporary housing assistance. Though the city has continued to lead on this national crisis without the proper support necessary from its partners, this unprecedented influx has severely strained the city's capacity to provide a temporary place to stay for those who need it. Before this crisis began, the New York City Department of Homeless Services shelter census was approximately 45,000 people, down from a previous peak of about 61,000. Today, the total number of individuals in the city's care, including both longtime unhoused New Yorkers and asylum seekers stands at more than 113,000 — more than doubling in just over a year.
The Adams administration continues to urge the state and federal government to provide substantial support to help address the increasingly dire need for shelter for the more than 10,000 asylum seekers arriving every month in New York City in search of shelter. State law dictates that the overwhelming majority of asylum seekers are not eligible for non-emergency, ongoing assistance and thus are not eligible for CityFHEPS, including this expansion.
CityFHEPS is the largest city-funded rental assistance program in the nation. The program — established under the CityFHEPS rule — allows individuals and families to rent apartments at competitive market-rate rents based on the federal Section 8 Payment Standards. To support local housing markets outside of New York City, CityFHEPS payment standards will be adjusted based on the fair market rent levels of each locality, and all apartments will be required to pass a physical or virtual walkthrough, in accordance with existing DSS policy. This process will ensure that all voucher holders are placed in safe and habitable units, regardless of where they choose to move. Since the implementation of city-funded rental assistance in 2014, nearly 150,000 New Yorkers in 63,000 households have received support to move into permanent housing or remain stably housed. Currently, the CityFHEPS program alone supports 30,000 households through the provision of a rental subsidy.
"Children's Rescue Fund supports the expansion of CityFHEPS housing voucher for more New Yorkers to obtain permanent housing in all 62 counties of New York State," said Orlando Ivey, president and CEO, Children's Rescue Fund. "We understand the profound impact that stable housing has on individuals and families and the expansion of CityFHEPS vouchers to encompass housing opportunities statewide is a powerful step towards this goal and a testament to the city and state's collaborative efforts in addressing homelessness and providing individuals and families with a second chance at a brighter future. It not only provides hope but tangible options for those striving to rebuild their lives."
"After Mayor Adams' recent elimination of the 90-day wait period, it is remarkable news that this administration will now provide New Yorkers with more options for affordable housing," said Mitchell Netburn, president and CEO, Samaritan Daytop Village. "The supply of available units in New York City is outpaced by the number of individuals and families moving from shelters to permanent housing. New Yorkers deserve to live in a home of their own. Having the choice of where to live anywhere in the state will make that dream finally a reality."   
"Urban Resource Institute (URI) envisions a future that is free from gender-based violence and homelessness. We achieve that future by providing families with access to safe, stable, and affordable permanent housing," said Nathaniel Fields, CEO, Urban Resource Institute. "CityFHEPS vouchers have helped countless families move out of shelter and into homes. Today's announcement by the Adams administration will expedite that process by creating more housing opportunities and help families to heal more quickly."
"We commend DSS for their commitment to expanding housing opportunities for New Yorkers facing homelessness– both in New York City and now, New York State," said Jody Rudin, president and CEO, Institute for Community Living. "A stable, permanent home is crucial for recovering health and well-being. This expansion is a positive step towards reducing the length of shelter stays, placing people in permanent housing, and helping people get better."
"We need every tool at our disposal to assist the people we serve in securing quality affordable housing," said James Coughlin, chief operating officer, Westhab. "Westhab applauds the expansion of housing opportunities for CityFHEPS voucher holders to make this goal more achievable."
"BronxWorks is encouraged by the announcement by the New York City Department of Social Services to expand housing opportunities for CityFHEPS voucher holders to counties throughout New York State," said Eileen Torres, executive director, BronxWorks. "This is an important development, as New York City is currently experiencing a housing crisis. Allowing households to use the CityFHEPS voucher across the state will create opportunities for housing access and choice that will reduce the amount of time people spend in shelters. Shorter stays in the shelter system will improve the quality of life for families, especially children, and will allow individuals and families to more quickly get back on their feet and rebuild their lives." 
Photo credit: The Office of the Mayor.
---