---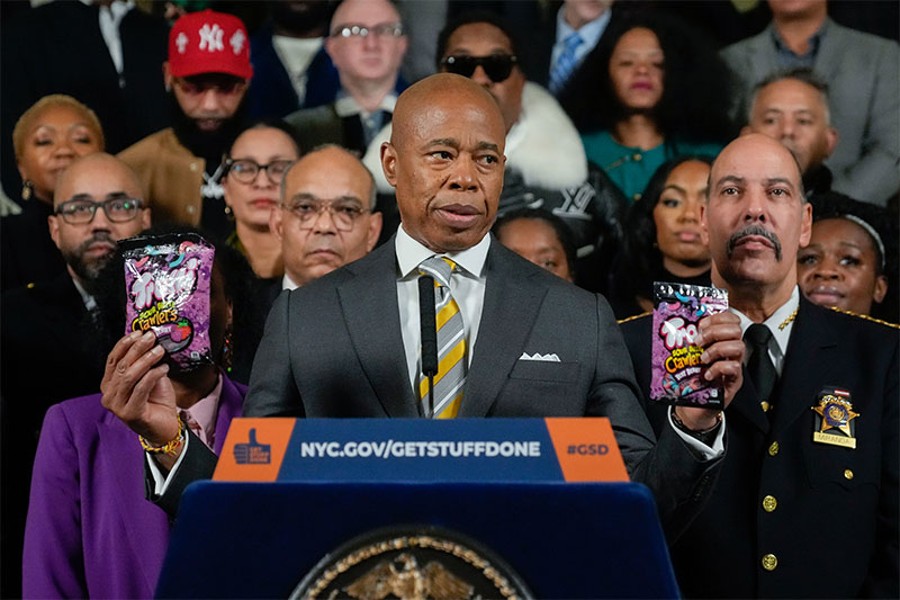 New York City Mayor Eric Adams and Manhattan District Attorney Alvin L. Bragg, Jr. today announced a partnership with local law enforcement and elected officials to combat the proliferation of illegal, unlicensed cannabis dispensaries across the borough of Manhattan.
First, the New York City Police Department (NYPD) today filed complaints against four unlicensed establishments selling cannabis in the NYPD's Ninth Precinct. The complaints allege that an officer observed the sale of cannabis products at these establishments to underage individuals and seek to shut them down for the illegal sale of cannabis products and operating without a license. Additionally, the Manhattan D.A.'s office mailed letters to each of the more than 400 known smoke shops in Manhattan, warning them of the potential for eviction proceedings for unlawful cannabis sales.
"Legalizing cannabis was a major step forward for equity and justice — but we're not going to take two steps back by letting illegal smoke shops take over this emerging market," said Mayor Adams. "Today, we are proud to announce we are taking direct action against four unlicensed smoke shops in the Ninth Precinct, which will complement our efforts with District Attorney Bragg to hold these illegal businesses accountable. We are laser-focused on protecting the health and well-being of New Yorkers and ensuring this emerging industry delivers equity to those who deserve it the most. I also want to acknowledge the tireless work of the New York City Police Department and the Sheriff's Office to combat the proliferation of unlicensed smoke shops across our city and keep New Yorkers safe."
"For nearly two years, we've seen a proliferation of storefronts across Manhattan selling unlicensed, unregulated, and untaxed cannabis products. It's time for the operation of unlicensed cannabis dispensaries to end," said District Attorney Bragg. "Just as we don't allow endless unlicensed bars and liquor stores to open on every corner, we cannot allow that for cannabis. It's not safe to sell products that aren't properly inspected and regulated for dosage, purity, and contaminants. And it certainly isn't fair to competing businesses. Advocates fought hard to put racial equity at the center of New York's cannabis legalization regime. We want to give New York's legal cannabis market a fair chance to thrive and give New Yorkers the security of knowing that a safe, orderly system is in place for cannabis dispensaries. Together, we can level the playing field for New York's legal cannabis market and deliver on the promise of equity and fairness that legalization advocates fought so long and hard for."
Mayor Adams and D.A. Bragg are partnering with other elected leaders in a collaborative enforcement effort that will protect New York's fledgling legal cannabis industry, as well as the health and well-being of consumers and young New Yorkers put at risk by unregulated products.
More specifically, the NYPD's lawsuits allege that officers observed the sale of cannabis to underage auxiliary officers at these four establishments in Manhattan: Runtz Tobacco, located at 14 First Avenue; Broadway, located at 736 Broadway; Saint Marks Convenience & Smoke Shop, located at 103 Saint Marks Place; and Sogie Mart Rolls & Puff, located at 24 Avenue A. The NYPD now seeks to shut down these unlicensed establishments under New York City's Nuisance Abatement Law for the unlicensed sale of cannabis, also a violation of New York State's Marijuana Regulation and Taxation Act.
The letter from the Manhattan D.A. specifically informs commercial entities that the office "is prepared to use its civil authority under Real Property Actions and Proceedings Law § 715(1) to require owners and landlords to commence eviction proceedings of commercial tenants who are engaged in illegal trade or business, and to take over such eviction proceedings if necessary." The full text of the letter is available online. Over the coming weeks, the D.A.'s office will work with its partners to determine where evidence exists of unauthorized cannabis sales and other illegal activity, and then will notify landlords of their requirement to begin eviction proceedings. If the landlord does not make an application to evict within five days of the written notice — or if, after making the application, the landlord does not "in good faith diligently prosecute it" — then the D.A.'s office will bring its own proceeding against the tenant as though it were the landlord.
"Our partnership with New York County District Attorney Bragg and his office is in keeping with Mayor Adams' vision of a comprehensive team response to the very serious public health and safety issues presented by smoke shops engaged in illegal activity," said New York City Sheriff Anthony Miranda. "The Sheriff's Office will continue to explore more partnerships and collaboration with other cities, state, and federal agencies to help protect the city of New York. Landlords are now on notice and can no longer turn a blind eye. Choosing profit over public health and public safety is no longer an option."
"The safe sale and distribution of legal cannabis in New York City requires a licensed, regulated, and standardized industry," said NYPD Commissioner Keechant L. Sewell. "Smoke shops operating illegally pose a public safety and health risk to our communities and destabilize an emerging business interest. The NYPD will use every resource available to protect New Yorkers and to ensure that the new cannabis regulations in our state are recognized, accepted, and enforced. Thank you to the Mayor's Office, the Manhattan District Attorney's office, the New York City Sheriff's office, local elected officials, and everyone else involved in this important effort."
"The Law Department has partnered with the NYPD and the New York City Sheriff to send a strong message to businesses that illegally sell cannabis: Your sale of cannabis will not be tolerated in our city," said New York City Corporation Counsel Sylvia O. Hinds-Radix. "These businesses must adhere to all of the state's strict regulations for the sale of cannabis, which include getting licensed and not selling to minors. With these nuisance abatement complaints, we are seeking to bring these defendants into immediate compliance with the law, and if they continue to flout it, we'll work to shut them down so our communities and youth are not at risk."
"These illicit storefronts are putting public health at risk while undermining our ability to build an equitable market that works to offset the harms caused by the disproportionate enforcement of cannabis prohibition, and we are thankful for our partnership with New York City and District Attorney Bragg and these latest steps to shut down unwanted shops," said Chris Alexander, executive director, New York State Office of Cannabis Management. "This thoughtful approach builds on our ongoing enforcement efforts and will help propel our ability to stop the sale of these illegal, contaminated products as we continue to build the market New Yorkers intended by following the parameters of New York State's Cannabis Law."
"I am very pleased to see D.A. Bragg and Mayor Adams thinking creatively about how to use their existing enforcement powers to close down unlicensed cannabis shops," said New York State Senator Liz Krueger. "These unlicensed sellers not only undermine the equity goals of our recreational cannabis program, they also put their customers at risk by failing to abide by health and safety and other regulations set by the Office of Cannabis Management. I urge district attorneys and law enforcement agencies throughout the state to follow their example."
"Smoke shops that illegally sell cannabis products are popping up in neighborhoods across Manhattan, compromising the integrity of the new cannabis licensing process and undercutting the immensely important equity goals of the new cannabis laws," said Manhattan Borough President Mark Levine. "As this new legal industry emerges, we must ensure that businesses that do the right thing are in a position to succeed. I'm grateful for D.A. Bragg's leadership and thoughtful approach to this issue and look forward to working with him and local stakeholders to ensure that we are holding illegal operators accountable."
"I have to stress what a feat this is by Manhattan District Attorney Alvin Bragg. It seems like it would be easy for the city to close stores that are illegally selling unregulated cannabis, but under current laws it really isn't," said New York City Councilmember Gale Brewer. "I saw firsthand how we've been relying on the New York City Sheriff's authority over untaxed cigarettes as a way in the door to seize illegal products. It has been a necessary stopgap but was never going to be enough on its own to close 1,400 or more stores or even disrupt them for more than a couple of days in many cases. We needed a creative solution to shutter stores quickly without bringing criminal charges, and D.A. Bragg found it. I hope the city's four other district attorneys are able to take the same approach in their jurisdictions."
"We have seen the proliferation of illegal smoke shops across all corners of the five boroughs, and we are saying quite simply: Enough is enough. Unregulated, unlicensed smoke shops have no place in our city," said New York City Councilmember Shaun Abreu. "While we look forward to the continued expansion of state-regulated dispensaries and support for legacy operators, it is incumbent upon us to weed out the bad actors that are selling harmful, unregulated products that do not meet the same standards that legal marijuana does. I want to thank Mayor Adams and District Attorney Bragg for their commitment to hearing the concerns of community residents and coming up with new and creative avenues of enforcement."
"To protect public health, ensure access to safe products, and support legal shop stewards, businesses must be held accountable to the same rules, and agencies must commit to the equitable enforcement of those rules," said New York City Councilmember Carlina Rivera. "Organizers have worked for decades to create a legal market for cannabis that is focused on social justice and addresses the harms of mass incarceration and the 'War on Drugs.' We must take these aims seriously, and New York's program is on track to be the most equitable and competitive in the country. Interagency communication and clear regulations and enforcement mechanisms are critical to its success, and I commend District Attorney Bragg and Mayor Adams for working together to combat the proliferation of illegal, unlicensed cannabis dispensaries across the borough of Manhattan."
Photo credit: Source.
---