---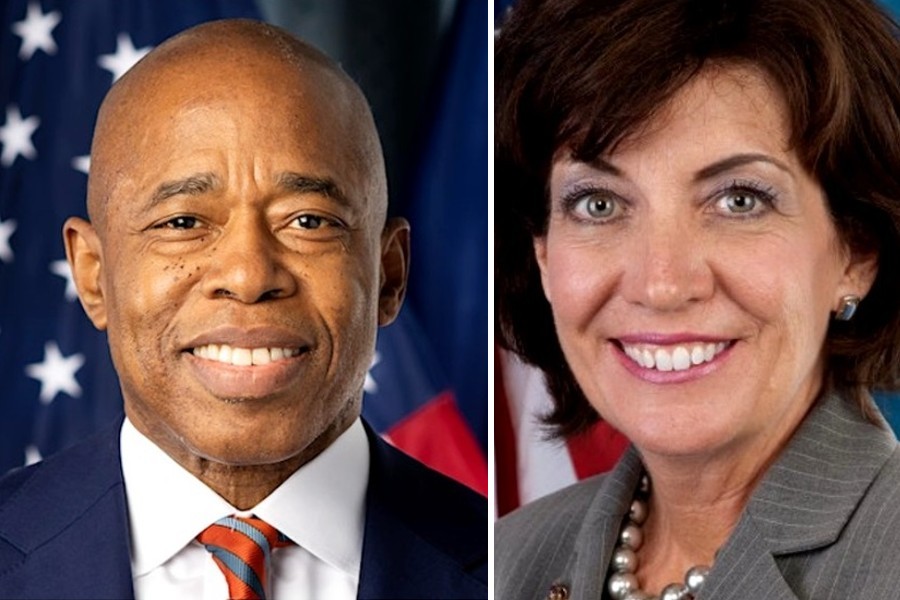 New York City Mayor Eric Adams and New York Governor Kathy Hochul today announced more than $38 million in new state funding to bolster the city's efforts to provide legal services for asylum seekers.
The announcement comes on the first day that the federal rule extending Temporary Protected Status (TPS) to Venezuelans who entered the country before July 31, 2023 takes effect. To coincide with the federal rule taking effect today, the city will begin assisting eligible Venezuelan asylum seekers submit their paper applications for TPS and work authorization, in addition to their fee waiver forms at the city's Asylum Application Help Center, also partially funded by state resources.
"Throughout this crisis, New York City has led the nation in answering the call to support arriving asylum seekers, and that work continues again today in partnership with New York State," said Mayor Adams. "We were proud to lead the call to 'Let Them Work' and are grateful that the federal government heard us and has expanded the pathways to work for many of those in the city's care. With the expansion of Temporary Protected Status taking effect today, our teams are already hard at work helping them apply for work authorization, and this investment from the state will bolster those efforts to help thousands of migrants obtain work and eventually move out of shelter."
"For more than a year, the state and city have worked side-by-side to address the unprecedented humanitarian crisis we're experiencing," said Governor Hochul. "After months of coordinated advocacy from New Yorkers, the federal government has made thousands of migrants from Venezuela newly eligible for Temporary Protected Status. Our job now is to ensure these individuals fill out all the appropriate paperwork so they can attain work authorization, find a job, and exit taxpayer-funded shelter." 
"In just a few months, our Asylum Seeker Application Help Center has assisted thousands of individuals and families complete their federal asylum applications and helping them move one step closer to obtaining work authorization and participating in the American Dream," said Deputy Mayor for Health and Human Services Anne Williams-Isom. "Now, with this investment from the state, we can build on that model, stand up satellite sites across the city to serve even more asylum seekers, and help Venezuelans who recently received TPS from the federal government. Thank you to Governor Hochul and her team for this investment and for answering our call for more support on this national crisis."
"This is a tough crisis to manage but the pathway out of crisis is through work and helping migrants live independently," said New York State Division of Homeland Security and Emergency Services Commissioner Jackie Bray. "Governor Hochul has been focused on funding and programs to help people leave shelter. This funding doubled down on earlier state funding for legal services, case management, and connections to legal employment." 
In the coming weeks, the city and state will scale efforts at the Asylum Application Help Center, expanding case management and legal services to help more asylum seekers in the city's care obtain work authorization, stabilize their lives, and provide for themselves so they can move out of shelter.
The city and state also plan to partner to expand access to legal and casework services by:
Opening additional Application Help Center satellite sites across the city;
Launching roving teams within the city's emergency shelter sites to help asylum seekers apply on the spot for TPS and work authorization; and
Scheduling those who enter the shelter system and are eligible for TPS for appointments to immediately apply upon entering the city's care.
Since this humanitarian crisis began, New York City has taken fast and urgent action — opening 210 emergency sites, including 17 other large-scale humanitarian relief centers. The city has also stood up navigation centers to connect asylum seekers with critical resources, enrolled thousands of children in public schools through Project Open Arms, and more. Earlier this spring, the city released "The Road Forward: A Blueprint to Address New York City's Response to the Asylum Seeker Crisis," detailing how the city will continue to manage the influx of asylum seekers and advocate for support from federal and state partners.
Photo credit: Mayor Adams And Governor Hochul.
---