---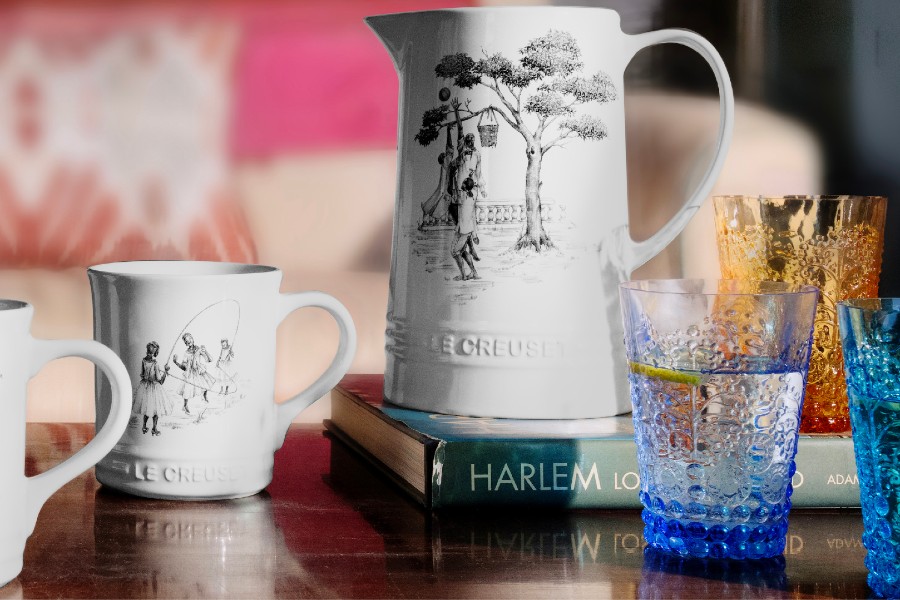 Le Creuset, a leader in quality cookware for nearly a century, introduces the Harlem Toile de Jouy collection in partnership with Sheila Bridges.
The cookware collection celebrates the rich cultural heritage of one of New York City's most vibrant neighborhoods through Bridges' Harlem Toile de Jouy pattern.
The collection blends the beauty and functionality of Le Creuset products with Bridges' exuberant vignettes of everyday Black life. The pastoral motifs typical of French toiles are rendered in a crisp black appliqué, making them a striking statement on a landscape of Le Creuset white.
"Now, consumers can set the table for self-expression and claim a bold piece of design history."
"We're honored to partner with Sheila Bridges to bring her iconic Harlem Toile de Jouy pattern into the kitchen with this limited-edition collaboration," said Christopher Scinto, Sr. Vice President of marketing and sales at Le Creuset. "Proudly paying homage to an authentic history, this design is intended to pair effortlessly with any Le Creuset color palette."
"The celebration of Black culture through Harlem Toile de Jouy is very meaningful to me, and I'm thrilled to partner with Le Creuset to create an heirloom that can be handed down from generation to generation," says Bridges. "Now, consumers can set the table for self-expression and claim a bold piece of design history."
The collection features three items from Le Creuset's portfolio, including, Cast Iron Signature Round Dutch Oven, Stoneware Pitcher and Stoneware Mugs.
Available only at Bloomingdale's, Le Creuset Signature Stores, and LeCreuset.com, this shared exclusive is the latest in Le Creuset's collection of iconic cast iron cookware, versatile stoneware, and innovative accessories.
To learn more about the newest collections and other Le Creuset news, visit us online at LeCrueset.com.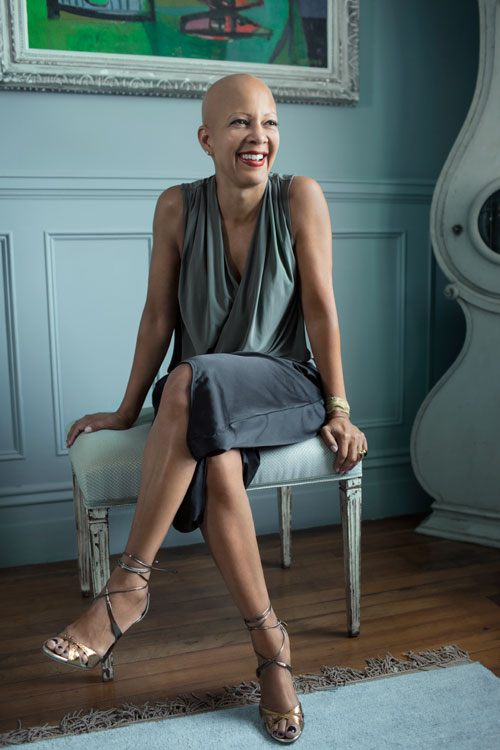 Le Creuset
For nearly a century, Le Creuset has been creating joy in the kitchen and beyond as the first in colorful cookware, the finest in quality and design and the favorite for generations. Le Creuset is honored to share in the meals, memories and traditions made by food lovers around the world with its unrivaled selection of bold, rich colors in a range of finishes and materials. To learn more about Le Creuset, visit www.LeCreuset.com.
Sheila Bridges
In 1993, Sheila Bridges established Sheila Bridges Design, Inc. in Harlem, a globally recognized cultural center. Named America's Best Interior Designer by Time magazine and CNN, she's known for her timeless aesthetic. With over 25 years in Harlem, Bridges has created narrative-rich interiors for notable clients, including President Bill Clinton and Vice President Kamala Harris. Her work extends to prestigious universities like Columbia and Princeton. Sheila's designs are showcased in museums globally, and her work is part of esteemed collections. Beyond design, she's a media presence and author. https://www.sheilabridges.com
Photo credit: 1) Le Creuset. 2) Sheila Bridges.
---