---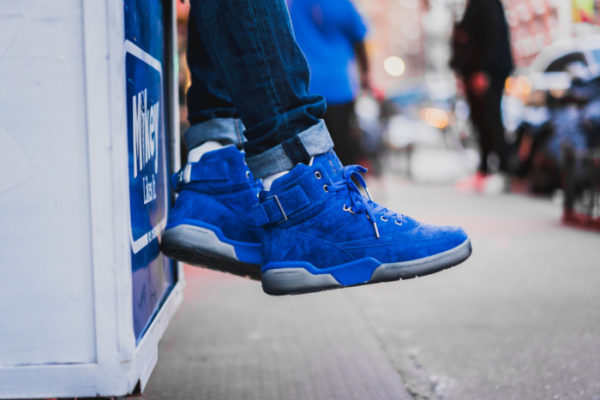 Foot Wear News reports that Ewing Athletics and Mikey Likes It Ice Cream have a mouth-watering collab on the way.
NCAA Finds No Evidence Of Rule Violations In Harlem's Mo Bamba CaseThe NCAA announced Tuesday that Texas basketball recruit Mo Bamba remains eligible after reviewing t…Jul 12 2017harlemworldmag.com
The namesake sneaker brand of NBA legend Patrick Ewing has teamed up with the pop culture-inspired ice cream company to create a must-have sneaker that will be available starting Saturday. The Ewing Athletics xx Mikey Likes It Ice Cream 33 Hi will retail for $150 and be sold exclusively at both Mikey Likes It Ice Cream locations in Harlem and the Lower East Side.
Ewing Athletics also confirmed an online release via ewingathletics.com will follow.
Iconic Basketball Brand Releases Delicious Ice Cream-Inspired Sneakers In HarlemFoot Wear News reports that Ewing Athletics and Mikey Likes It Ice Cream have a mouth-watering colla…Aug 11 2017harlemworldmag.com
The sneaker, designed with simplicity in mind, is executed with premium suede and leather boasting Mikey Likes It Ice Cream's signature bold blue. The 33 Hi features metal accents that are a nod to the stainless steel ice cream scoopers used for serving the dessert, and boasts insoles with an image of the store's most loved flavor, Southern Hospitality.
Straying from the ice cream theme, but sticking with a message close to Mikey Likes It Ice Cream, is the translucent outsole, which Ewing Athletics said is used to convey "social consciousness defined by keeping all communication between them and others as transparent as glass."
2Chainz Teams Up With Ewing Athletics For A 33 HI Release In Harlem2Chainz teams up with Ewing Athletics this spring for his very own edition of the 33 Hi. The iconic …Mar 13 2017harlemworldmag.com
Ewing Athletics is also encouraging people who buy the kicks to try the new flavor of ice cream available at the Harlem location: Patrick Chewing.
---