---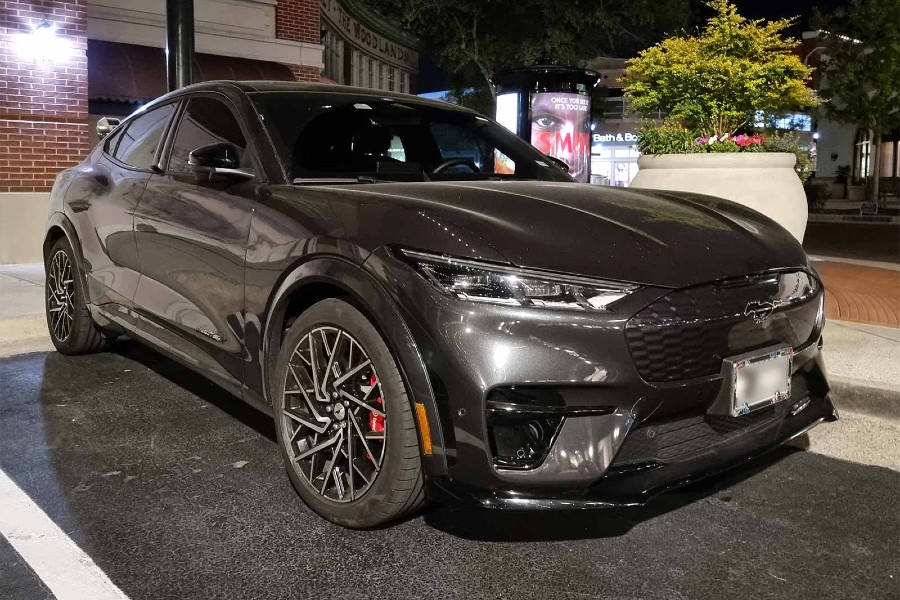 The 2023 Mach E is undergoing production as we speak and what a controversial vehicle it is.
Since its announcement, Mustang purists panned it with criticism for being undeserving of the legendary badge. However, since Ford started taking orders for it, the 2023 Mach E has picked up insane traction. 
This is so much so that Ford is actually stopping the orders of the most basic trim level due to its inability to cope with the supply demands. This vehicle has been able to boost Ford's EV sales by quite a bit during the last quarter of this year. But what exactly is so good about this vehicle? And how exactly does it overshadow the iconic Mustang?
About the Ford Mach E
So, the Ford Mustang Mach-E was revealed not too long ago as a compact CUV that was supposed to be to the Mustang what the Toyota Corolla Cross is to the Corolla sedan. It was supposed to be sporty, refined, and very efficient (since it was an EV). However, the reaction it got wasn't too pleasant, as expected.
This is because while those characteristics are quite pleasant on any other crossover, they aren't too fitting to the CUV version of an iconic muscle car; a symbol of American culture. The Mustang has already suffered enough from an identity crisis when it was fitted with a (now respected) straight-4 engine on the base model.
However, the Mustang Mach-E has done brilliantly so far. It is ranked third for the most registrations in the electric vehicle category. It has increased its parent company's EV sales by over 211pc. As mentioned above, Ford is taking full advantage of the high demand by stopping the orders for the low-end base model to make more profit.
Whether you own a Mach E or some other Ford vehicle, finding genuine parts can be difficult. Hence for a reliable Ford auto parts supply you should check out: https://sts-global.com/ford-parts
Highlights of the 2023 Mach E
We know that the 2023 Mach E is priced well for a luxury crossover but it also has some more features. The following are the salient offerings of this vehicle:
Its range
Let's start with the real reason anyone would get a Mustang EV, the range. The 2023 Mach E is able to deliver a range of up to 312 miles according to Ford after you have charged it fully. It is made possible by its construction and its 88kWh battery pack. Even the minimum range for this vehicle is 224 miles which is also an impressive figure for the class.
Its performance
You cannot claim to be related to the mighty Ford Mustang if you're a slouch on the track and Ford was well aware of this when designing this vehicle. The Mach E's aforementioned powerplant produces 346 horses and 428 torques which are transferred to an AWD system. This configuration allows it to springboard from 0 to 60 mph in just around 3.7 seconds.
This makes the Mach E more athletic than all of its competitors, while also being on par with the mighty Tesla Model Y. The Mach E does get some slack when you take it on a spin around the bends, with the testers claiming that it isn't as good as the regular Mustang there. However, it still does well for its class, and remember, the Mustang wasn't always a delight on the corners.
Its aesthetics
It is a fact that the Ford Mach E is a stunning vehicle to look at. It has striking features that make it stand out in traffic; this applies to the lines on its exterior, its wheels, and its lights. Even the roofline has a very sleek shape that adds to the menacing look of this vehicle. Furthermore, the interior is awesome and modern, with a lot of room and comfort for all 5 occupants.
Its technology
The 2023 Mach E is loaded with all sorts of goodies. It has a massive touchscreen on the dashboard and a really attractive digital gauge cluster to provide the instrumentation info. There are a host of safety features that include but aren't limited to automated emergency braking, blind-spot monitoring, forward-collision warning, rear cross-traffic alerts, etc.
Its practicality
The whole point of crossovers is to be a practical solution so that people pick them over sedans. This applies to the Mach E as it offers a lot of room for storage both inside the cabin and in the trunk. You can increase the room in the trunk by folding down the second row of seats. You also get a second trunk or frunk where the engine would've been in a regular CUV.
---