---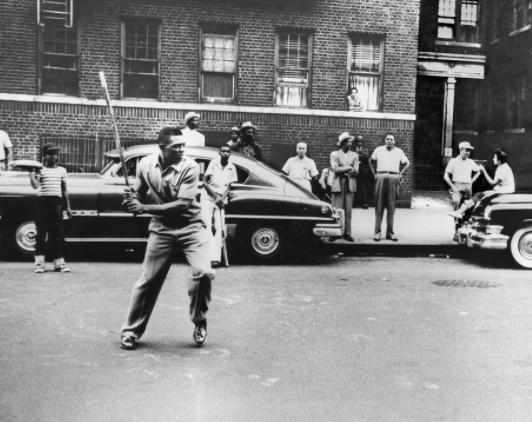 West 155th Street and the Harlem River Drive after Willie Mays (born in Westfield, Alabama), the baseball great who began his career with the San Francisco Giants at the nearby Polo Grounds — and lived in the neighborhood, too.
The SF Giants called the baseball great just a few days after his 20th birthday in the 1950s and summoned him to New York City, where he lived in a first-floor apartment on St. Nicholas Place just below 155th Street, according to the New York Times.
"In 1951 when I first started, I lived right on top of the hill on St. Nicholas Place," Mays said, referring to the Sugar Hill area, where he lived during his first two years in New York Times reported. "I used to go up and down this street (to walk to the Polo Grounds via 155th Street) all the time, so I'm familiar with this area."
Even though he made incredible feats like the iconic "the catch," the over-the-shoulder catch in Game One of the 1954 World Series against the Cleveland Indians at the Polo Grounds.
"I don't make history. I catch fly balls."
He would always make time to come back to his neighborhood in Harlem to play stickball or baseball with the neighborhood kids. Findery wrote that "…kids would knock on the 1st floor apt of the New York Giants star to invite him to play stick ball.
The 'Say Hey' kid spent six years with the Giants here through the 1957 season, then moved with the team to San Francisco, where he played until ending his career back in New York with the Mets in 1973.
In 2017, he had 155th street and Harlem River Drive street named after him "Willie Mays Drive" in Harlem and Major League Baseball renamed the World Series MVP award the "Willie Mays World Series Most Valuable Player."
In a January 6th, 2011, article titled, Mays, at Home in Harlem, Connects With Its Children, writers Williams C. Rhoden waxes eloquence in discussing Mays relationship to Harlem, writing, that "If Harlem was the spiritual capital of black America, Willie Mays was its center fielder. Mays is an American treasure, an Alabama native but a state-of-mind New Yorker. As Reynolds tried to keep the program moving, Mays, taking his time and clearly enjoying the moment, told him: "You don't understand, man. This is my neighborhood."
Photo credit: By Chong at 80 St Nicholas Place.
---