---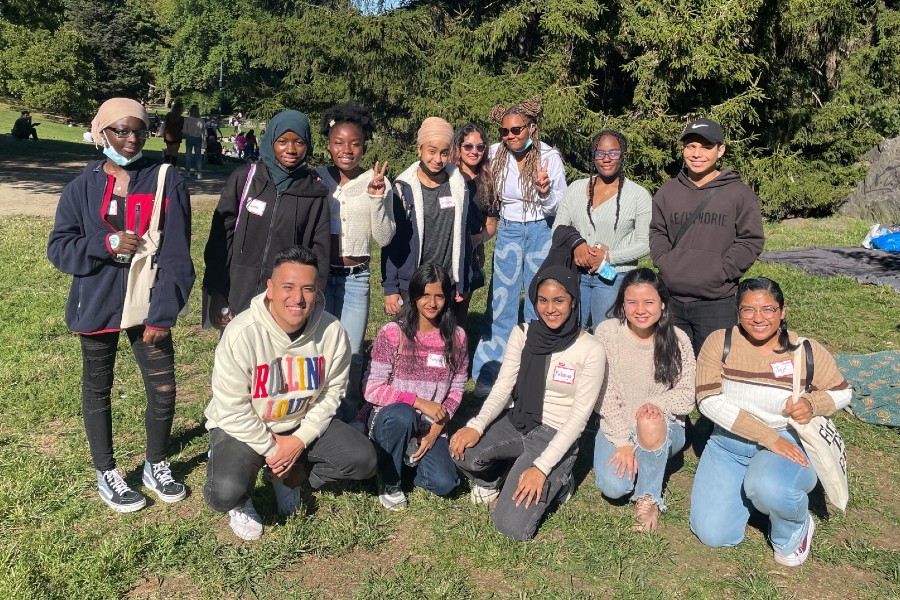 First Tech Fund (FTF) today announced the open application period for the fourth cohort of its free fellowship program open to high school students from Harlem to Hollis.
First Tech Fund is a non-profit dedicated to closing the rampant digital divide by supporting students in New York City from low-income and under-served backgrounds.
From September 2023 to June 2024, fellows will participate in weekly virtual workshops around careers and foundational digital skills for the future, receive free technology depending on their technology needs (laptop and/or WiFi hotspot), and can opt into mentorship with a young professional. Interested students can apply firsttechfund.com/apply or print the application and mail it in.
The application for the School Year 2023-2024 fellowship is due April 1, 2023 at 7 pm. 
"Our year-long fellowship puts low-income students in NYC on a trajectory for success in college and careers, provides them with free access to technology, and creates a community of support," said Josue De Paz and Hana Seligman, Co-Founders of First Tech Fund. "Over the last three years, our fellows have been supported through mentorship and career exposure, empowered with increased awareness of professional pathways, and accepted into colleges, career training, and scholarship programs. We look forward to welcoming over 110 high school students into our fourth cohort of fellows and advancing our work with partners across the city to expand access to opportunities for students of color." 
"We are so excited to support First Tech Fund through our Invest in Youth grantmaking program, which provides long-term, unrestricted operating support to organizations developing youth leaders to achieve racial justice for our communities," said Sabrina Hargrave, Director of Programs, Brooklyn Community Foundation. "Under the visionary leadership of its founder Josue De Paz, First Tech Fund is dedicated to leveling the playing field for the youth of color to access careers in the tech sector, providing equipment, mentorship, and connections. Their program has the power to not only create economic opportunities but also change the face of the field that is shaping the world we live in."
The First Tech Fund fellowship program runs from September to June via weekly, virtual workshops in the evenings where students receive digital skills training, personalized mentorship, career exploration and networking opportunities to build social capital. Workshops cover various topics including navigating the college admissions process, resume writing, financial literacy, brand building, and more. Through virtual and in person career panel events, fellows gain insight into a broad range of fields including law, medicine, finance, business, public service, technology, and more.
Beyond building foundational skills, fellows meet virtually with industry-specific mentors on a monthly basis, and attend networking, professional development, and volunteer events with our corporate and community partners throughout the year. Participants are also eligible to receive free technology—a laptop and/or WiFi hotspot—based on their individual needs. Fellows can keep the laptops from First Tech Fund as long as they successfully complete the fellowship program.
"Every child's potential is a reality. It takes a village to help educate, guide, mentor and provide support for one's child to be successful in life," said Melody Pink, parent of Ansu M., First Tech Fund Fellow 2022-2023. "As a parent I strive to provide the best possible opportunities for my son Ansu, this means finding programs outside of school that provide leadership skills, career exploration, mentoring and more. I'm preparing Ansu to climb the mountaintop for college and beyond. I'm honored to have First Tech Fund as a part of my village raising Ansu."
"First Tech Fund enabled me to be a part of a collaborative community that supports, uplifts and learns from each other because not only am I surrounded by like minded peers, but my mentor provides personal guidance regarding my future career path and college applications," said Evelyn C., First Tech Fund Fellow 2021-2022 and Princeton Class of 2026. "I learned so much from the diverse webinars that prepared me to succeed in my senior year of high school, my college applications, and my life beyond college because the skills that were taught such as note-taking, collaboration, and essay writing are essential for my future success and the inspirational webinars with professionals with diverse fields gave me more confidence about my future."
Students who have completed the First Tech Fund fellowship program have been accepted into colleges including Cornell University, Baruch College, New York University, Fordham University, and more. Fellows have also been accepted into programs like Hamilton Scholars, Girls Who Code, QuestBridge National College Match, and more, and received scholarships, with the support of their mentors and FTF staff.
Incoming low-income 10th-, 11th-, and 12th-grade high school students who need access to either their own personal computer or Internet access in the home, and reside in New York City are encouraged to apply for the First Tech Fund fellowship Program, regardless of their family's immigration status. U.S. citizenship is not required to apply. Students must attend a school in NYC full-time to be considered. There is no cost to apply or participate in the program, but students are asked to commit to attending at least 75 percent of sessions.
Since First Tech Fund was founded in 2020, during the height of the COVID-19 pandemic, 137 fellows from all five boroughs have participated in the fellowship program. Participating students have reported being able to more effectively apply for college, scholarships, and summer programs; participate in school and extracurricular activities; and support their families with accessing educational, social, and health services. Over 85 percent of high school seniors who participated in the First Tech Fund fellowship program attended two- or four-year colleges post-graduation, compared to an average of 62 percent of students citywide. 
First Tech Fund
First Tech Fund is a 501(c)3 nonprofit dedicated to empowering low-income high school students in identifying, navigating, and attaining academic and professional opportunities. First Tech Fund provides a supportive, adaptive ecosystem where students get access to free tech, free broadband, skills training, social capital, mentorship, and more. Follow First Tech Fund on Instagram, Twitter, Facebook, LinkedIn, and YouTube.
Photo credit: First Tech Fund.
---