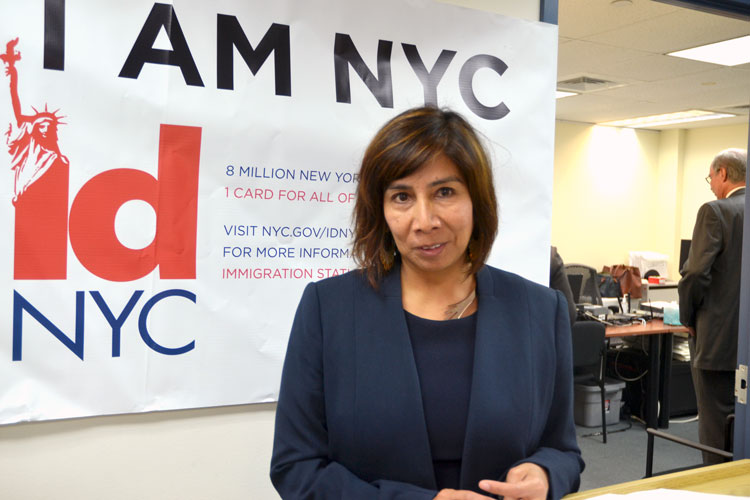 NYC Department of Consumer Affairs (DCA) Commissioner Lorelei Salas today announced the launch of online scheduling for the NYC Financial Empowerment Centers, which provide free, one-on-one financial counseling. DCA's Financial Empowerment Centers are located in all five boroughs with more than 20 centers and professional counselors that speak multiple languages. New Yorkers can visit DCA's website to find one near them and to schedule a free and confidential appointment with a counselor to help tackle debt, save for the future, open a bank account, improve credit, and much more.
"Our Office of Financial Empowerment is dedicated to empowering our communities with the tools and resources they need to achieve financial security," said Department of Consumer Affairs Commissioner Lorelei Salas. "We are proud to expand access to these critical services across traditional and digital platforms to better ensure that all hardworking families can use and benefit from our free financial counseling. I encourage all New Yorkers to visit our website to sign up for this free and confidential service to help you and your families achieve financial health."
NYC Financial Empowerment Centers have served more than 46,000 clients since 2009 and have conducted over 80,000 counseling sessions to date. In total, Financial Empowerment Center clients have reduced over $54.3million in debt, and increased their savings by $4.3 million. In addition to online scheduling, New Yorkers can also make an appointment by calling 311. Anyone who lives or works in New York City can benefit from the service, and there are no income or immigration status restrictions.
DCA's Office of Financial Empowerment (OFE) assists New Yorkers by developing and offering innovative programs and services to increase access to high-quality, low-cost financial education and counseling, safe and affordable mainstream banking, and access to income-boosting tax credits and savings.
Financial counseling is just one of the many ways OFE helps create thriving communities across the city, it also offers NYC Free Tax Prep services to qualifying New Yorkers to file their taxes safely – and for free – at more than 200 sites across the five boroughs through or online at nyc.gov/taxprep. The program also raises awareness about important tax credits, such as the Earned Income Tax Credit (EITC), that put money back in the pockets of working New Yorkers. At the in person sites, returns can be prepared in-person by an IRS-certified VITA/TCE volunteer preparer or dropped off to be completed by the preparer. At the convenient drop-off sites, filers can drop off their tax documents and return later to pick up the completed return or receive it by email. DCA reminds New Yorkers that tax filing season begins January 23, 2018 and to take advantage of the NYC Free Tax Prep program.
The NYC Department of Consumer Affairs (DCA) protects and enhances the daily economic lives of New Yorkers to create thriving communities. DCA licenses more than 81,000 businesses in more than 50 industries and enforces key consumer protection, licensing, and workplace laws that apply to countless more. By supporting businesses through equitable enforcement and access to resources and, by helping to resolve complaints, DCA protects the marketplace from predatory practices and strives to create a culture of compliance. Through its community outreach and the work of its offices of Financial Empowerment and Labor Policy & Standards, DCA empowers consumers and working families by providing the tools and resources they need to be educated consumers and to achieve financial health and work-life balance. DCA also conducts research and advocates for public policy that furthers its work to support New York City's communities.
For more information about DCA and its work, call 311 or visit DCA at nyc.gov/dca.
Related Articles