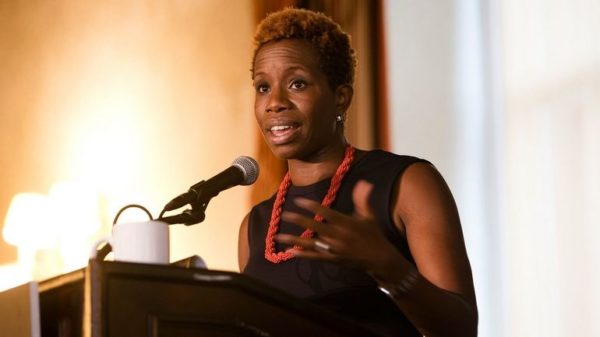 The de Blasio administration's plan to rezone East Harlem would allow nearly half-a-million square feet of retail to be developed in three public-housing complexes, city documents show.
The Department of City Planning has proposed a rezoning for roughly 95 blocks in East Harlem, which would allow commercial retail development in parts of the Taft, Jefferson and Johnson houses that border four major thoroughfares. The areas proposed for rezoning currently are open spaces and parking lots running along Park, Lexington, Third and Second avenues between East 115th Street and East 112th Street.
A NYCHA spokeswoman said there are no specific plans to develop the sites. But City Planning said that by rezoning the edges of the complexes, the authority would have the leeway to come up with a more targeted plan down the road, though it would likely only use a fraction of the 489,000 square feet that the rezoning could make available.
"This would open the possibility for activation, economic opportunity, convenience, amenity and eyes on the street on portions of the superblocks surrounding the three specified NYCHA campuses," a City Planning spokeswoman said in a statement, "where otherwise residents need to walk long, inactive blocks to shop and fulfill their daily needs."
Adding retail along NYCHA's so-called superblocks has been supported by neighborhood residents as part of a community plan spearheaded by Harlem Council Speaker Melissa Mark-Viverito. In addition, a portion of NYCHA land along Madison Avenue already has similar zoning, though it has not produced any new development as that would require additional approvals from the federal government.
But for many, the mere suggestion of commercial development on NYCHA property is still controversial, as opponents see it as the first step toward privatizing public housing. Currently, the de Blasio administration is proposing to construct apartment buildings on parking lots and open spaces in several NYCHA developments, which has drawn criticism.
Officials have countered that the land for the apartments will be leased rather than sold, and building more apartments is the best way to make the beleaguered authority financially solvent.
"Really tough problems are rarely solved by popular solutions," NYCHA head Shola Olatoye said at a City Council hearing in early 2016 about the potential development projects. "We must shift the mindset that there will be an easy, quick, painless fix."
Via source
Editors' note: Sounds like a good idea, but there is a huge elephant in the room, and it safety is not the number one issue foe residents and retailers they are barking up a very dangerous xmas tree.
Related Articles